Get fresh and sweet Pineapple Juice with or without a juicer! This healthy fruit recipe takes only less than 5 minutes to make. Experience the refreshing goodness of pineapples with this juice!
Pin this recipe on Pinterest to save for later
Juicing is now made easier, quicker, and tastier!
How to Make Pineapple Juice
Without a doubt, you'll be juicing pineapples and more of your favorite fruits in no time!
Ingredient
Pineapple
The pineapple is a fruit with a unique appearance and amazon flavor. Its color is also vibrant and appetizing from the inside out. And the texture of the flesh is soft and tender.
When it comes to the taste, it is sweet and tarty. It is one of the best fruits for juicing and weight loss. Aside from turning it into juice, you can also use it for salads, toppings, and desserts or dishes.
Healthline says these fruits are rich in nutrients to aid digestion, immunity, and brain function. Therefore, this juice can quench your thirst and nourish your body!
5 Health Benefits of Pineapples
Helps with digestion
Pineapples are rich in fiber, making them helpful for weight loss and digestion. It also improves metabolism to help your body absorb nutrients.
Perfect workout snack
Relax your muscles after an exercise session with a post-workout snack. Enjoy it as a fresh fruit, juice, or smoothie to soothe your body. It helps strengthen your bones in the long run!
Prevents hypertension
Regulate your blood pressure levels with this fruit. Indeed, you will feel more relaxed with a glass of this all-natural juice. Avoid the effects of hypertension to be more efficient!
Good for your skin, face, and hair
These fruits are rich in antioxidants to help you achieve clear skin and face. It can give you thick and shiny hair. These might also help treat acne and other skin-related problems.
Reduces stress levels
Unleash your maximum potential by reducing your stress levels. Feel happier and lighter with this fruit. It also helps with improved brain function.
Enjoy these health benefits by trying pineapple juice recipes like this Pineapple Juice!
Directions
Cut off the bottom of the fruit to mount it on the cutting board.
Run your knife downward to peel it.
Slice the fruit into pieces.
Insert the slices into the slow juicer tube until fully extracted.
Then, set the pulp aside to squeeze out more juices.
Finally, pour the juice into a glass cup and drink up!
Making this juice has never been this easy and quick. This is the first of many juicing recipes you can make at home! Even a glass of this Pineapple Juice can certainly revitalize your senses!
Tips
How to Buy and Store a Pineapple
Selection. According to The Spruce Eats, purchase pineapples with healthy green leaves. The pineapple must feel heavy for its size and should have no signs of rotting. Its eyes should also be brightly colored and plump.
Storage. Use room temperature pineapples within two days. Place it in a mesh bag and refrigerate it for up to a week. Moreover, refrigerate or freeze sliced pineapples for longer shelf life.
How to Juice a Pineapple Without a Juicer
Not having a juicer is not a reason not to make healthy Pineapple Juice! You can use a blender, grater, food processor, or other similar appliances and tools as an alternative to a juicer.
To make things easier, check out my No-Juicer Pineapple Juice recipe for an in-depth yet simple guide on how to make it!
Pineapple Juice Variations
The best thing about pineapple juice is combining it with other fruits, herbs, and spices to make it healthier and tastier. For instance, I recommend making it with pomegranates, ginger, beetroot, orange, etc.
You can make a Pineapple Puree by steaming and blending it until you achieve your desired consistency – this is perfect for babies and toddlers. If you want to intensify the flavor, incorporate lemon juice, sugar, basil, mint, and more!
Recommended Tools
This post contains affiliate links, which means I earn commission income from qualifying purchases at no extra cost to you. Please read the full disclosure for more information.
Visit my shop for more products.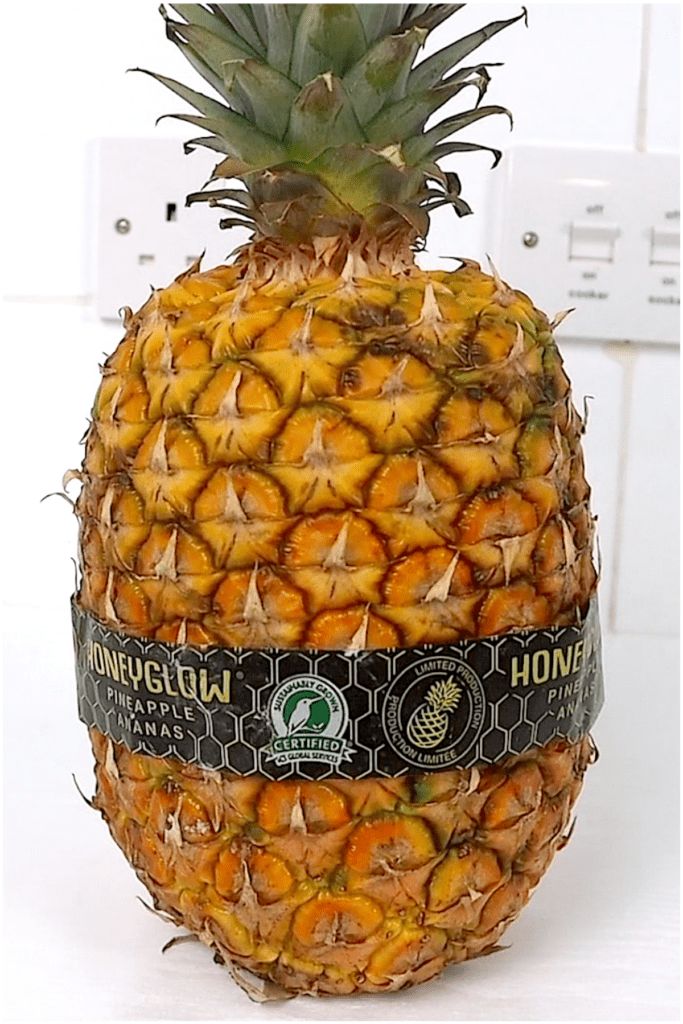 How to Serve Pineapple Juice
According to Marham, consume pineapple juice on an empty stomach for the best results. You can have about two cups of this juice daily, But note it must be drunk in moderation to prevent side effects.
Aside from drinking this, you can also create popsicle sticks. Just freeze them in popsicle molds to enjoy on a hot day. The juice can also be used for marinades and baked goods.
Make it healthier by enjoying this drink with any of the following dishes:
Storage Tips
At room temperature: Pineapple juice is best consumed within two hours of making it.
Frequently Asked Questions
What are the benefits of drinking pineapple juice?
Pineapple juice is packed with essential vitamins and nutrients. It aids in weight loss, immunity, digestion, bone strength, heart health, cancer prevention, and more. Its sweet taste can also curb your craving for desserts!
What are the side effects of pineapple juice?
Remember that too much pineapple juice can be bad for you. Side effects include stomachaches, dizziness, skin rashes, and vomiting. In any case, limit your intake to a glass daily or every other day.
What happens if you drink pineapple juice every day?
Daily consumption of the right amount of pineapple juice can nourish your body for improved endurance and physical activity. Reap the benefits of pineapple juice later!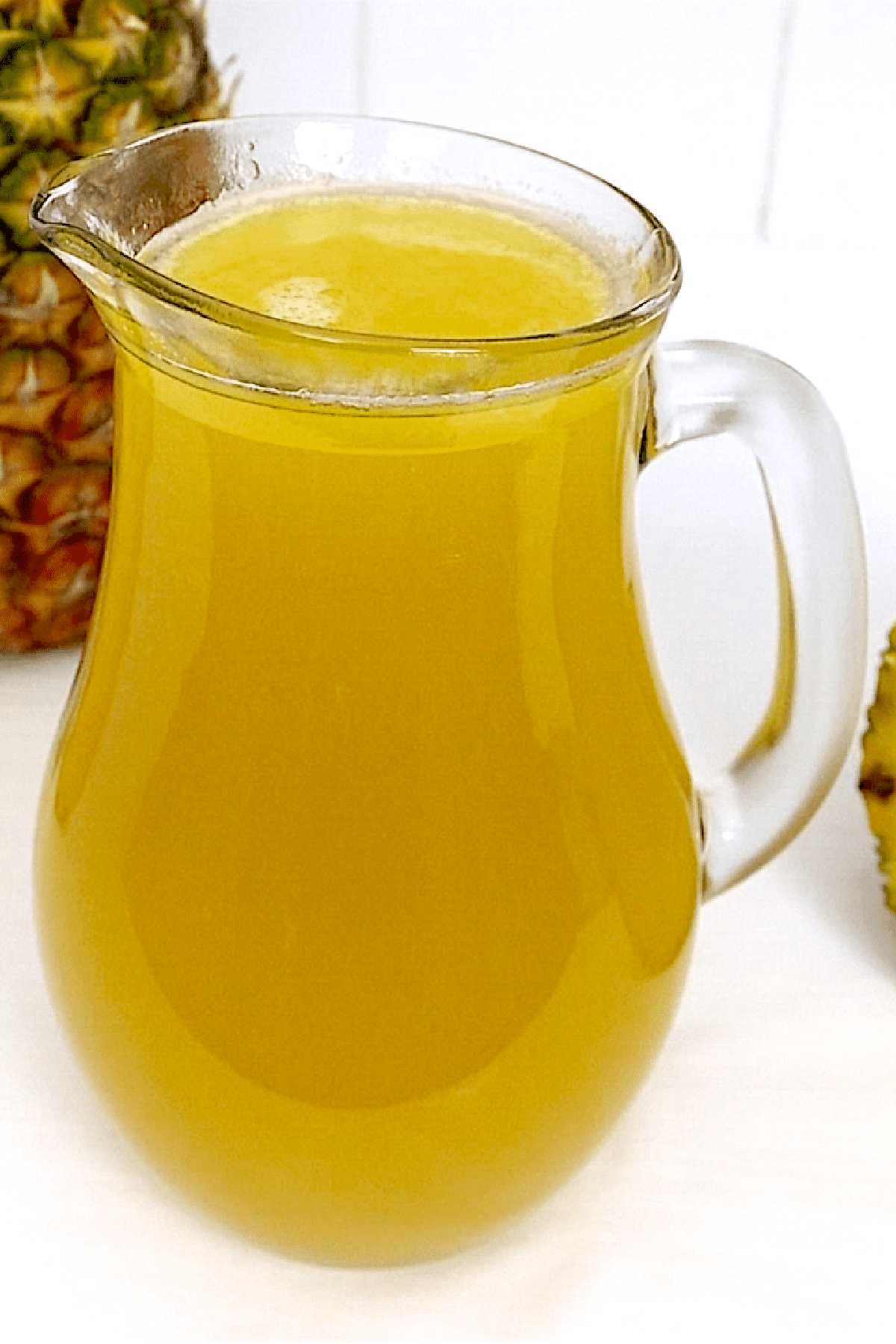 Pineapple Juice (VIDEO)
Pineapple juice is an absolutely refreshing beverage that you can now make in just 5 minutes!
Ingredients
1

pineapple

(large-sized)
Instructions
Prepare the fruit.

Cut off the bottom of the pineapple to mount it on the chopping board. Run your knife downward to peel it. Slice the fruit into pieces.

Feed it into the juicer.

Juice the pineapple slices by inserting them into the slow juicer tube until fully extracted. Set the pulp aside to squeeze out more juices and use the remaining pulp for drinks and dishes.
Video
Notes
If you don't have a slow juicer, I recommend using a cheese grater.

Incorporate other fruits or herbs and spices to make it tastier.

Consume up to two cups of this drink every day.
Nutrition
Serving:
1
(of 4)
Calories:
132
kcal
Carbohydrates:
32
g
Protein:
1
g
Fat:
0.3
g
Saturated Fat:
0.02
g
Polyunsaturated Fat:
0.1
g
Monounsaturated Fat:
0.04
g
Sodium:
5
mg
Potassium:
324
mg
Fiber:
1
g
Sugar:
25
g
Vitamin A:
12
IU
Vitamin C:
25
mg
Calcium:
32
mg
Iron:
1
mg