Semolina fufu is a popular swallow food in Africa that pairs well with soups and stews like Assorted Fish Stew, Assorted Meat Stew, Fresh Fish Soup, Okra, Egusi, Ogbona, Ewedu, and Gbegiri. Can you believe that you only need two ingredients to make the perfect semolina fufu?
Pin this recipe on Pinterest to save for later
Semolina is usually used for cereal, pasta, cake, and bread. It is made from the hard grains left after the milling of Durum Wheat flour. In Nigeria, it is also a popular powder you can use to make thick and delicious fufu.
How to Make Semolina Fufu
Let's make the best semolina fufu with two elements in just 10 minutes!
Health Benefits of Semolina
Promotes weight loss
Semolina can make you feel full to curb your cravings. It also has good effects for your stomach and for weight loss. In fact, you can get lots of energy if you use this for your dishes.
Good for your heart
Protect your heart from problems by adding this flour to your recipes. Moreover, it improves physical activity to keep your heart active and healthy.
Perfect for your diet
Whether you want to lose weight or stay fit, this powder is good for your meals. Digest food faster for more energy for your daily activities and workout sessions. However, note that semolina flour has gluten.
Ingredients
Keep it simple yet yummy, healthy, and easy with semolina flour and water!
Semolina
Semolina is a kind of flour made from durum wheat. It feels coarse compared to ordinary flour. Semolina can also appear darker in color for a fun dish. When it comes to flavor, this has the right balance between sweet and nutty.
This flour also has an earthy aroma for the best fufu! It can help with energy, brain function, and heart health. You can easily find this in your local grocery stores. Don't forget to grab a bag to make the best Nigerian Semolina fufu!
Water
Water helps create the creamy and thick texture of Nigerian semolina. It helps thicken the flour for the right fufu texture. This also balances the flavors of the dish.
Trust me; it doesn't get easier and simpler than this. Achieve authentic Semolina Fufu with this special flour and water!
Directions
Grab a pot and a wooden spatula, and let's get to it!
Place a pot over low heat and pour in some water.
Gradually add the semolina as you stir the mixture with a wooden spatula.
Keep mixing until it starts to thicken.
Turn and press it against the pot until there are no lumps.
Once content with the texture, remove it from heat and allow it to cool.
Dip a spoon in cold water to easily scoop the fufu.
Wrap it in plastic and serve it with soup, egusi soup, okro, ewedu, ogbono, and more!
Does it get any easier than this? You can even make this with your eyes closed! Just taste the fufu, and you will already feel like you have a real Nigerian cuisine experience.
Tips
Storing semolina
Store unopened semolina at room temperature in a cool and dry area. Once opened, transfer the contents into an airtight container and place them in a well-ventilated room.
Semolina Fufu Variations
This dish will also vary in texture, depending on how thick you want it to be. You can prepare this for babies as long as it is not too thick. Feed the baby in minimal amounts to prevent adverse effects.
Aside from this classic semolina fufu recipe, you can also make it with different spices. For instance, you can replace the water with milk for a creamy and sweet quality. If you want to add herbs and spices, then add sugar, butter, vanilla extract, honey, and more.
Recommended Tools
This post contains affiliate links, which means I earn commission income from qualifying purchases at no extra cost to you. Please read the full disclosure for more information.
Visit my shop for more products.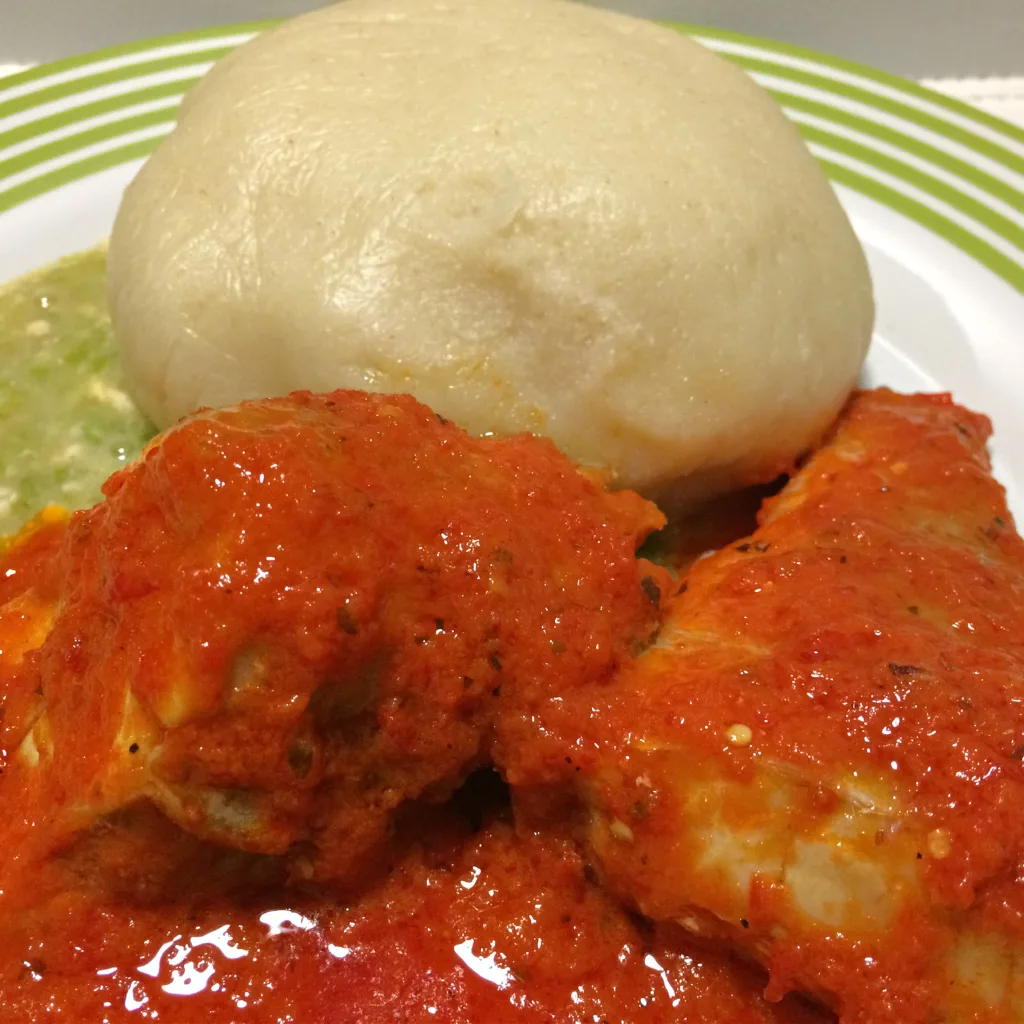 How to Serve Semolina Fufu
The semolina fufu's taste and texture can pair perfectly well with savory and saucy dishes such as:
This recipe can also be one of the best options if you want to serve an appetizer. For toppings, you can choose fresh fruits, plantain chips, grated chocolate, coconut milk, desiccated coconut, strawberry jam, and more!
Storage Tips
At room temperature: You can leave semolina fufu at room temperature for hours. However, it is best eaten immediately.
Frequently Asked Questions
What is African semolina?
African semolina is a popular swallow food or side dish in Africa, especially in Nigeria. Parboil it in water until fully mixed and thick. You can serve it with soups and stews for a balance of flavors.
What is semolina made of?
Semolina is made of durum wheat. It is milled and ground to achieve the flour form. After milling, it can be easily mixed into water to make fufu.
What is semolina flour used for?
Aside from fufu, you can also use semolina flour for making pasta, bread, and other baked dishes. You can also use it to thicken soups and stews.
Can you use hot water?
Yes, you can start with hot water to mix the flour. Finding the right recipe is all about trying other methods that work best for you.
Semolina Fufu Recipe (VIDEO)
Enjoy a genuine Nigerian experience by making this two-ingredient, lump-free semolina fufu!
Ingredients
1

cup

golden penny semolina

2

cup

water
Instructions
Dissolve the semolina in water.
Place a pot over low heat.

Gradually add the semolina as you continuously stir the mixture until the flour dissolves in the water.
Cook the semolina mixture.
Keep stirring and folding the mixture until it starts to thicken.

Turn and press it continuously to remove lumps.

Once contended with the texture, remove it from heat and allow it to cool at room temperature.

Dip a spoon in cold water to easily scoop the semolina fufu.

Wrap it in plastic or serve it on a plate with vegetable soup, egusi soup, okro, ewedu, ogbono, and more!
Video
Nutrition
Serving:
1
(of 2)
Calories:
302
kcal
Carbohydrates:
61
g
Protein:
11
g
Fat:
1
g
Saturated Fat:
0.1
g
Polyunsaturated Fat:
0.4
g
Monounsaturated Fat:
0.1
g
Sodium:
13
mg
Potassium:
156
mg
Fiber:
3
g
Calcium:
21
mg
Iron:
4
mg