What is self-raising flour?
It's a special kind of flour you can already season with baking powder. Plain flour helps with the gluten network, while the baking powder is the leavening agent that makes the self-raising flour suitable for baking.
Self-raising flour was created by Henry Jones in the 1800s. In the past, it was used by British seamen to make better-baked goods at sea.
Pin this recipe on Pinterest to save for later
Now, it has become a versatile and effective kitchen ingredient. And today. You'll learn how to prepare it at home in less than five minutes!
How to Make Self-Raising Flour
While you can buy self-raising flour in grocery stores, there's an easier and quicker way to make it. You can make it at home without much effort and in little time.
Once you learn this hack, you'll surely be baking more often!
Ingredients
These are all you need to make self-raising flour:
Plain flour
You have probably used plain flour before. It's a powdered product usually from milled wheat or grains. After sieving the milled grains, the flour will have a powdery texture.
Wheat grain is a popular ingredient used to make plain flour. But it is also made from corn, rice, rye, and more.
Flour has been long used in civilization, but it was only in the 19th century that milling technology for better flour was developed. Eventually, flour was made healthier with nutrients like iron.
Plain flour usually has a white color because only the endosperm of the wheat is used. The flour is also exposed to oxygen for a lighter white color. Sometimes, manufacturing companies fasten wheat aging with chemical agents that can cause the flour to become white.
The plain flour in grocery stores today has a medium amount of protein from wheat. Protein is necessary to activate the gluten structure of the flour. For instance, you can use low-protein flour for cakes but not for bread.
Why is the gluten network important? It helps with the structure, texture, and form of the food you're making. Gluten is important in making dough and cooking different kinds of baked goods.
According to Bakerpedia, you can use plain flour to make pancakes, cookies, bread, pizza, noodles, and other baked goods. I often use plain flour for Banana Puff Puff, Coconut Cake, and Plantain Bread.
How do you usually use plain flour?
Baking powder
An article by Better Homes and Gardens mentioned that baking powder is a base and an acid. You can activate it with heat and water or moisture. Once activated, it will give your dishes a rising effect.
You can use baking powder to give recipes a tender, soft, and airy quality. It also improves the flavor of food by intensifying the taste of baked goods.
Whenever you add it to mixtures, the batter undergoes two stages of leavening. In the first leavening, the baking powder is activated with a liquid. On the second leavening, heat is applied and produces a rise.
Remember that baking powder is not the same as baking soda. While the baking powder is already an acid, baking soda needs an acid, like vinegar, to activate.
I always have baking powder in my home because it has lots of purposes aside from cooking.
For instance, it's a popular cleaning and deodorizing agent. It can help clean stovetops, sinks, oven racks, and drains. You can also get rid of any unpleasant odor with baking powder too.
In fact, baking powder can help boost the effects of your laundry detergent for cleaner clothes. You can also use it as a rinsing agent for fruits and vegetables.
You will also find it easy to cook with baking powder. I usually use baking powder for Banana Bread, Nigerian Coconut Egg Rolls, and Pound Cake!
Can you believe that these are all you need to make self-raising flour? Once you have these in stock, making multi-purpose self-raising flour will surely be easier and cheaper!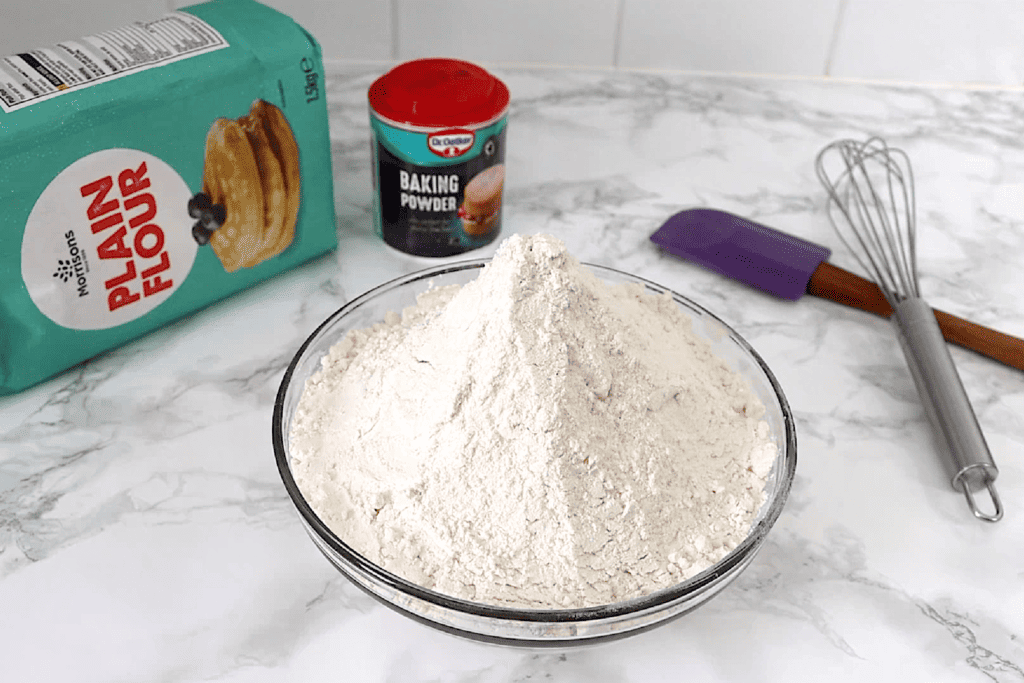 Directions
Set your timer and see how quickly it takes to make self-raising flour.
Pour in the plain flour and baking powder.
Then, filter the contents using a whisk.
Store the self-raising flour in a jar until you need it.
Now, you have ready-to-use two-in-one flour that will help you make the best baked goods. Trust me; it will change your life in the kitchen!
Tips
Making baking powder
Did you know that you can make baking powder at home? Just combine half a teaspoon of cream of tartar and a quarter teaspoon of bicarbonate of soda. Note that it is equal to a teaspoon of baking powder.
Store it at room temperature, just like how you store regular baking powder.
Testing baking powder
Before mixing the baking powder with plain flour, ensure that it's still active.
Boil some water.
Mix the baking powder with the hot water.
If the mixture produces bubbles, then you can still use the baking powder.
Self-Raising Flour Variations
Aside from the classic two-ingredient self-raising flour, you can also prepare it in other ways. For instance, you can add salt to add flavor and a preserving agent.
Instead of plain flour, it is safe to use spelt flour, coconut flour, amaranth flour, oat flour, and whole wheat flour. In fact, you can also make gluten-free self-raising flour by using gluten-free plain flour.
Recommended Tools
This post contains affiliate links, which means I earn commission income from qualifying purchases at no extra cost to you. Please read the full disclosure for more information.
Visit my shop for more products.
How to Use Self-Raising Flour
Self-raising flour is popularly used for baking. It is guaranteed to give your baked goods a fluffy, airy, and light rise. You can also use it to give deep-fried recipes a crunchy, flaky, and crispy quality.
Here are some of the recipes I suggest with self-raising flour:
You can use self-raising flour whenever the recipe calls for plain flour and baking powder. However, do not use too much of it to prevent overpowering the flavors of the dish.
Storage Tips
At room temperature: Self-raising flour can last up to three to six months at room temperature.
Frequently Asked Questions
How do you make self-rising flour?
You can make self-rising flour by mixing plain flour and baking powder. The mixture produces a leavening effect that can give baked goods a fluffy, airy, and light texture. You can also use salt to add flavor to the flour.
How do you make 200g plain flour into self-raising?
Combine 200g of flour with 8g teaspoons of baking powder. I used 18g (6 teaspoons) of baking powder for 450g (3 cups) of plain flour in this recipe. You can adjust it accordingly to get your desired amount.
How to make 100g self-raising flour?
Mix 100g of plain flour with about 4g (or 1 teaspoon) of baking powder. You can also add a pinch of salt, depending on your taste. Don't add too much baking powder to avoid a bitter taste.
How do you make 250g self-raising flour from plain flour?
Mix two cups (250g) of plain flour in a bowl with 3.5 teaspoons (10g) of baking powder. Sieve them together until well-combined. The self-raising flour should have a fine texture.
How do you make 2 cups of self-raising flour from plain flour?
If you need two cups of plain flour, mix two cups with four teaspoons of baking powder. You can use proportionate amounts to create the proper effect on your recipes.
How to Make Self-Raising Flour (VIDEO)
Improve the quality of your baked goods by using homemade self-rising flour. You'll never run out of self-raising flour again!
Ingredients
3

cups

plain flour

6

tsp

baking powder
Instructions
Place the sieve in a bowl.

Pour in the plain flour and baking powder.

Then, filter the contents using a whisk.

Store the self-raising flour in a jar until you need it.
Video
Notes
Make baking powder by mixing cream of tartar and bicarbonate of soda.

Filter the mixture with a sieve for a fine texture.

Store the self-raising flour in the fridge or freezer to last for more than a year.
Nutrition
Serving:
1
(of 3)
Calories:
459
kcal
Carbohydrates:
98
g
Protein:
13
g
Fat:
1
g
Saturated Fat:
0.2
g
Polyunsaturated Fat:
1
g
Monounsaturated Fat:
0.1
g
Sodium:
851
mg
Potassium:
135
mg
Fiber:
3
g
Sugar:
0.3
g
Calcium:
489
mg
Iron:
7
mg