Green banana porridge is a unique and nutritious alternative to a traditional porridge that can help you stay energized and get a jump start on the day.
Packed with prebiotics and resistant starch, green banana porridge can provide various health benefits, including improved digestion, a boost in energy levels, lower cholesterol levels, and even better weight management.
Enjoy your breakfast by cooking this healthy and delicious Green Banana Porridge! Indeed, green bananas are some of the best fruits for dishes, snacks, and desserts.
Pin this recipe on Pinterest to save for later
This recipe is also perfect for vegans and vegetarians! Grab your blender and your pot to prepare this genuinely delicious meal! Get ready to learn all about the fantastic health benefits of this underrated breakfast choice!
How to Make Green Banana Porridge
Did you know that this recipe only needs two ingredients? In 20 minutes, experience the goodness of Green Banana Porridge!
Ingredients
Green banana
This fruit can make salads, pies, smoothies, chips, desserts, and dishes. Moreover, green bananas can be helpful for digestion, weight loss, and even blood sugar levels.
Compared to ripe bananas that you can readily eat, green bananas are best cooked first. They can be roasted, grilled, baked, deep-fried, or steamed!
Maple syrup
I suggest using maple syrup as a sweetener. However, you can use alternatives best suited to your diet. Sometimes, I use sugar, stevia, or honey!
Get ready to make the best Green Banana Porridge ever! It's surely perfect for the entire family!
Health Benefits of Green Bananas
Helpful for digestion
Eating green bananas can help improve your metabolism to help you become fit and healthy. You can also regulate blood sugar levels for a better day ahead.
Good for your heart
These fruits can give you better heart function. In fact, it will aid in endurance, physical activity, and immunity!
Weight loss friendly
Achieve a healthy lifestyle by adding green bananas to your diet. It will also help you lose and maintain your desired weight! You can enjoy these green bananas as alternatives to sweets.
Suitable for diabetics
Green bananas also make great snacks for diabetics who still want to enjoy fruits. These fruits are starchy with not much sugar in them.
Kidney care
Get your kidneys working at the best level with these green bananas. You'll be able to avoid kidney problems for better overall health!
Are you convinced that you need to cook Green Banana Porridge?
Directions
Peel the green bananas using a knife to slice off the ends and along the ridges.
Cut them into thin slices.
Use a blender to puree the slices with water until smooth.
Then, heat water in a pot over medium heat.
Afterward, slowly pour the blended banana while mixing to avoid lumps. You can also use a hand mixer.
After 15 minutes, add the maple syrup.
Finally, transfer it into a bowl and enjoy it with fruits and other meals!
Now, you can enjoy a healthy and yummy meal in just two easy steps. It's perfect for a quick breakfast to start your day right!
Tips
How to Select and Store Green Bananas
Selection. Choose green bananas without soft spots and cracks. They should also feel firm. The skin may be a bit shiny and waxy.
Storage. You can leave them at room temperature to ripen. But you can also refrigerate them if you want to keep them longer. If you plan on using it for later, then keep it in the fridge.
How to Puree Without a Blender
Aside from blending it, you can also use a food processor, a grater, a potato masher, a mortar and pestle, and other alternatives. To make it easier to mash, steam the green bananas first.
Green Banana Porridge Variations
Ripe bananas can also be used for this recipe or a combination. The unripe bananas may also be mixed with strawberries and oatmeal!
Moreover, you can also use other sweeteners like sugar, stevia, honey, and more. In fact, you may opt for ingredients like raisins, berries, almond flakes, and chia seeds.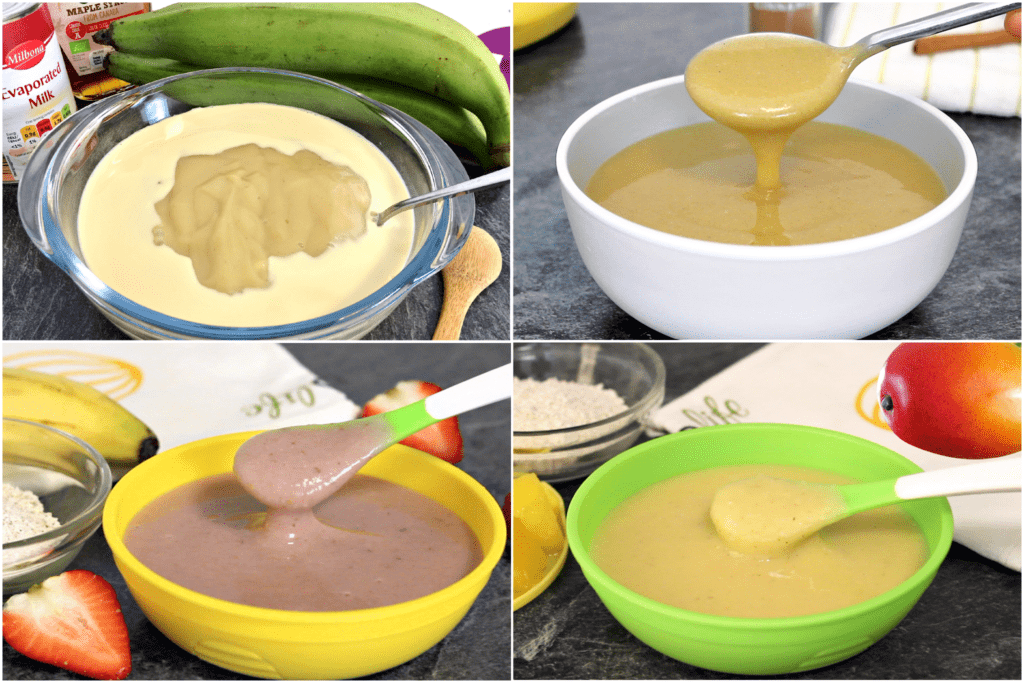 If you love porridge, then I suggest cooking the following recipes:
Aside from this recipe, you can also try:
Recommended Tools
This post contains affiliate links, which means I earn commission income from qualifying purchases at no extra cost to you. Please read the full disclosure for more information.
Visit my shop for more products.
How to Serve Green Banana Porridge
I love serving this dish for family events. It's also great for weekends, celebrations, and winter days! Green banana porridge is usually served in the morning with any of the following dishes:
Furthermore, you can pair this with other fresh fruits, nuts, and spices. Meanwhile, the best drink options include:
Drizzle it with condensed milk, Almond Milk, Coconut Milk, and vanilla extract for added taste. It can also be eaten hot or warm, depending on your mood.
Storage Tips
At room temperature: Consume this dish within 2 hours at room temperature.
Frequently Asked Questions
What is the benefit of banana porridge?
This dish can aid digestion, weight loss, and blood sugar levels. It's also naturally sweet and delicious. It is also suitable for your heart, kidneys, brain, and overall health.
Is it OK to cook with green bananas?
Yes, it is. Green bananas can only be eaten when cooked. They will taste so much better!
Is green banana puree good for babies?
Yes, babies aged six months and above can benefit from this porridge. In addition, you can replace the water with breast milk or formula milk. Feed the baby carefully and in small amounts only.
Green Banana Porridge
This nutrient-packed dish is a surprisingly delicious way to start the day, and it can be made with just a few ingredients. Experience its deliciousness, creaminess, and healthy goodness!
Ingredients
3

green bananas

2

tbsp

maple syrup

1

cup

water
Instructions
Prepare the green bananas.

Peel the green bananas by slicing off the ends and along the ridges. Once peeled, cut them into thin slices.

Then, blend the slices with water until you achieve a smooth consistency.

Cook it.

Heat water in a pot over medium heat. Afterward, slowly pour in the blended banana while continuously mixing to avoid lumps. It will start to thicken after 5 minutes. You can also use a hand mixer.

After 15 minutes, you can add in the maple syrup or other sweeteners of your choice. Transfer it into a bowl and enjoy it with fruits and other meals!
Video
Notes
Choose the freshest green bananas to release their natural and full flavors.

Store this in the fridge or in the freezer and reheat it in the microwave.

If you don't have a blender, then use a food processor, masher, or grater.
Nutrition
Calories:
54
kcal
Carbohydrates:
13
g
Sodium:
8
mg
Potassium:
45
mg
Sugar:
12
g
Calcium:
25
mg
Iron:
0.02
mg