Unleash the awesome potential of peanuts with an easy, versatile, and quick Air Fryer-Roasted Peanuts recipe!
Whether you want to enjoy them for snacks or with other dishes, these peanuts are absolutely amazing. They have the perfect balance of salty and nutty flavors for the best experience.
It's one of my favorite air fryer recipes because of how simple it is to do. I love serving the roasted peanuts for snacks; they're tasty and healthy, too.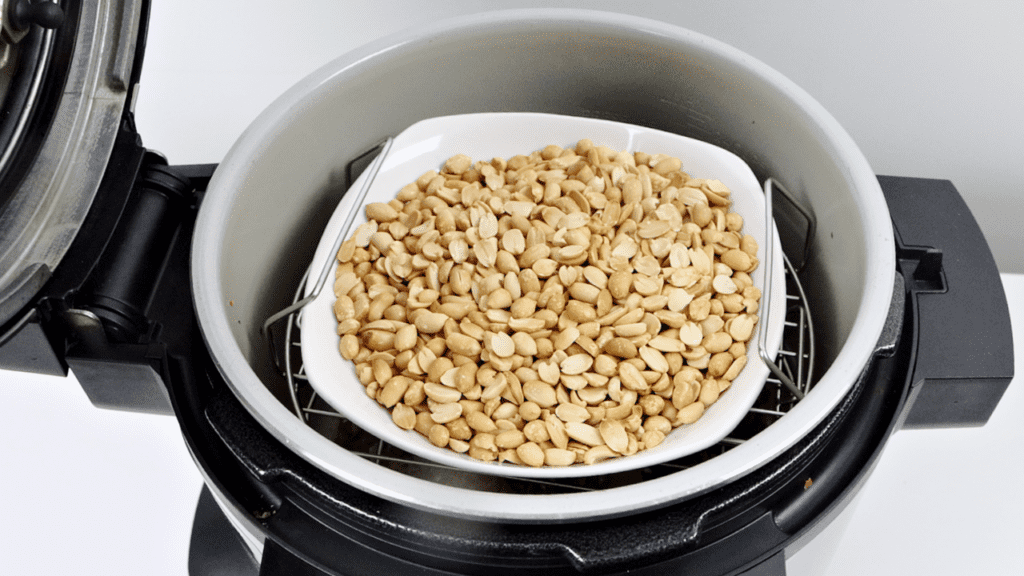 Pin this recipe on Pinterest to save for later
You only need about ten minutes to make these Air Fryer-Roasted Peanuts. But the fun and flavor will last for a long time!
How to Make Air Fryer-Roasted Peanuts
There are different ways to cook peanuts, and this Air Fryer-Roasted Peanuts recipe is one of the best. Today, let me show you how easy it is to make!
Ingredient
You only need one thing to make this dish: peanuts!
Peanuts
They may be small, but peanuts have lots of flavors and nutrients to offer. Peanuts taste mildly sweet, nutty, and earthy – a great blend of flavors.
When you cook them, you will know how fragrant and chewy they can also be. Roasting them is one of the best ways of cooking them because of how salty and savory they will become.
Moreover, their small size makes them good for snacking and cooking other dishes. These bite-sized peanuts are truly going to turn your life around.
These peanuts also go well with Granola Bars, Peanut Butter, and Banana Bread! You can also enjoy roasted peanuts as a side dish with Roasted Plantain, Soft Bread, and more.
The possibilities are endless with this Air Fryer-Roasted Peanuts Recipe!
Directions
Check out how easy this Air Fryer-Roasted Peanuts recipe is!
Roasting
Use a spatula to spread the raw peanuts in the air fryer basket evenly.
Set the air fryer at 200°C.
Air fry the peanuts for eight minutes.
Then, toss the peanuts around at the four-minute mark.
Allow them to cool and spread them on a tray.
Peel them by rubbing them between your hands.
Peeling
Place the air fryer rack inside the air fryer.
Put a heat-proof plate on top and spread the peanuts on the plate.
Air fry for one minute at the lowest temperature.
Allow the fan to blow away the seed coats. Alternatively, put a splatter guard on top of the air fryer.
Then, use a blow dryer to separate the seed coats.
Store the nuts in a resealable bag or glass jar, or serve in a bowl!
Was it as easy as you expected it to be? Now, you won't ever have to run out of these roasted peanuts. Let your air fryer save the day!
Tips
Peanuts
Buying peanuts
These are readily available in supermarkets.
Select packages with healthy-looking peanuts without holes, insects, or discoloration.
You may opt for shelled or unshelled varieties as long as they are not shriveled in texture.
Storing peanuts
Unopened raw peanuts can be stored in their original packaging.
Once you open them, transfer them to a container or in resealable bags to store in a dry area or the refrigerator.
How to Peel Peanuts
Peeling them can take lots of time, so check out these tips on how to peel peanuts easily after you try this Air Fryer-Roasted Peanuts recipe.
Unshelled peanuts
If the peanuts are still in the pods, then locate the indentation on the shell.
Squeeze it with your thumbs until it breaks into two.
They will come out easily.
Collect the pieces in a bowl to roast.
Shelled peanuts
Arrange them on a baking tray.
Allow them to cool.
Then, rub them between your hands to peel.
Continue doing this until all of them are peeled to your preferences.
Use a blow dryer to blow the skin away. It is best to do this on the tray on the floor for easy cleaning. It also saves you time and effort.
Air Fryer-Roasted Peanuts Variations
Using a single ingredient doesn't mean having only one flavor. If you want added intensity, then season the roasted peanuts with salt, dried herbs, or your favorite spices.
You can also sprinkle sugar for a caramelized texture and flavor. Aside from sugar, you can also use butter, honey, vanilla extract, or cinnamon. This Air Fryer-Roasted Peanuts recipe is easily customizable!
Alternative Ways to Roast Peanuts
In the oven
Distribute the peanuts in a single layer on a skillet.
Preheat the oven to 180°C.
Cook the peanuts for up to 20 minutes or until brown.
Then, season it with salt and toss it together.
Allow it to cool, and transfer it to a container to store.
In a pan
Spread the peanuts in a heated skillet pan.
Then, cover it with a lid.
Cook for 10 minutes, depending on the stove's heat.
Wait until they turn brown.
Recommended Tools
This post contains affiliate links, which means I earn commission income from qualifying purchases at no extra cost to you. Please read the full disclosure for more information.
Visit my shop for more products.
How to Serve Air Fryer-Roasted Peanuts
Air Fryer-Roasted Peanuts make excellent snacks or appetizers. One of the best things about them is that they are versatile ingredients for other condiments or dishes, such as butter, oil, garri smoothie, and more.
It's perfect for salads, sauces, desserts, pastries, vegetables, granola bars, relish, etc. Limit your daily intake to a handful. Take caution when feeding this to kids because these are common allergens.
Storage Tips
Frequently Asked Questions
What temperature do you roast peanuts?
It depends on how you cook the peanuts. In this air fryer recipe, I suggest roasting the peanuts at 200°C or 400°F to get the right level of doneness.
How do you roast peanuts in a ninja air fryer?
Just follow the steps in this recipe! Always preheat the air fryer before cooking the peanuts. I usually cook the peanuts for eight minutes. Don't forget to give it a toss for even cooking.
Why are my roasted peanuts not crunchy?
When your roasted peanuts are not crunchy, you might have overcooked them or eaten them while still hot. After cooking the peanuts, let them cool and set until crunchy.
Are roasted peanuts the same as dry roasted peanuts?
Yes, they are similar because roasted peanuts don't need oil to cook. Since you're using oil, you won't need to add oil to cook the peanuts.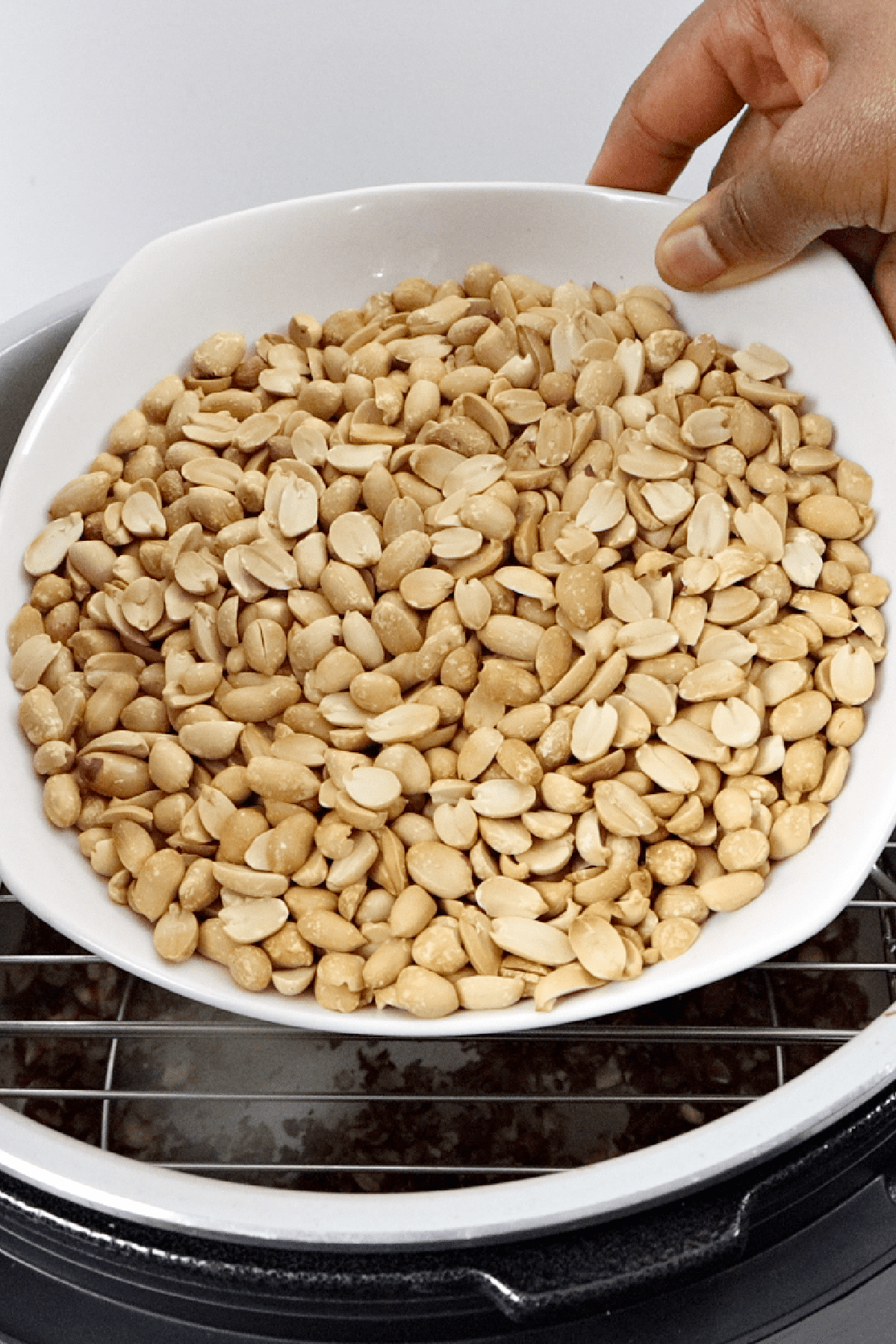 Air Fryer-Roasted Peanuts
Make oil-free, quick, and easy Air Fryer-Roasted Peanuts for healthy snacking in minutes!
Video
Notes
For the blow dryer method, you can use a big bow or pot instead of an air fryer pot to collect the seed costs during separation.

After roasting the peanuts, let them cool and run them between your hands to remove the skin (seed coats).

Store them in the freezer to last up to 2 years.
Nutrition
Calories:
4
kcal
Carbohydrates:
0.1
g
Protein:
0.2
g
Fat:
0.4
g
Saturated Fat:
0.1
g
Polyunsaturated Fat:
0.1
g
Monounsaturated Fat:
0.2
g
Sodium:
0.2
mg
Potassium:
5
mg
Fiber:
0.1
g
Calcium:
1
mg
Iron:
0.03
mg