If you love green plantains, here's an easy and practical guide on how to store green plantains! Keep them for as long as you want for your favorite healthy recipes. This is one of the best hacks to help you preserve green plantains for a long time!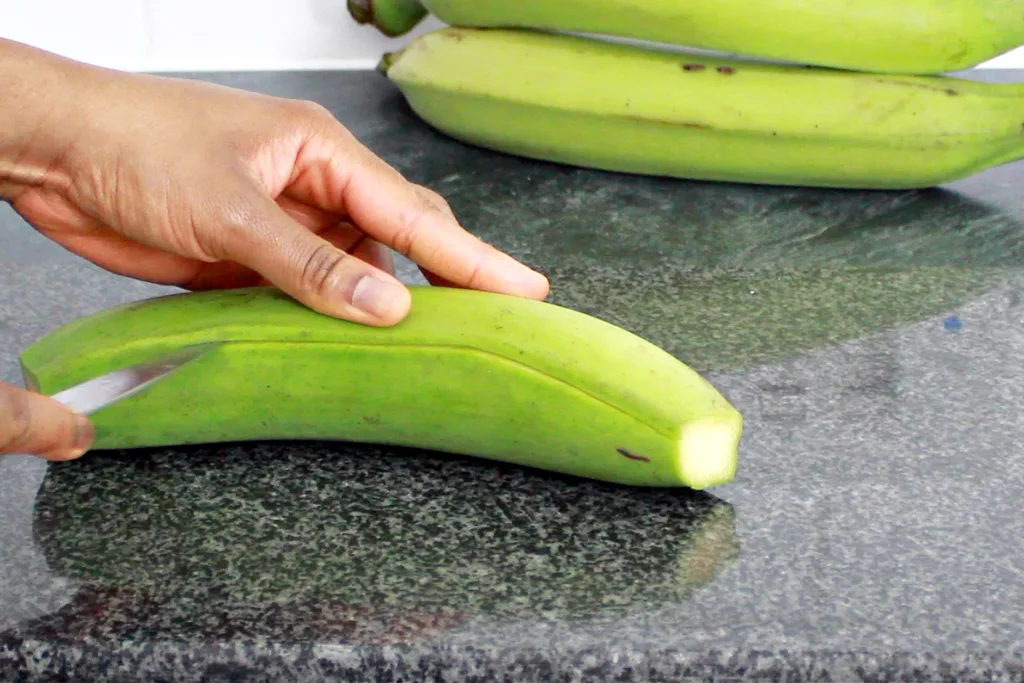 Pin this recipe on Pinterest to save for later
Now, you won't have to worry about running out of green plantains!
How to Store Green Plantains
Use this simple way to store your green plantains always to have them in stock. It also helps save money, time, and effort in using green plantains.
Health Benefits of Green Plantains
Good for digestion
Take care of your stomach and gut by adding green plantains to your diet. These can help you digest food faster and better to keep you healthy and nourished. In fact, green plantains contain fiber that can help you feel full for a long time.
Lose weight
There's always a healthy way to lose weight, and using green plantains for your meals is one of them. Moreover, by turning these fruits into snacks, you can avoid eating unhealthy chips. I especially suggest it if you want to achieve fitness goals!
Boosts immunity
Help your body fight against health problems for a productive lifestyle. It ensures that your organs will function properly for overall health. Moreover, green plantains can aid in cancer prevention and blood pressure levels.
Improves brain function
Nourish your brain and mind with these healthy fruits. You can have better focus and memory for school or work. Did you know that green plantains also increase the production of serotonin? It means these fruits can put you in a good mood!
Energizing
Low on energy? Snack on green plantain chips to restore your energy. I especially suggest eating this on a tiring and busy day. Who would have thought this fruit could help you get things done?
These are only some of the reasons why you should master how to store green plantains!
Ingredient
Green plantains
These green plantains are unripe plantains that are best eaten when cooked. They can be deep-fried, baked, steamed, grilled, or roasted. In fact, green plantains can also be used to make pap or porridge for side dishes.
Green plantains may look like bananas, but they are peeled and prepared differently. Plantains are firmer and harder to peel than bananas. Moreover, while bananas are ready to eat, these plantains need to be cooked first. Plantains are also starchy and not as sweet as bananas.
I usually used these in African recipes to pair with soups and stews. Green plantains also make good snacks or side dishes for celebrations. With this trick on how to store green plantains, you can always cook your favorite green plantain recipes!
Directions
Cut off the ends of the plantain with a knife.
Slice along the ridges.
Then, remove the skin.
You can slice the fruit with a knife or V-Blade Slicer, grate it with a grater, or puree it with a blender. It depends on how you use it.
Put the slices in resealable or freezer bags.
Finally, freeze them.
With this storage hack, no green plantain will go to waste. Thus, you will have ready-to-cook fruits for your family and guests. In fact, you can even be added to vegan and vegetarian meals to keep up with your diet!
Tips
Buying plantains
Buy green plantains without signs of rotting.
They should feel firm to the touch.
Go for green plantain bunches to have more in stock.
Ensure that they do not have holes or cuts.
Alternative Ways to Store Green Plantains
One of the ways to store them is in slices. You can cut them into large chunks, strips, cubes, or circles. Add these to soups, stews, and beans for flavor and texture. Moreover, you can use a grater or blender to make green plantain porridge or pap.
These fruits can also be put in airtight containers to refrigerate or freeze. However, I suggest using resealable or freezer bags to remove as much air as possible for a longer shelf life.
Recommended Tools
This post contains affiliate links, which means I earn commission income from qualifying purchases at no extra cost to you. Please read the full disclosure for more information.
Visit my shop for more products.
How to Use Green Plantains
Even if they are unripe, you can still use green plantains for different dishes. For instance, here are some recipes that I love to cook with these fruits:
You can deep fry the sliced green plantains straight from the freezer for a crunchy texture. Season it with salt for added flavor. However, I do not suggest it for baby puree because the starch can overwhelm the baby's digestion. Instead, use ripe plantains to make Plantain Baby Food.
Storage Tips
At room temperature: Keep the green plantains at room temperature to ripen.
Frequently Asked Questions
Do green plantains go in the fridge?
Yes, green plantains can be stored in the fridge. It helps keep them unripe and preserves them once ripe. Remember to keep them in resealable bags for the best results.
How do you keep green plantains fresh?
Refrigerate or freeze the plantains to keep them fresh. Since they are unripe, they can take a few days to ripen. Even when ripe, they still make good ingredients for recipes.
What is the best way to store plantains?
The best way to store plantains is to freeze them. Aside from keeping them longer, frozen plantains can be cooked immediately without reheating or thawing. Freezing also helps preserve the quality and flavor of these fruits.
How long do green plantains last?
Frozen plantains can last up to several weeks or months in the freezer. They tend to ripen faster at room temperature or in the fridge.
This post may contain general information and does not constitute professional medical advice. Always seek information or advice from a qualified medical professional. Please read the full disclaimer for details.
How to Store Green Plantains (VIDEO)
Learn how to store green plantains to have ready-to-use green plantains whenever you need them!
Instructions
Cut off the ends of the plantain with a knife.

You can slice the fruit with a knife or V-Blade Slicer, grate it with a grater, or puree it with a blender. It depends on how you use it.

Put the slices in resealable or freezer bags.
Video
Notes
Buy green and firm plantains to keep them longer.

Use airtight containers as alternatives to resealable bags.

Prepare them for storage depending on the dishes or drinks you plan to make.
Nutrition
Serving:
1
(of 4)
Calories:
272
kcal
Carbohydrates:
66
g
Protein:
2
g
Fat:
0.1
g
Saturated Fat:
0.2
g
Polyunsaturated Fat:
0.1
g
Monounsaturated Fat:
0.04
g
Sodium:
4
mg
Potassium:
771
mg
Fiber:
4
g
Sugar:
4
g
Vitamin C:
36
mg
Calcium:
4
mg
Iron:
1
mg