Air Fryer Bread? It is one of my favorite air fryer recipes because it's cotton-soft and fluffy! Once you try this easy and soft bread recipe, you won't be able to tell it apart from bakery-quality bread.
Pin this recipe on Pinterest to save for later
It is absolutely divine in flavor and texture! What makes it unique from other bread recipes? It's convenient because you get to bake it in the air fryer!
How to Bake Bread in an Air Fryer
Making bread through an air fryer is easier than you think. Let the air fryer transform ordinary dough into the top-notch quality pastry!
Ingredients
Strong bread flour
Bread flour is a high-protein ingredient that makes dough flexible and airy for fluffy and soft bread. It even contributes to a chewy quality with light and tender crumbs.
Compared to all-purpose flour, bread flour can aid in better structure for the pastry.
Yeast
Yeast is the primary leavening agent that reacts with flour and water. Its properties are responsible for increasing gluten to help the dough retain its form even before you bake it.
I always have this in stock because I often use it for Puff Puff, Chicken Pizza, and Fluffy Donuts!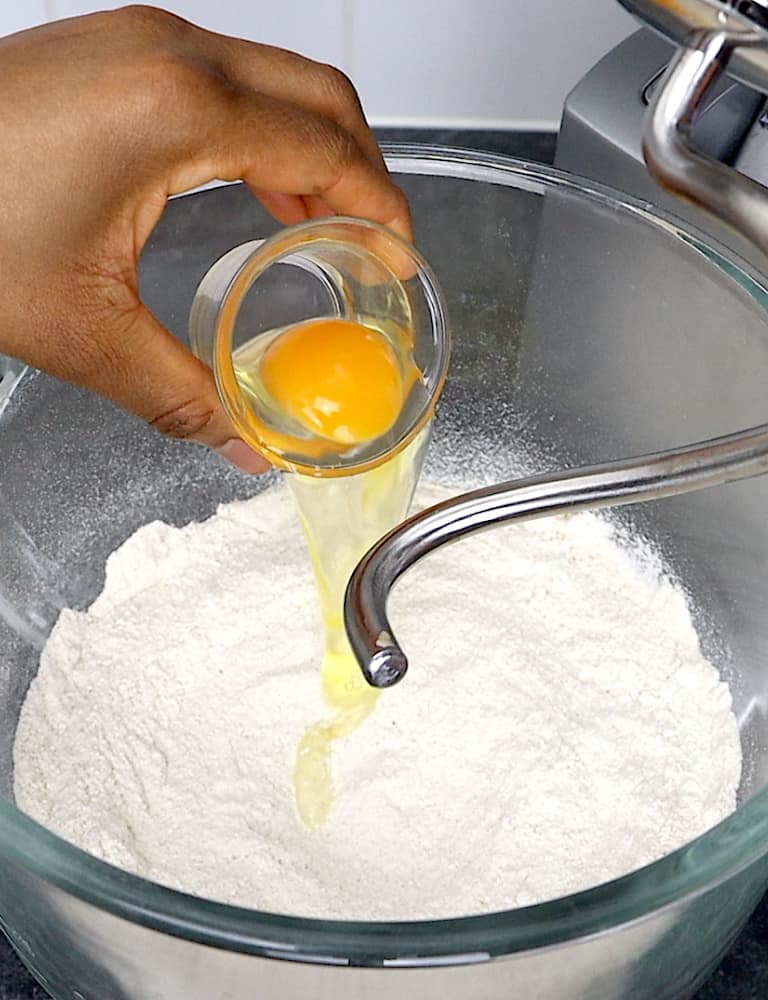 Egg
This also helps with achieving the rise of the dough. Eggs can also help with delicate and soft crumbs. It's also essential for providing moisture to prevent the bread from becoming stale and coarse.
If you have leftover eggs, you can cook Scotch Eggs, Nigerian Egg Rolls, or Egg Mayo Sandwich!
Salted butter
Salted butter suits bread well because this is a preservative agent aside from the creaminess. Using this also makes the bread more refined when toasted.
Seasoning
Powdered milk, sugar, salt, and nutmeg are excellent ingredients for flavors and that perfect browning on the crust. These also balance the overall palette of the bread.
Water
To prevent the dry ingredients from drying out the dough and bread. It is also important to activate the yeast and bread flour.
You'll be pleased to know that this bread recipe is an all-in-one delight – it's affordable and simple, and now, you're about to realize how easy it is to make it!
Directions
Get your air fryer ready to cook this easy bread recipe.
Make the dough by kneading flour, milk powder, sugar, nutmeg, salt, dry yeast, egg, and water. Let it rest for 45 minutes.
2. Cut it with a dough cutter and mold the dough into 8 balls.
3. Arrange the dough in a greased air fryer basket and let it rise for another 45 minutes.
4. Air fry the dough for 14 minutes with parchment paper on top.
As you slice the bread, you will notice how it's light, tender, and fluffy – on the outside and even more on the inside! Once you bite into it, enjoy the pleasant, satisfying, and tasty.
Tips
How to Store Bread Ingredients
Bread ingredients are best stored at room temperature and in airtight containers. The best thing about them is that you can use them indefinitely due to their extended shelf life.
How to Preserve Dough
You can store the dough before it has risen by placing it in a freezer bag for up to several weeks. Remember to allow some space in the bag to allow it to rise before it freezes gradually.
Once ready to use, let it thaw and rise in the fridge overnight. The next day, let it rest at room temperature before apportioning and shaping it into balls.
On the other hand, you can also store the dough after the first rise. Cover the dough with cling film or aluminum foil. Place it in a greased freezer bag and use it within a month.
To use it, unwrap and shape it on a lined, greased container. Let it thaw and proof overnight. Let it sit at room temperature before baking.
You may also like to recreate these dough or pastry recipes:
How to Make Your Bread Flour
If you couldn't purchase bread flour, you could improvise by combining a cup of all-purpose flour and 1 ½ teaspoon of vital wheat gluten. Store this in an airtight container, label it, and place it in a cool and dark area.
Alternative Ways to Cook Bread
Aside from using the air fryer, you can still cook this using other equipment. You can bake it in the oven for a classic bread recipe or cook it on the stove for no-oven bread!
Air Fryer Variations
One of the advantages of making your bread is that you can customize it to your preferences. For instance, you can flavor it with cinnamon, cocoa, coffee, chocolate, cream, and other elements you want to manifest in the bread.
For added texture, mix in some raisins, chocolate chips, nuts, cheese, lemon zest, fruit slices, and more! In fact, you can easily convert this into a healthier pastry by incorporating fruit elements such as bananas, berries, and others.
To make it gluten-free, substitute bread flour with buckwheat, millet flour, brown rice flour, or any other flour without gluten. You can always replace the ingredients with elements that are best suited for your diet but note that it will affect the texture and flavor of the bread.
I even have a special Banana Bread recipe that you can try with dark chocolate for an extra dose of decadent goodness!
Recommended Tools
This post contains affiliate links, which means I earn commission income from qualifying purchases at no extra cost to you. Please read the full disclosure for more information.
How to Serve Air Fryer Bread
This bread recipe is so flavorful that you can serve it as it is! For presentation purposes, slice it and use different kinds of spreads and jams, such as:
If you love sandwiches, like my family, then I recommend trying out these recipes:
Storage Tips
Frequently Asked Questions
Is Air Fryer Bread healthy?
Yes, it is! It's homemade, so you have great control over its flavor, nutrients, and texture. The fusion of basic and natural ingredients is also helpful for digestion, metabolism, bone health, brain function, and blood sugar control.
This recipe also does not include preservatives or processed ingredients that can cause harm to your health. You can actually make the recipe healthier by incorporating fruits such as plantains and berries.
How can you tell if the dough is ready for baking?
Always check the dough for doneness before baking. Apply slight pressure on the dough, and you can bake it if it bounces back quickly. Otherwise, continue kneading for a few more minutes.
Can babies have homemade bread?
Of course, they can! Babies can have bread as early as 6 months old. Feed them in small amounts and in small pieces.
Air Fryer Bread
With the invention of the air fryer, food has become easier and simpler to cook and that includes bread!
Ingredients
3 ¼

cups

strong bread flour

3

tbsp

powdered milk

3

tbsp

sugar

½

tsp

nutmeg

½

tsp

salt

1

sachet

yeast

1

egg

¾

cup

water

30

g

salted butter
Instructions
Knead the flour, milk powder, sugar, nutmeg, salt, dry yeast, egg, and water for 20 minutes on low speed while adding the salted butter. Let it rise for 45 minutes.

Slice and mold the dough on a greased surface and once you have 8 dough balls, place them in the air fryer basket to rise for 45 minutes.

Cook the dough for 14 minutes with parchment paper on top. Remove the parchment paper and cook for another minute before taking the bread out.
Video
Notes
Measure the ingredients correctly for proportion.

Preheat the air fryer and grease the basket. Let the dough proof and test the yeast before use.

Check the dough for doneness before baking.

You can also knead the dough by hand for at least 25 minutes.

The best tip to remember is not to over-knead the dough to keep the gluten at an appropriate level and to prevent the bread from becoming tough.
If the dough has not risen, this may be due to inactive yeast or the temperature in your kitchen. To troubleshoot, check if the dough is active by combining it with water. If it reacts and bubbles immediately, you can use it for the batter.
If the bread is too moist and wet, it needs to be baked more, or the air fryer isn't hot enough.
Large holes in the bread can be attributed to air pockets in the dough. To avoid this, punch the dough as you flatten it before shaping. Flattening it can remove the air pockets before baking.
Nutrition
Serving:
1
(of 8)
Calories:
253
kcal
Carbohydrates:
43
g
Protein:
8
g
Fat:
5
g
Saturated Fat:
3
g
Polyunsaturated Fat:
1
g
Monounsaturated Fat:
1
g
Trans Fat:
0.1
g
Cholesterol:
31
mg
Sodium:
190
mg
Potassium:
106
mg
Fiber:
1
g
Sugar:
6
g
Vitamin A:
151
IU
Vitamin C:
0.2
mg
Calcium:
39
mg
Iron:
1
mg