Find comfort and satisfaction in fluffy, soft, and light African Puff Puff! No yeast, no proofing, and no time-wasting puff puff!
Puff Puff, also called bofrot, is one of the best and easiest African snacks. All you have to do is make and deep fry the batter. In this recipe, we will substitute the yeast for a special ingredient that adds superb texture and fantastic flavor.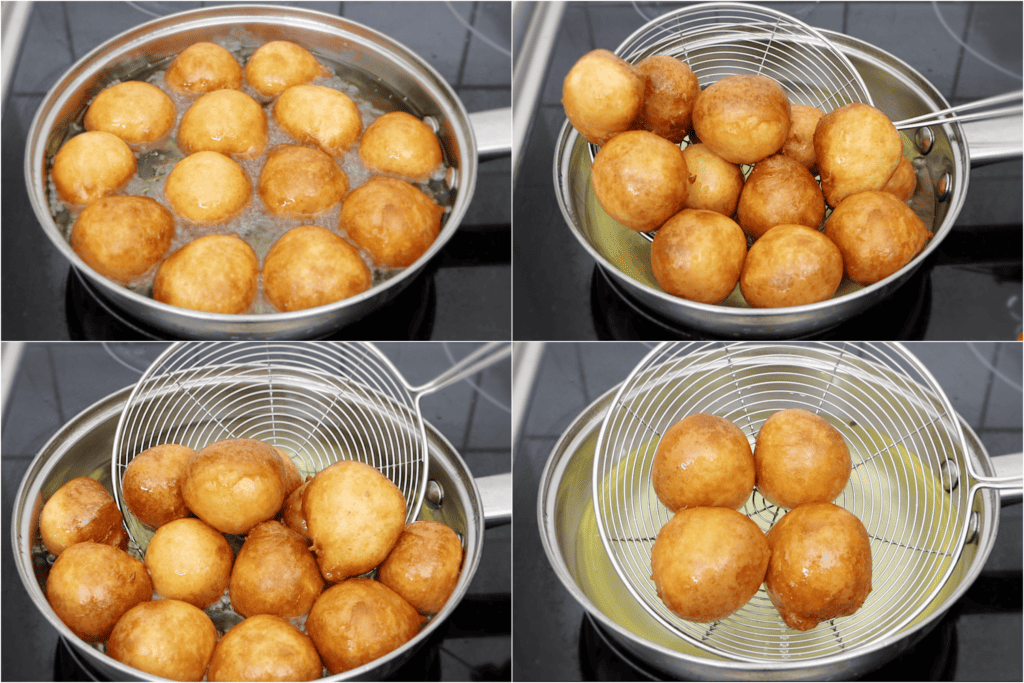 Pin this recipe on Pinterest to save for later
You will love how delicious, fun, and chewy this African Puff Puff recipe is. This no-bake snack will surely be a family favorite in your home! Kids love every bite of it!
How to Make African Puff Puff
Preparing the batter is just as easy as frying the African Puff Puff. It's surprising how simple it is to make, considering it's absolutely tasty and decadent!
Ingredients
Self-rising flour
What makes self-rising flour perfect for making dough? It is already a mix of plain flour, baking powder, and salt in one. From this flour, you can make biscuits, cakes, and bread too!
According to Daisy Flour, self-rising flour can be good for you as long as you eat baked goods in moderation. It is also rich in fiber to help with digestion and gut health.
You can use it for Pancakes, Vanilla Cake, and Nigerian Buns. Have you tried using self-rising before?
Sweetened yogurt
Since the self-rising flour already has baking soda, you won't need yeast. Instead, you can use sweetened yogurt to make the snack tastier. I like using vanilla yogurt because of its mild flavor!
Sweetened yogurt is a good substitute because it makes the batter tender and expands the gluten network. The puff puff will have a better texture from the inside out.
Sugar
Don't skip the sugar because it helps make the batter looser for airy and light crumbs. The sugar also gives the batter a thick consistency, making it easier to shape before cooking.
Additionally, the sugar gives the puff puff a sweet and caramel-like taste as it melts into the batter. Because of the sugar, you can ensure the puff puff is moist and heavenly.
Nutmeg
Feel calm and relaxed with every bite of the African Puff Puff by adding nutmeg. With this seasoning, a little goes a long way. It also has a warm, nutty, earthy, and sweet flavor that instantly improves the dish.
Water
Remember to add water because it will be a dispersing agent to distribute the yogurt, sugar, and nutmeg. However, note that you need to use water at the right temperature to make it effective.
Sunflower oil
For deep-frying, use oil with a high smoke point, like sunflower oil. It allows you to fry the dish until done without making the puff puff soggy or burnt.
Sea salt
Remember to add sea salt, although it is entirely optional. This seasoning enriches the all-around quality of the snack. It even adds a unique flavor to the puff puff.
With these ingredients, you can easily make African Puff Puff at home! Are you ready to cook and enjoy it? Let's go!
Directions
Here's how you can cook the best African Puff Puff:
Heat oil in a deep frying pan over medium fire.
Sieve self-rising flour, sugar, sea salt (optional), and nutmeg into a glass bowl.
Then, add the yogurt.
Rinse out the yogurt can with water and pour it into the batter.
Mix the batter with a spatula until thick.
Deep fry small portions of the batter.
Then, toss the puff puff in the oil with a skewer.
Cook them until golden brown.
Transfer them to a lined plate with a skimmer spoon.
Once cool, serve the puff puff with sauces, dips, and drinks!
Take a bite, and let me know how much you love it! Is it as light, airy, and fluffy as you expected? Enjoy it until the last African Puff Puff!
Tips
Self-rising flour
If you couldn't buy self-rising flour in the grocery, then you could easily make it at home. You will need a cup of all-purpose flour, 1 ½ teaspoons of baking powder, and half a teaspoon of salt. Read more about Homema Self-Raising Flour.
Mix them together in a jar and store them for several months or a few years. Use it to make dough, batter, cakes, biscuits, pancakes, and other food that need a high-rise and fluffy texture.
African Puff Puff Variations
While this recipe uses sweetened yogurt instead of yeast, you can still cook the Puff Puff recipe with yeast. Add more flavor using bananas or coconuts for a surprise every time you bite them!
Aside from the classic flavor, you can pipe in delicious filling or jam to make the African Puff Puff exciting and fun to eat. You can also coat them with powdered sugar to make them more appetizing.
If you love African snacks, why don't try these African snack recipes:
Recommended Tools
This post contains affiliate links, which means I earn commission income from qualifying purchases at no extra cost to you. Please read the full disclosure for more information.
Visit my shop for more products.
How to Serve African Puff Puff
There are plenty of ways to serve African Puff Puff!
You can try it the classic way, just crispy and light Puff Puff on a plate. Serve it with smoothies, juices, and drinks for a filling meal.
Moreover, you can put dips and sauces on the side. I suggest using melted chocolate, strawberry jam, peanut butter, cashew butter, almond butter, and more!
These can make great meals for breakfast, snacks, or even desserts. African Puff Puff can also make an excellent side dish for savory dishes to balance the flavors.
Need help serving this snack? Here are some of the best drinks to make with the Puff Puff:
Storage Tips
At room temperature: Keep the African Puff Puff in a container and store it at room temperature for several hours.
Frequently Asked Questions
What is puff puff in English?
Puff Puff is still called Puff Puff in English. It gets its name from its fluffy, round, and light texture. The airy quality of this dish will remind you of "puffiness"!
Is eating puff puff healthy?
According to The Donut Whole, Puff Puff is not a healthy dish to eat. It's a deep-fried recipe with fat, sugar, and carbohydrates. Serving it with sugary condiments also makes it quite unhealthy.
You can still eat Puff Puff but remember to eat it in moderation.
Who invented puff puff?
Puff Puff was invented in Nigeria, but Claudius Gele, a French Cook, pioneered puff pastry. Each country may have its own version of puff puff!
Do they put an egg in a puff puff?
There is no need to put an egg in a puff puff. It already has leavening agents such as yeast and baking powder.
No Yeast African Puff Puff (VIDEO)
Relish authentic African Puff Puff's crunchy, light, and airy goodness!
Ingredients
3

cups

self-raising flour

4

tbsp

sugar

½

tsp

nutmeg

½

tsp

sea salt

(optional)

2

cups

yogurt

(vanilla, sweetened)

⅓

cup

water

sunflower oil

(enough to deep-fry)
Instructions
Heat oil in a deep frying pan over medium fire.

Sieve self-rising flour, sugar, sea salt and nutmeg into a glass bowl.

Rinse out the yogurt can with water and pour it into the batter.

Mix the batter with a spatula until thick.

Deep fry small portions of the batter.

Toss the puff puff in the oil with a skewer.

Cook them until golden brown.

Transfer them to a lined plate with a skimmer spoon.

Once cool, serve the puff puff with sauces, dips, and drinks!
Video
Notes
Sieve the dry ingredients for a soft and puffy quality.

Check the oil temperature by dropping a piece of the batter. The batter should float to the top.

Do not overcrowd the pan.
Nutrition
Serving:
1
piece (of 45)
Calories:
48
kcal
Carbohydrates:
8
g
Protein:
1
g
Fat:
1
g
Saturated Fat:
0.3
g
Polyunsaturated Fat:
0.1
g
Monounsaturated Fat:
1
g
Cholesterol:
1
mg
Sodium:
31
mg
Potassium:
25
mg
Fiber:
0.2
g
Sugar:
2
g
Vitamin A:
11
IU
Vitamin C:
0.1
mg
Calcium:
15
mg
Iron:
0.1
mg