Fried yams in less than 10 minutes and make great side dishes, appetizers, or snacks. With this deep-fried recipe, you can enjoy savory and tender yams! This healthy recipe takes less than 10 minutes to fry to perfection, with only three ingredients!
Pin this recipe on Pinterest to save for later
Indeed, add this to your vegan, gluten-free, and vegetarian diet to keep you fit and healthy!
How to Make Fried Yams
Fried yam indeed reveals its naturally delicious flavor. Now, let's make them together!
Ingredients
Yams
Yams, an edible vegetable starchy tuber, have mildly sweet and nutty flavors with a touch of earthy undertones. When it comes to texture, they can moist-fleshed. But when cooked, they become tender and similar to the texture of boiled potatoes.
Aside from frying, you can also boil, steam, bake, or sautee them for a creamy and distant quality. These are perfect for vegan and vegetarian dishes. There are plenty of varieties you can try for new and improved meals.
I also have a nifty yam storage hack that helps me save money and achieve the best dishes like Yam and Eggs Frittata, Fresh Pounded Yam, Sweet Yam Porridge, and more!
Salt
For the seasoning, you can go for salt, cinnamon, sugar, garlic powder, ginger powder, honey, or even black pepper. While they are tasty, adding more herbs and spices would be good to intensify the flavors.
Sunflower oil
To fry, I suggest using sunflower oil because of its high smoke point, distinct flavor, and health benefits.
The ingredients may be simple, but I can assure you that the quality of these fried treats is superb! The secret to great-tasting fried yams is to keep them simple yet flavorful.
Directions
Use a knife to peel the yam on a chopping board.
Divide it into two.
Continue slicing it until you have your preferred shape and size.
Then, place them in a bowl of water to rinse and drain.
Season it with salt.
Pour about two cups of oil.
Lower the slices into the hot oil.
After about 5 minutes, turn them to the other side with a slotted turner.
Once slightly brown, remove them from heat.
Allow to cool and savor the goodness!
Sometimes a two-step fried yam recipe is all you need to feel better. Include this fried dish in your diet, and you will surely realize how satisfying it can be!
Tips
How to Select, Store, and Prepare Yams
Selection. Go for yams that are firm and free from blemishes or cracks. The skin should be textured, but it should not feel tender.
Storage. Yams can last up to three weeks at room temperature in a dry and ventilated area. Freezing or refrigerating unpeeled yam is not recommended.
Preparation. Slice it into two and mount it on the chopping board. Then, peel it from top to bottom. Continue chopping it according to your preferred size and shape. Submerge it in a bowl of water to retain freshness. These will surely make delicious fried yams!
Alternative Ways to Cook Yam
Stovetop
Poor 3 cups of water in a pot and bring it to a boil.
Then, add the yam slices.
Cook for about 15 minutes or until soft and tender.
Drain the water and set them aside.
You can also fry the slices in a skillet until tender.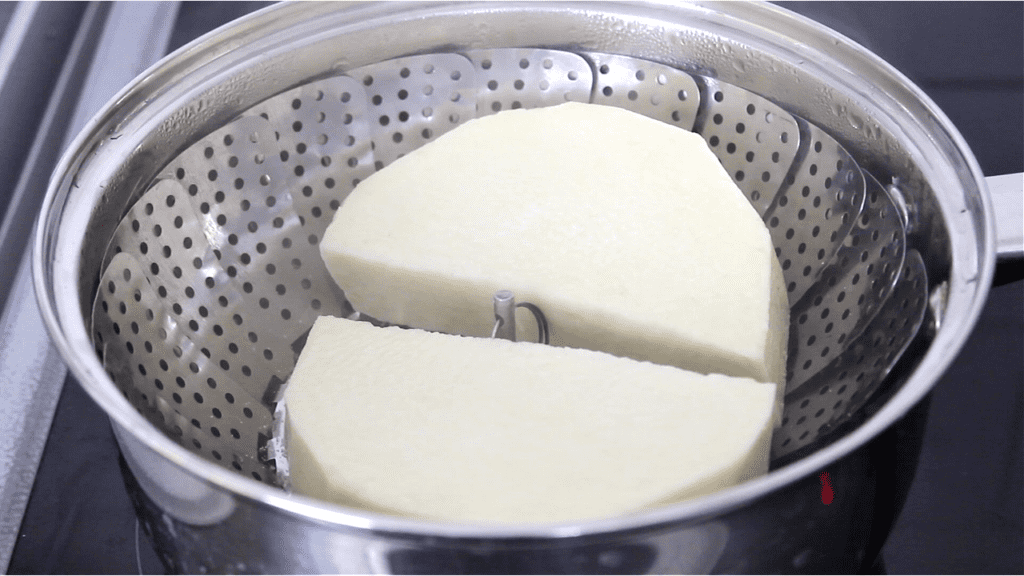 Steamer
Bring water to a boil in a pot.
Then, place the steaming basket inside.
Put the yam slices in the basket.
Let them steam for 20 minutes or until cooked.
These are great for mashed baby food with yam.
Oven
Preheat the oven to 220°C.
Then, line the baking tray with aluminum foil.
Arrange the slices on the tray.
Bake them for up to 50 minutes before seasoning and serving.
Grill
Preheat the griller on high heat.
Lightly grease it with oil.
Cook it on the grill for up to 12 minutes on each side or until tender.
Air fryer
Season the slices with oil and salt.
Then, place the slices and the air fryer.
Cook at 200°C for up to 50 minutes.
Halfway through the cooking, flip them over for even doneness.
Fried Yam Variations
There are plenty of types of yams that you can try, such as American, tropical, purple, Chinese, Cocoyam, etc. You can also have them boiled, steamed, baked, grilled, or air fried, depending on your preference.
Ensure they are soft and tender before removing them from heat and serving. Season it with your favorite herbs and spices for a touch of flavor.
Recommended Tools
This post contains affiliate links, which means I earn commission income from qualifying purchases at no extra cost to you. Please read the full disclosure for more information.
Visit my shop for more products.
How to Serve Fried Yam
Fried yam can be enjoyed as an appetizer, snack, side dish, or even as an ingredient for other dishes. Additionally, it can be served with:
If you don't want to fry the yams, then you can also use the yams for the following:
Storage Tips
At room temperature: Consume the fried yam within 2 hours of cooking to enjoy the texture and flavor.
Frequently Asked Questions
Why is fried yam bitter?
The two ends of the yam, proxima (head) and distal (tail) taste bitter when fried or cooked. Fried yams should only taste bitter if you use the head and the tail. A pot or pan containing burnt residue can make it tastes not very pleasant. Stir them occasionally in the oil to prevent burning.
Do you have to soak the yam and water?
Soaking the yam in water is unnecessary, but retaining freshness and slow oxidation are recommended.
Is fried yam healthy?
Yes, fried yam is healthy. They are excellent sources of potassium, fiber, and antioxidants to keep you nourished for the day. It also doesn't use preservatives for flavor.
Fried Yam
Don't miss out on this deliciously satisfying fried yam!
Ingredients
½

yam

(medium-sized)

Sunflower oil

(enough to deep-fry)

½

tsp

salt

(salt to taste)
Instructions
Prepare the yams.

Peel off the skin by mounting it on the chopping board. Divide it into two. Continue slicing the yam until you have your preferred shape (diagonal or oblong) and size (thick or thin).

Then, place them in a bowl of water to rinse and drain. Season it with sea salt.

Deep fry the yams.

Place a pot or pan on medium heat and pour about two cups of oil. Lower the yam into the hot oil and leave to fry for 5 minutes. After 5 minutes, turn the yams to the other side to deep fry for 5 minutes or until fried.

Once slightly brown, remove them from heat. Allow to cool and savor the goodness!
Video
Notes
Season the yam with salt, black pepper, or other seasonings.

You can deep fry, boil, steam, bake, grill, or air fry the yams for varieties.
Nutrition
Serving:
1
(of 3)
Calories:
197
kcal
Carbohydrates:
46
g
Protein:
3
g
Fat:
0.3
g
Saturated Fat:
0.1
g
Polyunsaturated Fat:
0.1
g
Monounsaturated Fat:
0.01
g
Sodium:
403
mg
Potassium:
1360
mg
Fiber:
7
g
Sugar:
1
g
Vitamin A:
230
IU
Vitamin C:
29
mg
Calcium:
29
mg
Iron:
1
mg