Did you know that yam, an edible starchy tuber is in season only from June to October? If you're a yam lover like me, you've got to try this vegetable storage hack. You'll always have it whenever you need it!
Pin this recipe on Pinterest to save for later
This post will: save you some MONEY, keep your yam FRESH, reduce FOOD WASTAGE, and allow you to eat YAM OUT-OF-SEASON. Wow!
How to Store Yam
These yams usually last about a week, but with this practical tip, you can store them for as long as you want to use them for your dishes!
Yam
This vegetable is starchy and sweet; ironically, it's not sugary. It also has a nutty and earthy taste to it. This vegetable softens as it cooks, and you can liken its texture to a potato's.
It's truly a versatile ingredient that you can use for desserts, stews, soups, and more! Yams are usually boiled or fried but can also be used for slow-cooked recipes because they can hold their shape well.
Consuming this regularly and moderately can lead to improved brain function, cancer prevention, better digestion, and regular blood sugar levels. Don't miss out on its flavor and nutrient; try it!
Directions
Peel and slice the yam into large slices or cubes using a knife.
Filter it using a colander.
Distribute the slices or cubes on a parchment paper-lined tray.
Let it freeze solid for about 2 hours.
Transfer the contents into several freezer bags, depending on your needs.
When ready to use, prepare or cook them while frozen to preserve their quality.
Storing your favorite fruits and vegetables is an efficient and affordable way of enjoying top-notch homemade food. Yams can be expensive when they're not in season, but once you try this, you can have these for a lifetime!
Tips
How to Select Yam
According to Medium, yams should feel firm without bruises, cracks, or soft spots. It has a bark-like texture that isn't shriveled.
How to Tell Yams from Potatoes
When it comes to the inside color, yams have a white shade, whereas sweet potatoes are usually orange. They also have a darker color and more textured skin than potatoes.
If you're buying from a grocery store, check the packaging label to be certain.
How to Prepare Yam
While frozen foods are usually thawed overnight, you can directly slice or cook them to use them. You'll notice it's starting to cook when you can pierce through it with a fork.
Yam Varieties
There are plenty of varieties that you can try out. For instance, American Yam is likely to be softer and red in color. It is also best used when you want to achieve a dish with a creamy consistency.
The tropical variant is also another popular variant that has a dry texture. This has a mild sweet taste that gives dishes an enriched flavor. There is also a variant called Purple Yam or "ube" which has a vibrant and creamy texture that you can use for desserts.
Aside from the ones mentioned above, you can try plenty of other kinds. They are all guaranteed to be delicious, nutritious, and versatile.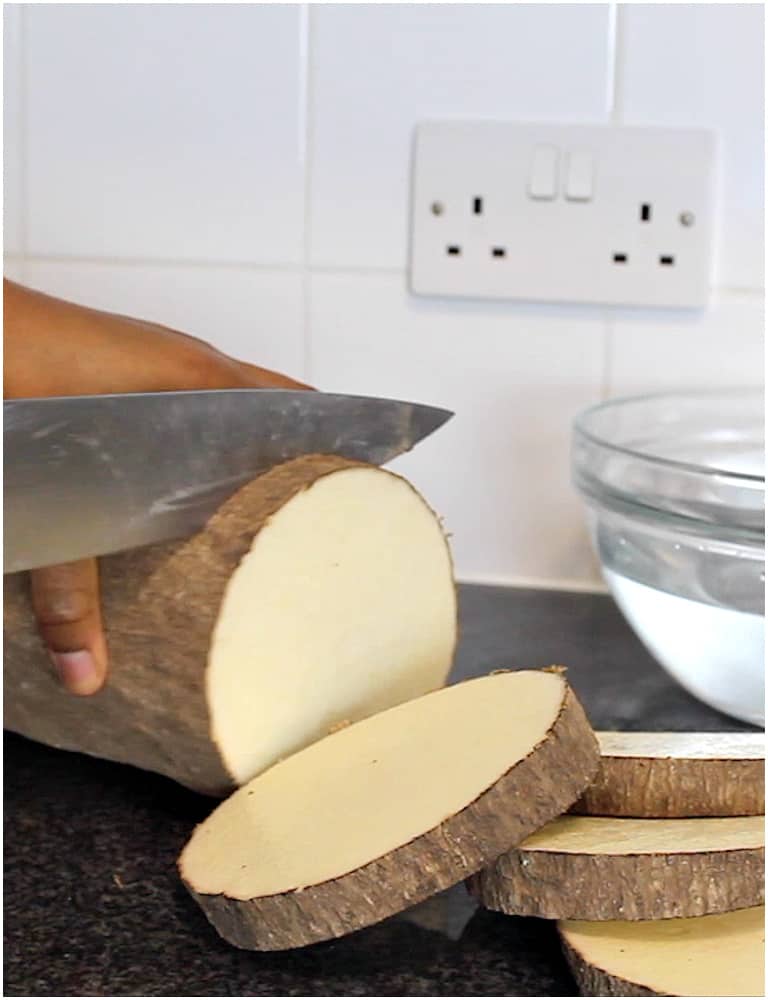 Recommended Tools
This post contains affiliate links, which means I earn commission income from qualifying purchases at no extra cost to you. Please read the full disclosure for more information.
How to Use Yams
These sumptuous vegetables can make excellent ingredients for thousands of dishes! In fact, you can already consume it after boiling or frying it because that is how yummy it is.
If you want to try out dishes, I suggest Yam and Egg Frittata, Pounded Yam, Ojojo, Porridge, and more! I recommended cooking it with Sweet Potato, Plantain, and Beans for combinations.
Storage Tips
At room temperature: Yams can last up to a week at room temperature.
Frequently Asked Questions
Do you need to boil the frozen yams before frying them?
No, you don't need to boil the yam slices. Frying them in their frozen state can result in better form.
How can you prevent yams from browning in the freezer?
If you encounter this problem, you can try drizzling it in lemon juice or vinegar to slow the oxidation. You can also rinse it with salt water to extend shelf life.
Does freezing affect the yam's flavor?
No, it does not. Ensure that the plastic bags are tightly sealed. Avoid storing food with a powerful odor in the freezer.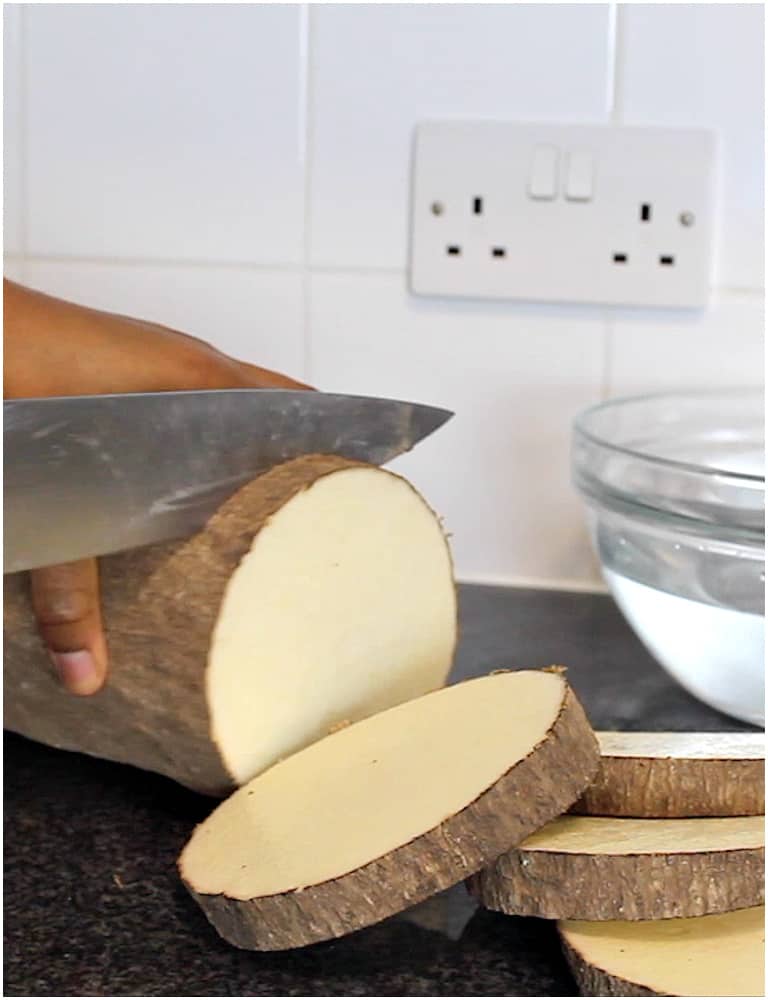 Yam Storage Hack
To all yam lovers out there, this is a life hack that you need to learn today! You can now have yams all year round without paying a penny!
Instructions
Slice and peel the yam.
Cut the yam into slices and peel the skin.

Rinse the peeled yam slices and cut them further into cubes if you want.
Pre-freeze.
Distribute the yam slices (or cubes) on a parchment paper-lined tray

Place them in the freezer until frozen for about 2 hours.
Store the yam.
Transfer the frozen yam into freezer bags in batches, depending on your needs.

When ready to use, prepare or cook them while frozen to preserve the quality.
Video
Notes
Purchase quality yams to retain their flavor and texture even after freezing.

Use this while in its frozen form.

Rinse it with salted water or drizzle it with lemon juice or vinegar to prevent browning.

It's easier to peel the yam when you've cut it into circles.