Bulgur Wheat Recipe in the oven? Yes, it's absolutely delicious! With the flavor, health benefits, and quality of bulgur wheat, there is absolutely reason not to add it to your diet!
What is bulgur wheat? It's an edible grain that's dried, cracked, and sometimes parboiled. Compared to other grains, bulgur wheat is easy and quick to cook. You might even be surprised at how many recipes you can make with it.
Bulgur wheat is usually cooked in Asian and Mediterranean cuisines. My family loves it because of how chewy and nutty it is when cooked.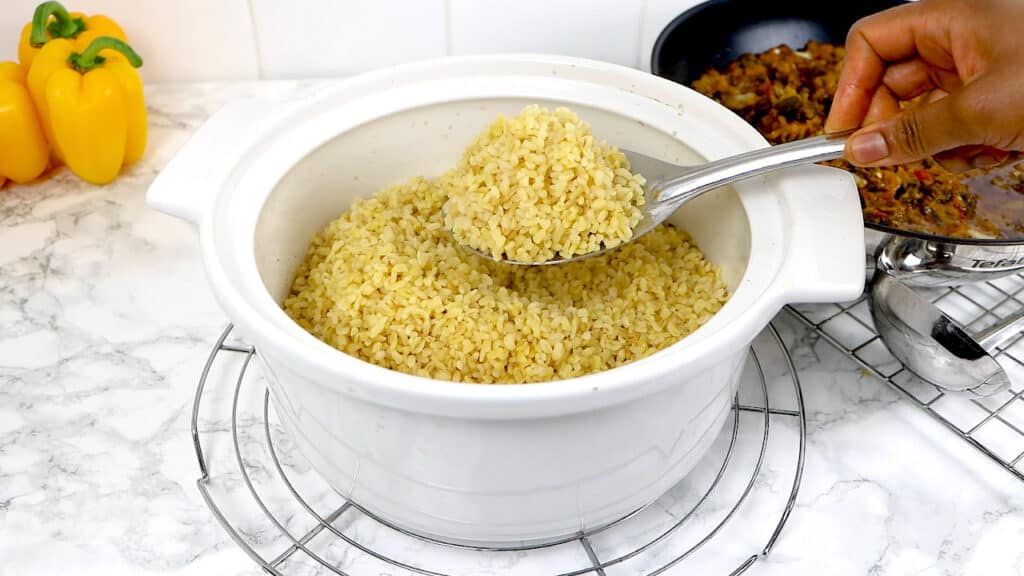 Pin this recipe on Pinterest to save for later
It's easy to make, perfectly seasoned, and ultimately satisfying with any dish! In this recipe, you will learn how simple it is to cook the best bulgur wheat recipe!
How to Cook The Best Bulgur Wheat
The secret to enjoying bulgur wheat lies in how well you season and cook it. Unlike regular rice, I suggest seasoning the bulgur wheat for an enriched flavor at every spoonful.
You'll see what makes bulgur wheat special!
Ingredients
Don't forget to list down these ingredients for your next grocery run.
Bulgur wheat
Did you know that bulgur wheat has been cooked for eating since 4,000 years ago?
It's widely enjoyed because of how nutty and rich it is. Once cooked, the bulgur wheat will have a fluffy, chewy, and soft texture that you will surely love.
Bulgur wheat comes in different varieties. It can be fine, medium, coarse, or extra course. In my kitchen, I usually have fine and coarse bulgur wheat for the right texture.
I love pairing bulgur wheat with chicken because of how delicious they taste together. You can also mix it with beef, turkey, veggies, and more!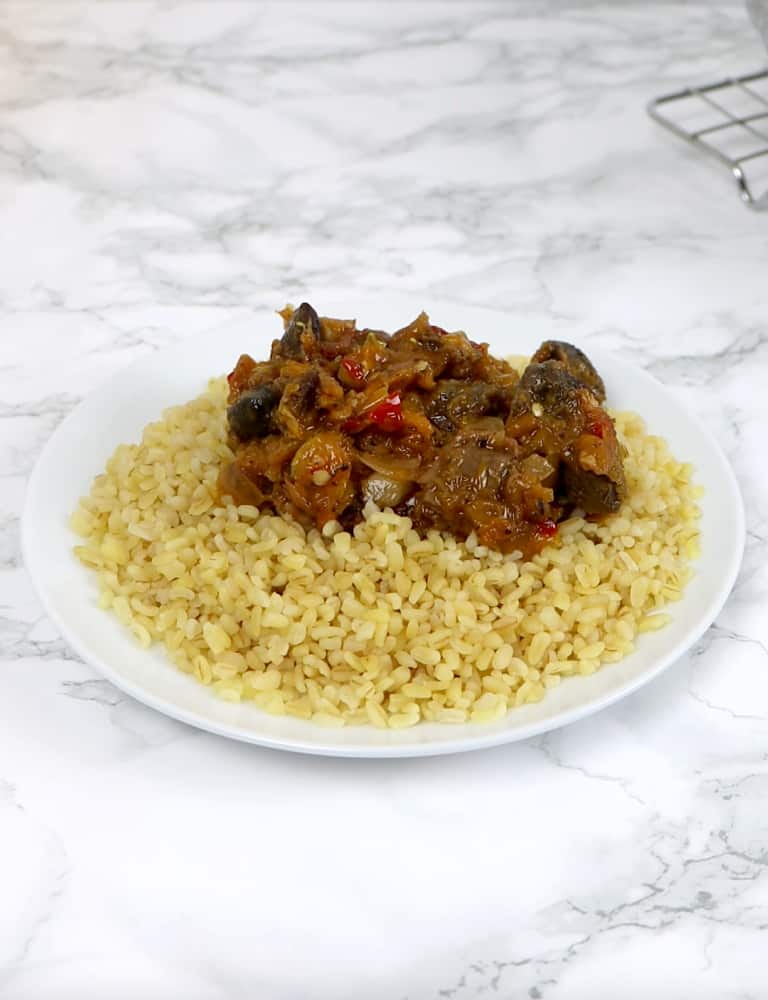 Chicken liquid stock
Wondering about the secret ingredient to the best bulgur wheat? It's chicken liquid stock! You won't believe how rich and flavorful it will make the bulgur wheat.
I usually make chicken liquid stock at home for the full flavors of the chicken. You can also use chicken stock cubes from the grocery store as alternatives.
Aside from using it for bulgur wheat, I also use chicken stock cubes for Chicken Curry, Chicken Gizzard Stew, Jollof Rice, Fried Rice, and Couscous!
Sea salt
If you want to enhance the flavors, then season the bulgur wheat with a bit of sea salt. A little goes a long way, so keep it proportionate to the amount of wheat you are cooking.
Water
Of course, cooking this wouldn't be possible without water. Use it to rinse the bulgur wheat before cooking it. This basic ingredient is also the key to cooking soft and fluffy rice.
Can you believe that the best bulgur wheat only requires these simple ingredients? This dish is easy and effortless, but the finished product is divine, delectable, and heavenly in all aspects!
Directions
How can you cook bulgur wheat to make the most out of it?
Rinse the bulgur wheat in a bowl until the water becomes clear.
Mix boiled water, chicken liquid stock, and sea salt in a glass dish.
Add the washed bulgur and fully submerge it into the wet mixture.
Preheat the oven to 200°C for several minutes.
Cover the dish and cook in the oven for 20 to 25 minutes or until soft and fluffy.
Once content with the texture, remove it from the oven and let it cool.
Enjoy it with your preferred side dish or stew, or sauce!
It's almost like cooking ordinary rice, but this version is extra flavorful, healthy, versatile, and affordable! Read on to learn more about improving, storing, and serving bulgur wheat!
Tips
Buying and storing bulgur wheat
Selection
The different variants of bulgur wheat are readily available in supermarkets, and the packages usually come with instructions.
Check if the packaging is clean and tightly sealed.
The container should not have holes or insects.
Storage
Unopened bulgur wheat can last indefinitely at room temperature.
Once opened, store the wheat groats in containers.
Place them in areas where they will not be exposed to heat or moisture. This can last up to 2 years.
Making chicken liquid stock
It's advisable to make chicken liquid stock at home because you will have great control over the flavors and seasonings.
Check out this easy video guide on how I prepare chicken liquid stock at home:
To store, pour the warm liquid stock on ice cube molds. Wait until they are frozen solid and transfer them into freezer bags for 6 months.
Bulgur Wheat Variations
You can make a vegan and vegetarian version of bulgur wheat by replacing the chicken liquid stock with vegetable stock. Bulgur wheat is not gluten-free, but you can use quinoa instead.
Use the bulgur wheat variants depending on how they are best cooked. For instance, the fine version has the smallest grains, so it cooks faster. It is also commonly cooked over a stovetop.
Meanwhile, the medium option is best for porridge, stews, and soups. The course bulgur wheat takes the longest to cook, but it is the best variant to use if you want to have a rice alternative.
Aside from this classic bulgur wheat recipe, you can also mix in tahini paste, cherry tomatoes, mint, parsley, spring onions, minced beef, paprika, cumin, chickpeas, and more.
Recommended Tools
This post contains affiliate links, which means I earn commission income from qualifying purchases at no extra cost to you. Please read the full disclosure for more information.
Visit my shop for more products.
How to Serve Bulgur Wheat
You can serve bulgur wheat the same way you serve regular rice. It's great for breakfast, lunch, or dinner because it goes with almost any dish.
Here are some of my best suggestions:
To make it extra delicious, you can also try my Chicken Fried Bulgur for an all-in-one meal! It has chicken, vegetables, bulgur, and seasonings!
GoodTo suggests eating about 225 grams of bulgur wheat per day, especially if you want to avoid heart problems long term.
Storage Tips
At room temperature: Cooked bulgur wheat is best eaten within 4 hours.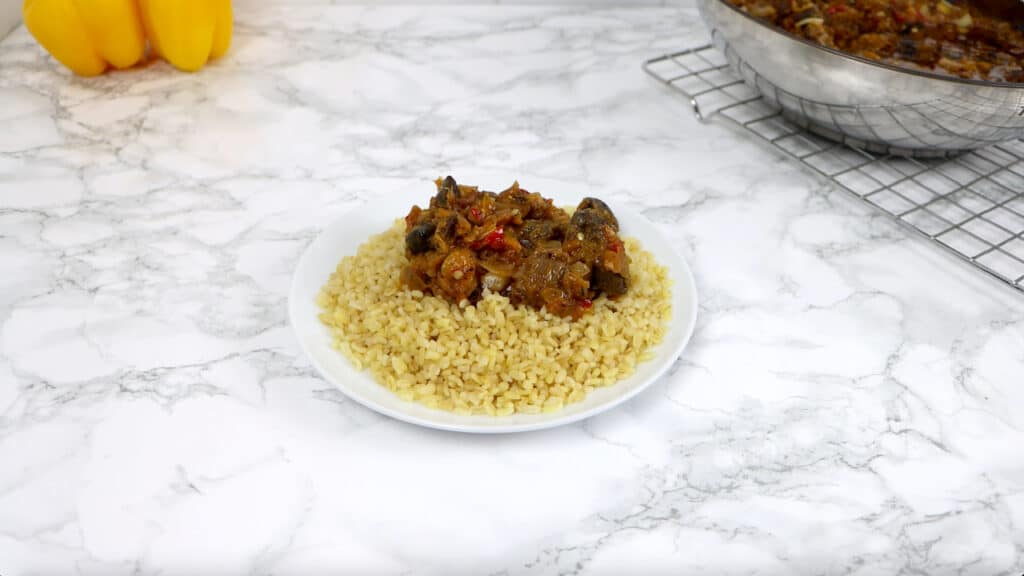 Frequently Asked Questions
Is bulgur wheat healthy?
Yes, it is definitely nutritious! Wheat groats are one of the best ingredients for low-fat diets. It aids in weight loss because it can make you feel full for a longer period of time.
Moreover, this dish helps with blood sugar levels, metabolism, and heart health!
Is bulgur wheat healthier than rice?
Bulgur wheat is generally healthier than rice due to its high fiber and protein content. It also contains more essential nutrients compared to rice. It also has fewer calories for weight loss.
However, if your diet does not permit the intake of wheat groats, white rice, or other grains is perfectly fine.
What is bulgur made from?
Bulgur is made from partially crushed and parboiled grains. It has been cultivated and enjoyed as food as early as 4,000 years ago. Moreover, it can be from different kinds of grains or wheat species.
Is bulgur similar to rice?
Yes, bulgur is similar to rice, especially when it comes to how it is prepared and cooked. Both need to be washed and rinsed before cooking.
According to an article in GoodTo, the total carbohydrates per 100 grams of wheat bulgur is 76 grams.
Oven-Baked Bulgur (VIDEO)
Whether you're on a diet or on a fitness journey, this Oven-Baked Bulgur Wheat recipe is a life-changing dish for you! It's going to be worth every bite!
Ingredients
470

g

bulgur wheat

(wheat groats)

375

ml

water

(boiled)

250

ml

chicken broth

(chicken liquid stock)

½

tsp

sea salt
Instructions
Rinse the bulgur wheat in a bowl until the water becomes clear.

Mix boiled water, chicken liquid stock, and sea salt in a glass dish.

Add the washed bulgur and fully submerge it into the wet mixture.

Preheat the oven to 200°C for several minutes.

Cover the dish and cook in the oven for 20 to 25 minutes or until soft and fluffy.

Once content with the texture, remove it from the oven and let it cool.
Video
Notes
Always rinse the bulgur wheat before cooking it.

Check the instructions on the package for any changes in the procedure.

This is perfectly safe for babies as long as they are fed in moderation.

This is not recommended for gluten-free diets because it is a wheat product.
Nutrition
Serving:
1
(of 6)
Calories:
2
kcal
Carbohydrates:
1
g
Protein:
1
g
Fat:
1
g
Saturated Fat:
1
g
Polyunsaturated Fat:
1
g
Monounsaturated Fat:
1
g
Cholesterol:
1
mg
Sodium:
350
mg
Potassium:
7
mg
Sugar:
1
g
Vitamin A:
1
IU
Calcium:
4
mg
Iron:
1
mg