Tahini (tahina)! What is it? It's a healthy, smooth, creamy, nutty Middle Eastern condiment made from raw (or toasted) hulled sesame seeds. You can even use it for hummus, baba ghanoush, and halvah.
Did you know that you can turn sesame seeds into useful delicious tahini paste? It can certainly improve your dishes! In fact, this can make your recipes tastier.
It has a nutty, earthy, mildly bitter flavor that will surely give you quality meals and drinks.
Pin this recipe on Pinterest to save for later
It's gluten-free, vegan, and vegetarian – perfect for any diet. It's a popular spice in the Middle East and the Mediterranean that you can now make in your kitchen!
Health Benefits of Tahini
Why should you make tahini paste? Here are some of the top health benefits of tahini that you will surely love.
It's good for your heart.
Tahini has good effects on your blood pressure levels. It can improve your heart function for energy, immunity, and overall health.
It helps prevent cancer.
Protect your body against different types of cancer by adding tahini to your diet. According to Healthline, it is especially effective for your liver, colon, and skin.
You'll get stronger bones.
Strengthen your bones for better physical activity and workout sessions. You will feel stronger and more active every day! In fact, tahini can lessen the side effects of bone problems.
Keep your skin radiant and glowing.
According to Dr. Axe, tahini also helps with better skin cells. It also improves the quality of your skin to give it a wonderful glow.
It boosts your brain function.
Use tahini to boost your brain function. It gives you better focus and memory to help you with work or school! In fact, I suggest adding it to your snacks to keep you moving.
How to Make Tahini Paste
Get your food processor and buy the best sesame seeds in the market. Let's make the perfect Tahini Paste together!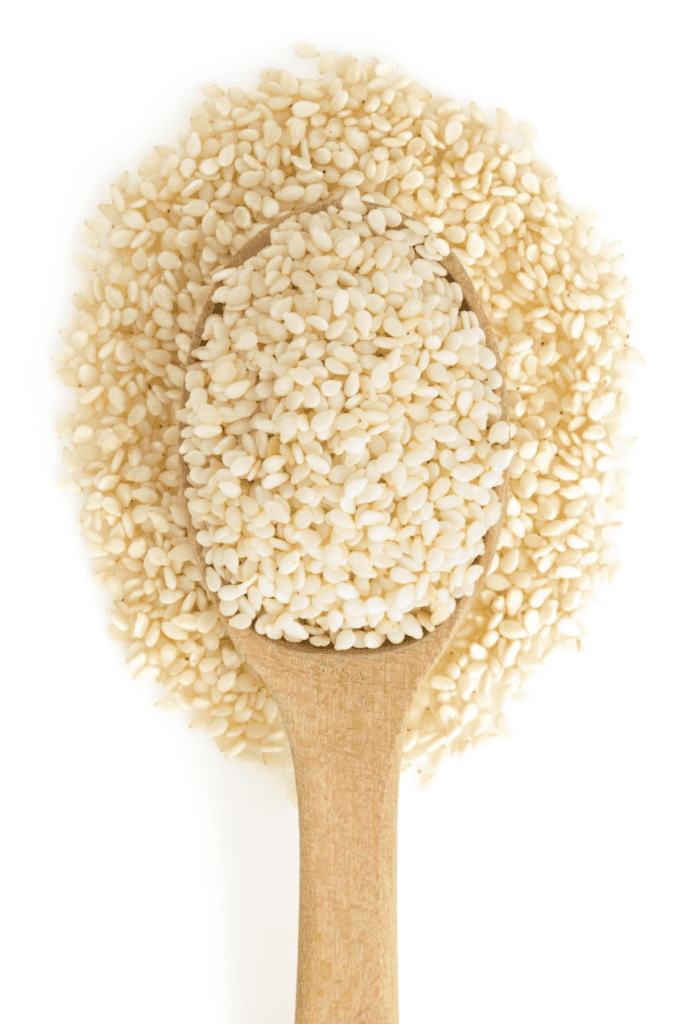 Ingredient
Sesame seeds
Sesame seeds are edible seeds that taste nutty and mildly sweet, especially when toasted. These also release a nice smell that can leave you wanting more.
Moreover, sesame seeds are good for your immunity, blood sugar control, muscle pain, stomach, and heart.
The seeds are usually used for salads, stews, stir-fry, smoothies, baked goods, and more!
You can add them to bread, fruits, beef, chicken, vegetables, and other food to serve only the best dishes.
These sesame seeds are all that you need to make Tahini Paste! Indeed, it's a natural, organic, and quality recipe.
Directions
Good news, you can make tahini paste with a food processor! Believe it or not, it actually does all of the work for you.
Put the sesame seeds into a food processor and blend.
Scrape down the sides with a spatula.
Then, continue with the paste until smooth and thick.
Finally, transfer the paste into a jar.
How nice would it be to scoop tahini paste into your favorite recipes? It might also be the secret ingredient to your dishes, drinks, desserts, smoothies, soups, and stews!
Tips
Buying sesame seeds
Sesame seeds are readily available in grocery stores in packages.
In fact, they can also be bought online.
The packing should not have any water, bugs, or holes.
Storing sesame seeds
Unopened sesame seeds can be kept in their original packing.
Once opened, transfer the contents into a jar.
Room-temperature seeds can last up to three months.
You can also store them in the fridge or freezer to extend their shelf life.
Tahini Paste Variations
You can toast or roast sesame seeds with spices to infuse them with added flavor. You can add olive oil, salt, garlic powder, lemon juice, and more.
Fuss Free Flavors also suggests making it with yogurt, vinegar, basil, dijon mustard, and honey for added flavor.
You can also use a blender or a miller to make tahini paste. Alternatively, you can make the paste with a mortar and pestle until smooth.
Recommended Tools
This post contains affiliate links, which means I earn commission income from qualifying purchases at no extra cost to you. Please read the full disclosure for more information.
Visit my shop for more products.
How to Use Tahini Paste
Serious Eats suggests using tahini paste for dips, sauces, salads, soups, burgers, and donuts. You can also add it to marinades, cakes, dressings, bread, smoothies, milkshakes, and other recipes.
Additionally, here are some of the recipes you can try with tahini paste:
Storage Tips
At room temperature: Tahini paste can last up to several months at room temperature.
Frequently Asked Questions
What is tahini paste made from?
Tahini paste is made from sesame seeds. You can blend it in a blender or food processor until you get a paste texture. It can be made better with spices for more flavor!
What can I use instead of tahini paste?
Food52 suggests cashew butter, greek yogurt, peanut butter, and sesame oil as alternatives for tahini paste.
What does tahini paste do?
Tahini paste makes a great spice for plenty of recipes! Moreover, you can mix the into dishes, drinks, and desserts. I also suggest using it to thicken soups and stews for better texture.
What can I use instead of tahini paste?
You can also use peanut butter or cashew butter as alternatives for a similar nutty taste.
What is the purpose of tahini?
Tahini can be used as a spice for dishes and drinks. I also use it for smoothies, desserts, and baked goods for more flavor. Moreover, this paste can be added to dips and dressings.
Tahini Paste
Instantly improve your dishes and drinks with this simple Tahini Paste recipe!
Instructions
Scrape down the sides with a spatula at intervals.

Continue blending until smooth and thick.
Video
Nutrition
Serving:
1
(of 23)
Calories:
93
kcal
Carbohydrates:
4
g
Protein:
3
g
Fat:
8
g
Saturated Fat:
1
g
Polyunsaturated Fat:
4
g
Monounsaturated Fat:
3
g
Sodium:
2
mg
Potassium:
76
mg
Fiber:
2
g
Sugar:
0.05
g
Vitamin A:
1
IU
Calcium:
159
mg
Iron:
2
mg