Turn ordinary clementines into fresh, organic, and 100% healthy Clementine Juice recipe!
With this juice recipe, every sip is bursting with sweet, fruity, and saccharine flavors. Even its orange color will invite you to drink more of this juice.
Your juicing journey is definitely made more fun with these clementines. Since it's easy to make, you can make this juice on a hot summer day to keep yourself hydrated and energized!
Try it now and find out what it can do for your health and appetite. It'll certainly make you feel like you're on vacation in the Bahamas!
How to Make Clementine Juice
The Clementine Juice recipe is one of the easiest juices to make. You can do it by hand or with the help of a slow juicer. It's naturally loaded with sweetness and fruity flavors until the last drop!
Ingredient
Let's keep it healthy by using fresh clementines.
Clementines
There's a reason why clementines look like oranges. These clementines are actually a type of orange that is usually small, seedless, and easy to peel.
Clementines also have a bright orange peel that smells just as sweet as the sacs. According to Good Food, it is in season from November until February, so buy them during this season for extra juicy ones.
Aside from their amazing flavor, you need to enjoy more of these clementines for the health benefits.
According to Eating Well, clementines can help boost your immunity and prevent cancer.
Did you know that clementine contains only 35 calories? It is great for your weight loss goals.
Clementines are also rich in antioxidants to give you clear and healthy skin.
With these fruits, you can boost your fiber intake for better metabolism and digestion.
WebMD also suggests eating clementines to promote eye health in the long run.
You can use them for salads, desserts, and pastries. They are also great for eating fresh because they're easy to prepare and enjoy. How do you like to use your clementines?
Directions
Now, let me teach you how to do the Clementine Juice recipe in no time!
Peel the clementines.
Separate the juice sacs into smaller sections.
Then, feed the sacs into the slow juicer.
Store the excess pulp separately to use for other recipes and drinks.
Pour the juice into a glass and drink away!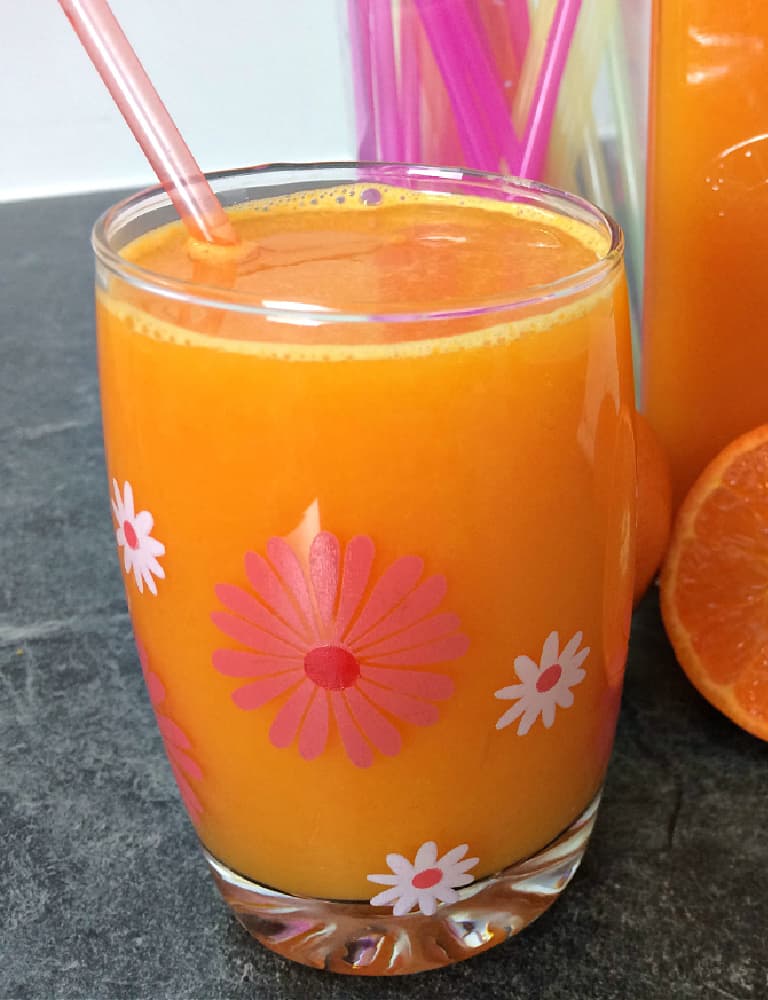 Don't you just feel revitalized and restored? Let its sweet flavor warm your heart and lighten up your mood! It is definitely the juice of life.
Tips
Buying clementines
According to The Kitchn, buy clementines while they are in season for freshness.
The fruits should be small with vibrant orange peel.
Avoid ones with blemishes and soft spots.
The peel should feel soft and thick.
Clementines should also be firm and heavy for their size.
They should also release a sweet scent at the stem.
Storing clementines
Place room-temperature clementines in open containers to last up to a week.
Keep them away from sunlight.
To extend shelf life to 2 weeks, place the fruits in mesh bags and refrigerate them.
Store the separated sacs in freezer bags for several months.
Clementine Juice Recipe Variations
Instead of using clementines, you can also use blood oranges, valencia, and navel oranges for the Clementine Juice recipe. You can add lemon juice, honey, and maple syrup to add more flavor.
It can also be combined with other juices like:
No-Juicer Clementine Juice Recipe
Aside from using a slow juicer, you can also use a blender to blend the clementine sacs with water. Then, filter the contents with a fine-mesh strainer or a nutmilk bag.
Alternatively, continuously roll the fruit between your palm and a flat surface. Slice the fruit in half crosswise. Squeeze the halve into a glass until all of the juices are fully extracted.
Recommended Tools
Slow juicer: Do the Clementine Juice recipe using a slow juicer for easy juicing.
Glass bottle: Store the juice in a glass bottle and refrigerate it for longer shelf life.
This post contains affiliate links, which means I earn commission income from qualifying purchases at no extra cost to you. Please read the full disclosure for more information.
Visit my shop for more products.
How to Serve Clementine Juice
Clementine juice is best served in the morning and on an empty stomach to better absorb the nutrients. You can also have it for the first half of the day for energy and endurance.
You can also drink it before or after a workout for improved physical activity. For meal pairings, you might want to consider the following dishes:
Don't forget to share this Clementine Juice recipe with your family and friends to get everyone started on a healthy lifestyle!
Storage Tips
At room temperature: Drink the Clementine Juice within two hours to enjoy the full flavors.
Frequently Asked Questions
What is clementine juice?
Clementine juice is an all-natural, one-ingredient, and organic drink from fresh clementine fruit. It is less acidic than oranges, but it also has lots of health benefits for you.
What is a clementine fruit?
A clementine fruit is a kind of orange that's naturally small and seedless. It's also juicy, vibrantly orange, and sweet to the taste. Once you juice it, you will see how much juice you can extract!
What does clementine taste like?
Unlike oranges, clementines are less acidic, sweeter, and busting with more vitamins, minerals, fiber, and antioxidants. Clementine juice has a sweet, sour, and fruity flavor that everyone will love.
Are clementines good for juice?
Yes, they are! Since they're seedless and easy to peel, you can easily juice them with your hands or a juicer. You can juice them like how you prepare oranges!
Trust me; you won't regret adding this clementine juice recipe to your diet.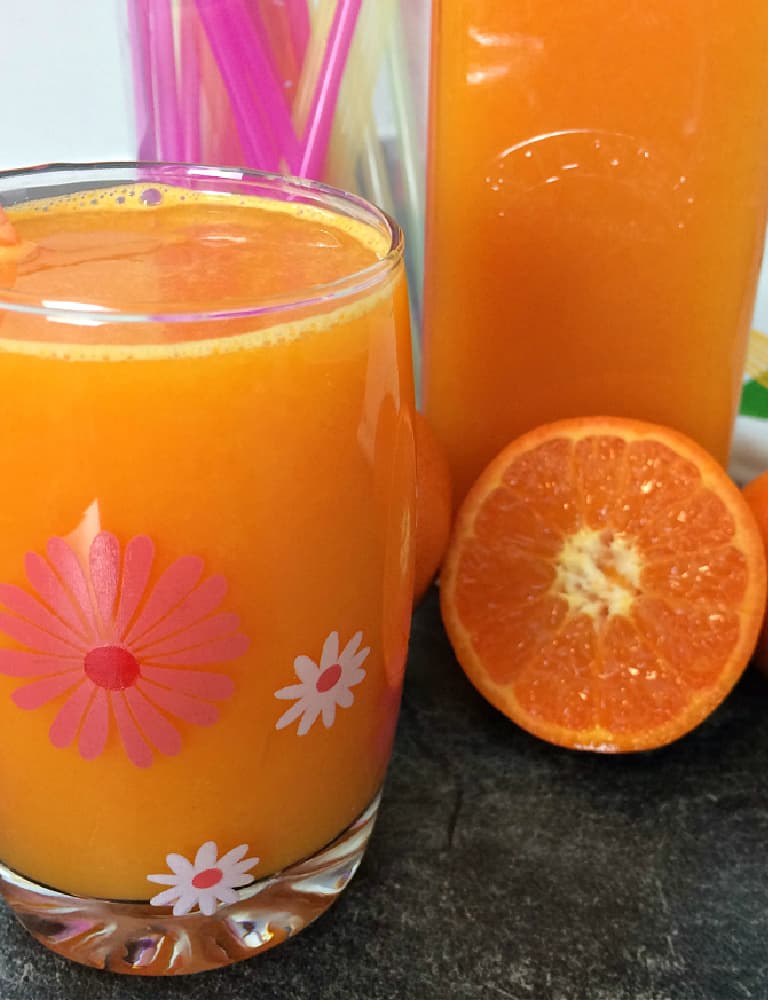 Do clementines have more sugar than oranges?
In an article from FoodStruct, clementines are lower in sugar compared to oranges. However, oranges are higher in fiber.
Hence, this healthy drink can aid in weight loss and lower cholesterol and sugar levels for better blood circulation and heart health.
This post may contain general information and does not constitute professional medical advice. Always seek information or advice from a qualified medical professional. Please read the full disclaimer for details.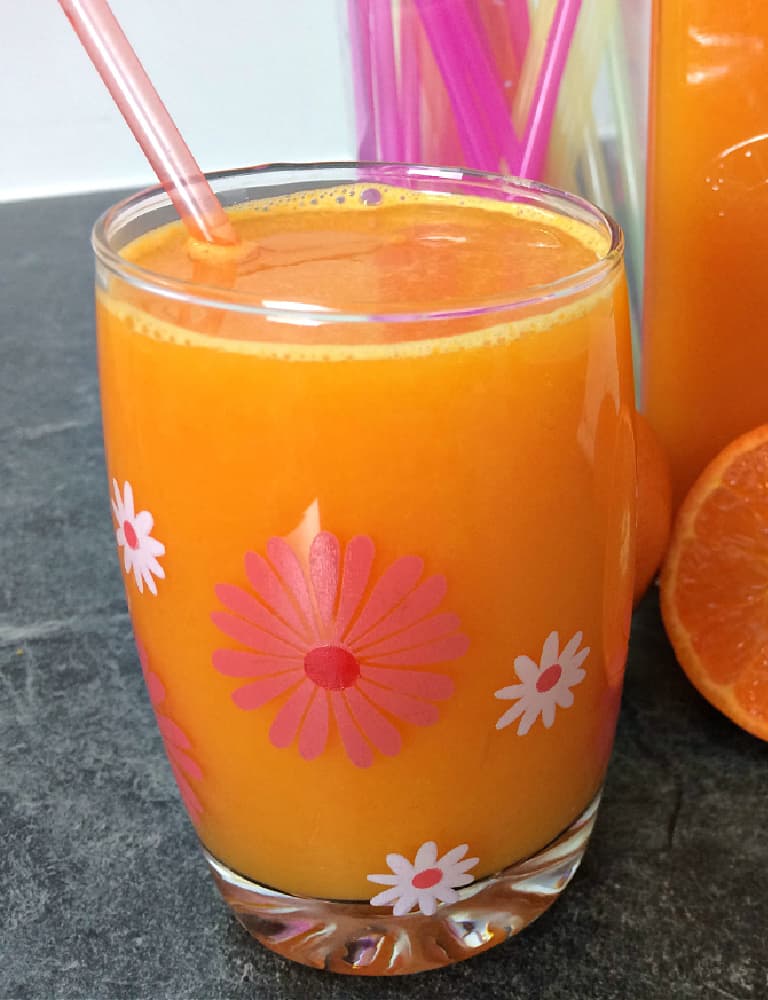 Clementine Juice (VIDEO)
If you want to feel like you're on a vacation, try this Clementine Juice recipe! It is naturally fresh, sweet, and healthy for every day consumption!
Instructions
Separate the juice sacs into smaller sections.

Then, feed the sacs into the slow juicer.

Store the excess pulp separately to use for other recipes and drinks.

Pour the juice into a glass and drink away!
Video
Notes
Store the clementines properly for the best-tasting juice.

You can blend it with water or squeeze the juices by hand.
Nutrition
Serving:
1
(of 4)
Calories:
141
kcal
Carbohydrates:
36
g
Protein:
3
g
Fat:
0.5
g
Sodium:
3
mg
Potassium:
531
mg
Fiber:
5
g
Sugar:
28
g
Vitamin C:
146
mg
Calcium:
90
mg
Iron:
0.4
mg