Make the most out of your garri with an easy, homemade, and satisfying Garri Peanut Smoothie!
It's certainly no surprise that garri is a staple food in African recipes. Garri, also known as granulated cassava, is usually fermented to give it a sour and acidic flavor.
Aside from its affordable price, garri is also versatile and convenient to use. It can have a starchy quality that makes it perfect for making thick and creamy smoothies.
If you love the natural taste of garri, then wait until you experience it with peanuts, milk, and sweeteners. The flavors of the Garri and Peanut Smoothie are absolutely explosive and unforgettable.
Creamy Garri and Peanut Smoothie – truly unique! So, what is it? Like many other smoothies, it's a thick, creamy, and sweet beverage made from garri powder (garri lebu or fine garri), fruit (banana) blended with fresh whole milk, evaporated milk (or condensed milk for a creamier consistency), peanuts and maple syrup, chocolate powder and crushed ice – are optional.
Pin this recipe on Pinterest to save for later
This unique and nutritious combination or blend results in what you can now call Garium Sulphate Smoothie – peanut flavored or, better still, fortified garri smoothie or garri ati epa smoothie (in local dialect).
Discover how to make the perfect Garri and Peanut Smoothie right here and right now!
How to Make Garri and Peanut Smoothie
Just like other smoothie recipes, the Garri and Peanut Smoothie is simple to make. With the help of your blender, you can get the consistency and quality that everyone wants to experience in a smoothie.
All you need to do is put everything in a blender and enjoy every sip!
Ingredients
What ingredients will you need to make the Garri and Peanut Smoothie?
Garri powder
Did you know that garri powder is made of cassava root? It's a condiment that's been widely used in African countries, especially Nigeria. The cassava root is turned into a fine powder to make it easy to use.
How garri tastes depends on how long you ferment it. Garri can taste sweet and nutty or intensely acidic. Sour garri is best used when soaked in water, while mildly acidic garri can be used for soups and stews.
Garri boasts not just flavor but also incredible health benefits.
You can get a good amount of carbohydrates and calories from garri to help manage your weight.
According to FineLib, garri is rich in vitamins and minerals to boost your immunity.
With the help of amygdalin, you can trust that garri can prevent different types of cancer.
Pulse Nigeria shared that garri also has positive effects on the digestive system.
There are vitamins and compounds in garri that can promote eye health.
When it comes to culinary uses, garri is truly a multi-purpose condiment. You can turn it into porridge or smoothie for a thick and creamy quality. Otherwise, it's perfect for soups, stews, and other cooked recipes.
Now is the best time to use garri powder for a Garri and Peanut Smoothie recipe, isn't it?
Unsalted roasted peanuts
Give the smoothie an enriched flavor with unsalted roasted peanuts or peanut butter. These will also give the drink a thicker texture and a neutralized taste for a good balance.
You can buy these peanuts from the grocery store or roast peanuts in your air fryer. Peanuts also come with life-changing health benefits to complement the healthy goodness of garri.
Banana
The peanut smoothie recipe will not be complete with a mildly sweet and creamy banana. I suggest using ripe or overripe bananas for their perfect flavor that goes well with the garri and peanuts.
An article in Healthline found that the banana is good for losing weight, improving exercise recovery, and supporting heart health. When it comes to drinks, you can pair them with avocados, peanut butter, and strawberries.
Milk
In this recipe, it is best to use evaporated milk and whole milk. These will go well with the garri and banana for an extra thick, creamy, and smooth quality in the drink.
According to Live Gusto, evaporated milk has a denser consistency and a sweeter flavor. On the other hand, whole milk has more of a creamy texture and a mild sweet taste.
Maple syrup
Whenever I make a peanut smoothie, I use natural sweeteners like maple syrup for healthy options. It's not just sweet, but it also adds a touch of woody, light, and caramelized flavor.
I also add it to season other smoothie recipes, like Oatmeal Smoothie, for a richer quality. A little goes a long way, especially with a sweetener like maple syrup.
All of these ingredients in one drink truly make the best Garri and Peanut Smoothie yet!
Directions
It's time to make the Garri and Peanut Smoothie. Are you ready?
Use a blender to powderize the garri.
Add the unsalted roasted peanuts, banana, evaporated milk, whole milk, and maple syrup.
Then, blend the contents in the same blender.
Once you are happy with the consistency, serve the smoothie in a glass!
Every sip is bursting with fantastic flavors and the perfect texture. It's thick, creamy, sweet, nutty, and ultimately tasteful – everything you want to experience in a smoothie!
Tips
Making garri
Use a knife to peel and slice the cassava.
Ferment the pulp at room temperature for two days.
Store the cassava in a nutmilk bag or cheesecloth for another two days to remove moisture.
Push the pulp against a sieve.
Roast the cassava in a frying pan over medium heat for about 30 minutes.
Powderize the garri in a blender, food processor, or mortar and pestle until powdery.
Keep the garri powder in a jar and use it whenever needed.
Try it in smoothies, with soups, stews, as desserts, and in baked goods for an intense flavor and awesome texture.
Roasting peanuts
There are different ways to roast peanuts, and here are some of the best options you can try at home:
Oven-roasting
Preheat the oven to 180°C.
Spread the peanuts on the tray.
Then, roast the peanuts in the oven for up to 25 minutes.
Stir the peanuts in two intervals until cooked.
Pan-roasting
Heat the frying pan over medium fire.
Then, roast the peanuts for ten minutes.
Remove the peanuts from the heat and let them cool.
Air fryer
Preheat the air fryer to 200°C.
Arrange the peanuts in a single layer.
Then, air fry the peanuts for eight minutes.
Give it a toss after four minutes.
Once you roast the peanuts, you can remove the skin by rubbing several pieces between your palms. Separate the skin from the peanuts with a blow dryer to make peeling easy.
Bananas
Buying bananas
Live Eat Learn suggests buying evenly-colored yellow bananas.
Check if the bananas are firm to the touch.
Go for medium-sized bananas.
The bananas should also still be attached to the stem.
Storing bananas
Keep unripe bananas at room temperature to ripen.
According to Real Simple, you can store bananas in the fridge to retain freshness.
Once peeled and sliced, freeze the bananas to use within several weeks.
Garri and Peanut Smoothie Variations
One of the reasons why you should make Garri and Peanut Smoothie at home is to customize it to your liking and diet.
For instance, you can use nut substitutes to replace peanuts. I suggest using cashews, almonds, walnuts, pecan nuts, and pistachios for alternative flavors.
Meanwhile, the evaporated milk and whole milk can be used interchangeably. The best substitutes include powdered milk, almond milk, coconut milk, or chocolate almond milk.
On the other hand, the sweeteners are optional ingredients you can add. Aside from maple syrup, I also suggest using honey, sugar, stevia, agave, apple syrup, and more!
No-Blender Garri and Peanut Smoothie
Even without a blender, you can still make Garri and Peanut Smoothie. Make the drink in a food processor to get a similar or even finer and thicker texture.
Recommended Tools
This post contains affiliate links, which means I earn commission income from qualifying purchases at no extra cost to you. Please read the full disclosure for more information.
Visit my shop for more products.
How to Serve Garri and Peanut Smoothie
There are many ways to upgrade your Garri and Peanut Smoothie.
Before you blend it, you can add some ice for a cold drink, especially in the summer. Instead of serving it as a beverage, you might also enjoy it in a smoothie bowl.
For a smoothie bowl, you can pair the Garri and Peanut Smoothie with granola, seeds, desiccated coconut, fresh fruit slices, raisins, dried fruits and berries, yogurt, protein powder, and more.
I suggest relishing the smoothie in the morning for a burst of energy you might need. It also makes a good pre-workout or post-workout drink with other healthy recipes.
Regardless of how you drink the Garri and Peanut Smoothie, it is always guaranteed to give the best experience!
Storage Tips
At room temperature: Drink the Garri and Peanut Smoothie at room temperature within two hours.
Frequently Asked Questions
Can I drink Garri with Milo?
Yes, you can drink garri with Milo. In fact, I used Milo in another version of the Garri Smoothie to give it a sweet and chocolatey taste. It complements the garri for the best flavors.
What is the best thing to drink garri with?
When adding garri to your dishes, you can enjoy it best with a smoothie, juice, or a creamy drink. Its thick texture goes well with lots of dense and milky beverages like Almond Milk.
Is drinking garri with milk healthy?
Yes, it is! In fact, soaking garri in milk is one of the best ways to use it. You get the all-natural quality of garri in creamy and thick milk for a porridge-like dish. So, it combines the health benefits of garri and milk in one!
What happens to the body when you drink garri?
Drinking garri can give you lots of vitamins and minerals to improve your health. It boosts immunity, protects the heart, promotes eye health, gives energy, enhances digestion, and prevents different health conditions.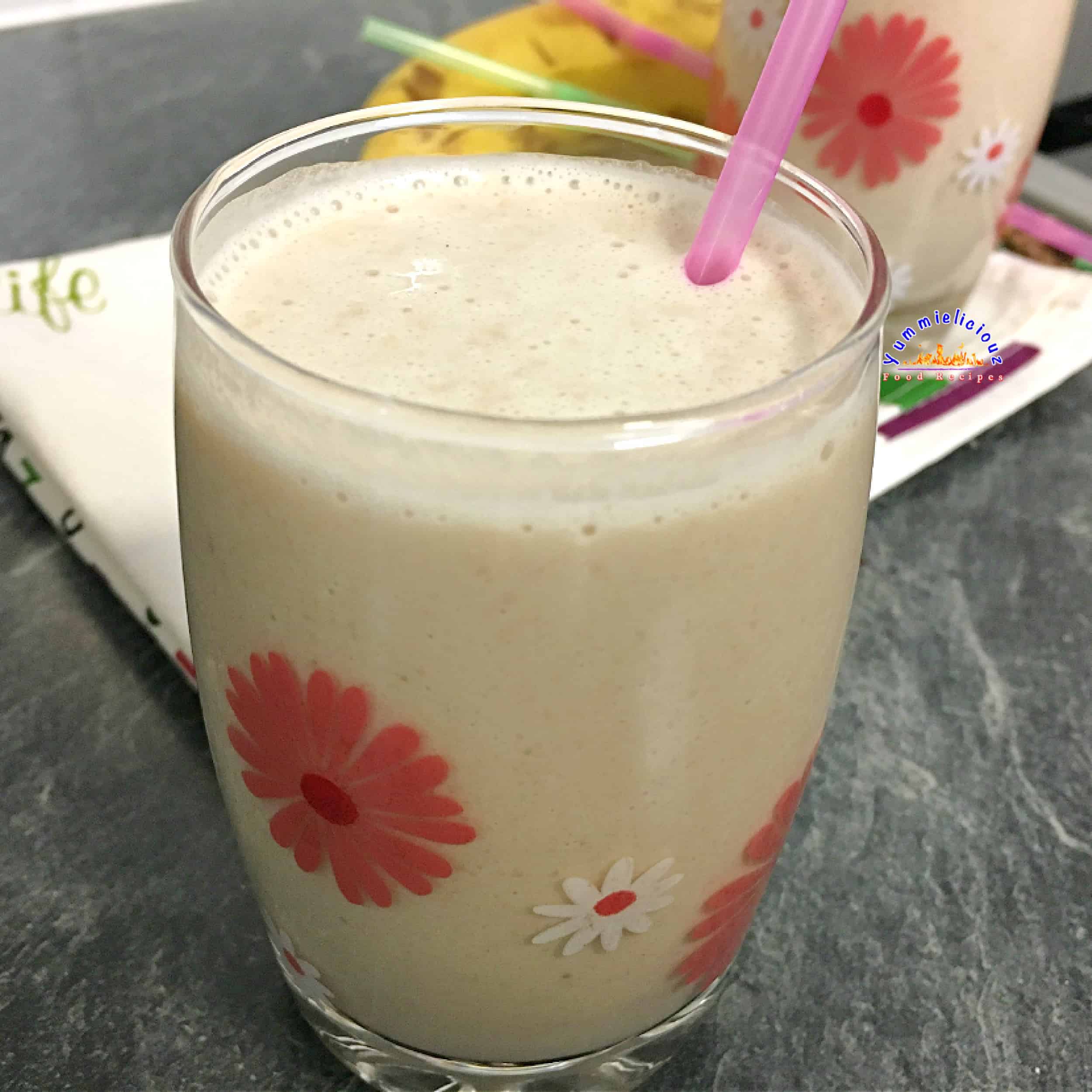 Garri & Peanut Smoothie (VIDEO)
Upgrade, enhance, and a touch of luxery to your garri with a this one of a kind homemade Garri and Peanut Smoothie recipe!
Ingredients
½

cup

garri powder

½

cup

unsalted roasted peanuts

1

banana

ripe

½

cup

evaporated milk

2

cups

whole milk

(1 to 2 cups)

1

tbsp

maple syrup
Instructions
Use a blender to powderize the garri.

Add the unsalted roasted peanuts, banana, evaporated milk, whole milk, and maple syrup.

Then, blend the contents in the same blender.

Once you are happy with the consistency, serve the smoothie in a glass!
Video
Notes
Roast the peanuts in a frying pan, oven, or air fryer.

Make the smoothie in a blender or food processor.

Use alternative ingredients best suited for your diet.
Nutrition
Serving:
1
(of 4)
Calories:
314
kcal
Carbohydrates:
34
g
Protein:
11
g
Fat:
16
g
Saturated Fat:
5
g
Polyunsaturated Fat:
2
g
Monounsaturated Fat:
6
g
Cholesterol:
24
mg
Sodium:
158
mg
Potassium:
514
mg
Fiber:
3
g
Sugar:
16
g
Vitamin A:
292
IU
Vitamin C:
4
mg
Calcium:
271
mg
Iron:
1
mg