Transform fruits into side dishes and spreads by trying this homemade Guacamole recipe! It's one of the best family-friendly healthy recipes ever. This also goes with bread, wraps, burger, pizza, and more!
Pin this recipe on Pinterest to save for later
Indeed, this is the perfect condiment for vegan, vegetarian, and keto diets!
How to Make Guacamole
Without a doubt, you will love how easy it is to make this guacamole from avocados! It's a no-cook recipe with the best fruits!
Ingredients
Avocado
Avocados are nutty and buttery in flavor and smooth and creamy. These are also easy to prepare and mash. The consistency makes it perfect for spreads or dipping sauces.
These avocados are helpful for your vision, heart, bones, mood, digestion, blood pressure, and skin!
For this recipe, I suggest using ripe avocados for a soft and rich quality. By storing it properly, I can make guacamole and Avocado Banana Milkshake whenever my family wants!
Tomatoes
Tomatoes can add a sweet or sour taste to the dish. In fact, you can try your plum tomatoes or romas for the best results. Tomatoes also give the dish more flavor and texture.
These are my go-to vegetables for tasty Jollof Rice, One-Pot Spaghetti, and Tortilla Wraps!
Onion
Add a pungent, crunchy, and spicy twist to the guacamole by adding onions. Its powerful aroma can also make it more appetizing.
This is my favorite aromatic, especially for Chicken Gizzard Stew, Fried Eggs, and Breakfast Sandwich!
Coriander and cilantro
Coriander and cilantro are leafy greens with a savory, earthy, and fresh taste. The colors can also complement the shade of avocados.
Lemon juice
Lemon or lime juice adds acidity and balance to the recipe. Its sour and tangy flavor makes the guacamole extra tasty. This juice can also make this relish last longer!
Sea salt
The sea salt balances the dish's sweetness, earthiness, and acidity. Even a pinch of salt can surely upgrade the quality of guacamole.
Optional ingredients
You can add a scotch bonnet, garlic paste, or a pinch of cumin for the optional ingredients. Also, use your favorite herbs and spices to make this recipe your own.
With these ingredients, you will be able to make top-quality healthy guacamole in your own home. Most importantly, it's easy to make, so you can do this recipe whenever possible!
Directions
Cut each avocado in half using a knife.
Twist it open and remove the stone or pit.
Scoop out the avocado flesh with a spoon.
Finely chop the onion and the leafy greens.
Deseed and diced the tomatoes.
Squeeze lemon or lime, remove the seeds, and set it aside.
Toss all of the prepared ingredients in a bowl until well-mixed.
Mash further if you want to achieve a smoother consistency.
You can also season the relish with sea salt, cumin powder, scotch bonnet, or garlic paste.
Use it for your dishes, or store it as a relish!
Finally, ensure that everything is well combined for the perfect homemade guacamole!
Tips
How to Select and Store Guacamole Ingredients
Avocado
Selection. You can buy unripe avocados and ripen them in your home. Ripe avocados also have a dark color, soft texture, and pebbled skin.
Storage. Ripen the avocados in a paper bag for up to 3 days. Ripe avocados can be refrigerated to last for three days. Sliced avocados can also be stored in a resealable bag during the day.
Tomato
Selection. Always go for the firm and freshest tomatoes. Discard those with cracks or soft spots.
Storage. Store the tomatoes at room temperature. Once ripe, refrigerate them.
Onion
Selection. Purchase onions that are firm and sent less. They should not appear dry.
Storage. Onions can easily be stored in cool and dark areas of your pantry. Peeled onions should be refrigerated, while chopped ones can be preserved in resealable bags or containers for a week.
Coriander/Cilantro
Selection. Cilantro and coriander should have brightly colored green leaves without rotting. You should also smell a lemon-like smell.
Storage. Cut off the bottom of the coriander or cilantro and place them in a jar of water to store in the fridge. You can loosely cover the top half with a resealable bag. Meanwhile, packaged leafy greens can also be frozen to extend their shelf life.
How to Make Garlic Paste
Garlic paste is an excellent ingredient to give guacamole a touch of spicy and sweet flavors. Its smell also improves the scent of onions and avocados.
To make your garlic paste at home, peel the garlic, blend it with oil until smooth, and transfer it into a jar to store.
Guacamole Variations
Aside from using a scotch bonnet, you can also season the guacamole with chili flakes or chopped jalapeño. You can even add seeds like pumpkin seeds to flavor and texture!
In fact, other optional ingredients can include cheese, dried tomatoes, paprika, kale, ripe mango slices, sour cream, corn kernels, salsa, vinegar, and more!
Recommended Tools
This post contains affiliate links, which means I earn commission income from qualifying purchases at no extra cost to you. Please read the full disclosure for more information.
Visit my shop for more products.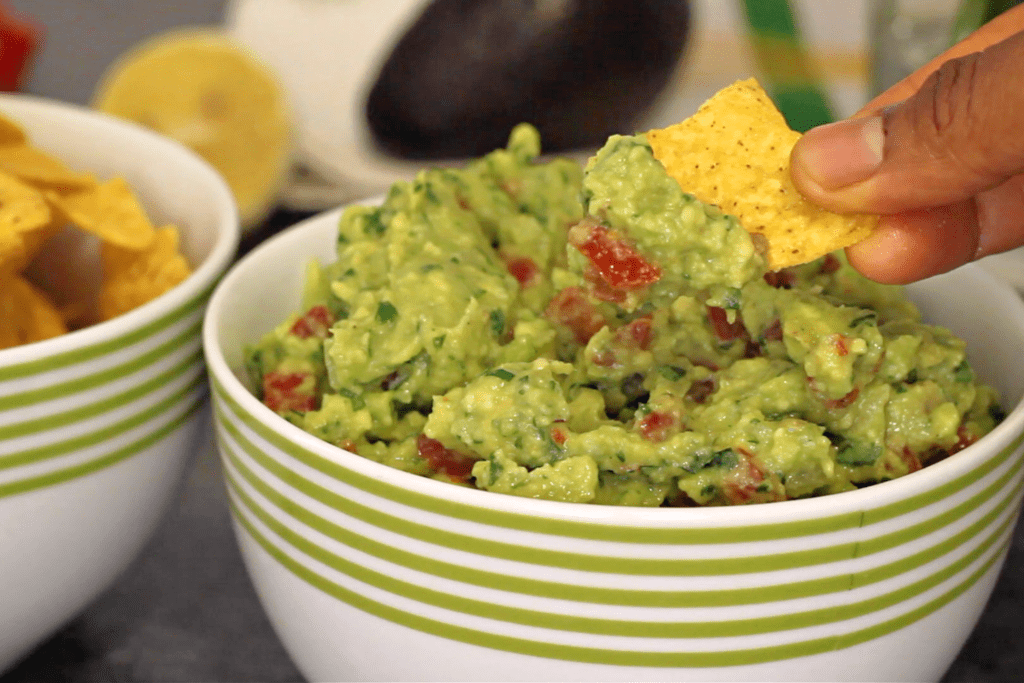 How to Serve Guacamole
Guacamole is a versatile dish or condiment. Pair it with any of these dishes for a yummy meal:
It can also be added to nachos, hummus, pizza, deviled eggs, ceviche, hot dog buns, steak, and much more! Of course, you can use it as a dipping sauce for your favorite dishes.
Trust me, your dining experience will instantly improve once you try this guacamole recipe.
Storage Tips
At room temperature: According to Our Everyday Life, room-temperature guacamole should be consumed within one hour.
I recommend mashing the avocados beforehand and adding the other ingredients to use the guacamole once ready. Simply thaw the mashed avocados in the fridge.
Frequently Asked Questions
Is guacamole only avocado?
Avocados are the main fruits for guacamole, but good guacamole also has other ingredients like tomatoes and onions for added flavor. It can also be seasoned with spices for tastier results.
What is real guacamole made of?
Guacamole is usually made of avocados, cilantro, lime juice, garlic, tomatoes, onion, and salt. These can perfectly balance the earthy, sweet, and tangy guacamole dish.
How do I make guacamole?
It is easy to make because it does not even need cooking. You need to prepare the ingredients, mash them together, and enjoy. Follow along with this recipe to taste the best guacamole ever!
Guacamole (VIDEO)
Always enjoy quality, fresh, delicious, smooth, creamy, and healthy Guacamole goodness with this recipe!
Ingredients
4

avocados

(ripe)

1

tomato

½

onion

coriander or cilantro (finely chopped)

1

tbsp

lemon juice

½

tsp

sea salt
Optional ingredients
1

scotch bonnet

A

pinch

garlic paste

A

pinch

cumin
Instructions
Prepare the ingredients.

Cut each avocado into half. Twist it open and remove the stone or pit. Scoop out the avocado flesh. Mash it with a potato masher or a fork.

Finely chop the onion and the coriander or cilantro leaves. Slice the tomato into quarters, scoop out to the juice, and dice. Squeeze lemon or lime, remove the seeds, and set it aside.

Chop or prepare the other optional or preferred ingredients.

Combine everything together.

Toss all of the prepared ingredients in a bowl until well combined. Mash further if you want to achieve a smoother consistency.

At this point, you can season the guacamole with sea salt, cumin powder, scotch bonnet, or garlic paste.

Make sure that everything is well combined and you have your very own homemade guacamole!
Video
Notes
Purchase and properly store the best avocados you can find.

Ripen them in a paper bag to mash easily.

Use other ingredients of your choice. 
Nutrition
Serving:
1
(of 7)
Calories:
191
kcal
Carbohydrates:
11
g
Protein:
3
g
Fat:
17
g
Saturated Fat:
2
g
Polyunsaturated Fat:
2
g
Monounsaturated Fat:
11
g
Sodium:
175
mg
Potassium:
617
mg
Fiber:
8
g
Sugar:
2
g
Vitamin A:
328
IU
Vitamin C:
17
mg
Calcium:
18
mg
Iron:
1
mg