Pineapple Puree Baby Food is one of the best fruit purees for babies. It's sweet, vibrant, and healthy! I can guarantee your baby will look forward to eating with this recipe.
Pin this recipe on Pinterest to save for later
These one-ingredient baby food recipes are absolutely the best, especially this Pineapple Baby Food Puree!
How to Make Pineapple Puree
This Pineapple Puree is simple, easy, and quick. It's the perfect recipe for babies and parents!
Health Benefits of Pineapples
Hydrating
Keep your baby nourished and hydrated with this pineapple baby food puree. In fact, your baby will surely enjoy the sweet taste of this food!
Healthy heart
Protect the baby's heart from problems by preparing this recipe. It helps the baby's heart function properly for a happy and healthy baby!
Good for the stomach
Pineapples can help improve the baby's stomach and digestion for long-term benefits. However, this puree must be fed properly to prevent acidity problems.
Ingredient
Pineapple
Pineapple is a delicious fruit that's sweet, fruity, vibrant, tarty, and juicy. It has a tanginess that makes every bite tasty and sour. This fruit has a slightly tender and soft texture. Thus, it's easy to juice, blend, and puree.
Moreover, pineapples are usually used as sweeteners. And they also make excellent additions to salads, drinks, desserts, and more. These are the perfect fruits if you want to feel energized!
In addition, pineapples are good for the baby's stomach, immunity, bones, and brain! This fruit also makes great baby food fruits because of their flavor and texture.
Put pineapples on the grocery list to make delicious baby food puree!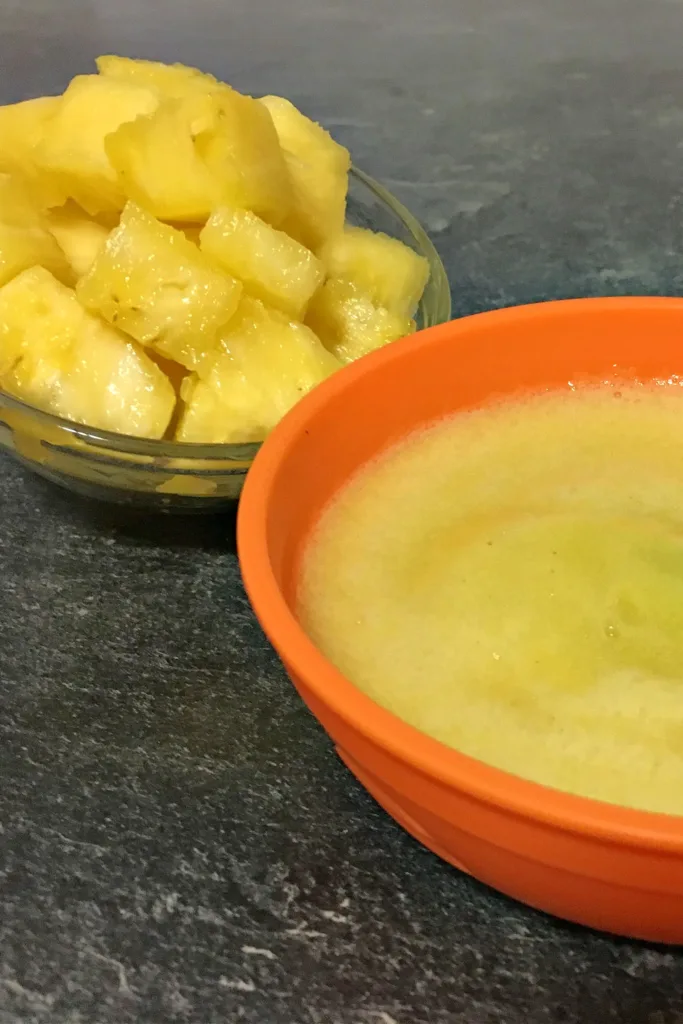 Directions
Slice off the crown and the bottom of the pineapple with a knife.
Mount the fruit on a cutting board for a better grip.
Slice off the skin by running your knife down the peel.
Chop the fruit into small pieces.
Boil water in a pot and place the steaming basket inside.
Arrange the slices in the basket and let them steam for 5 minutes.
Set it aside to cool.
Put the steamed pineapples in the blender with a bit of water and puree until smooth.
Pour the contents into the baby bowl and serve!
Every baby would love this tarty and sweet Pineapple Puree! In addition, it might even be a treat delicious treat for adults. From the texture to the flavor, this puree is truly a winner.
Tips
Buying pineapples
Buy pineapples with healthy green leaves and slightly tender fronds.
Go for ones that feel heavy for their size for freshness
You should smell sweet near the button of the fruit.
Buy ripe ones for sweetness.
Storing pineapples
Once ripe, room temperature ripe pineapples for three days.
Refrigerate or freeze peeled and chopped pineapples.
Chopped pineapples can also be frozen to preserve.
Pureeing baby food without a blender
Steam the fruits until they're soft and tender. Then, you can puree them with a blender, food processor, food mill, or other similar kitchen appliances. On the other hand, mash them with a masher, fork, or mortar and pestle.
Pineapple Puree Variations
You can make the pineapple puree more exciting by mixing it with other seasoning. For instance, you can combine it with bananas, strawberries, grapefruits, avocados, carrots, oranges, mangoes, pears, coconut milk, sweet potatoes, or even breast milk.
Recommended Tools
This post contains affiliate links, which means I earn commission income from qualifying purchases at no extra cost to you. Please read the full disclosure for more information.
Visit my shop for more products.
How to Serve Pineapple Puree
When serving new fruit purees, feed the baby in small and proper amounts to check how the baby reacts to it and to monitor for any adverse reactions. This is a good recipe for stage one or two baby-weaning food.
Aside from turning it into a puree, you can also use pineapples for juices or smoothies. You can also use this fruit for salads, fruit popsicles, or zobo drinks. Be as creative with this fruit because it can enrich the quality of many recipes!
Storage Tips
At room temperature: Pineapple puree is best eaten within two hours.
Frequently Asked Questions
Is pineapple okay for babies?
Yes, pineapples are good for babies because aside from their rich and delicious flavor, these fruits are also loaded with nutrients to keep the baby healthy, energized, and happy!
Can you feed pineapple puree to a 6-month-old baby?
Yes, babies aged six months can consume this puree correctly. Also, remember to check for allergic reactions or intolerance.
How can you introduce pineapple puree to your baby?
When feeding new baby food, make sure to feed the puree in small amounts. Wait three days until you make another batch to ensure the baby is not allergic.
Is pineapple a stage 1 baby food?
Pineapple baby food puree is a stage-one baby food. In fact, it's one of the best fruits for weaning because of its flavor and color! As long as you steam and puree this fruit, your baby will love it.
Is pineapple hard to digest for babies?
Generally, pineapples are not hard to digest for babies. However, remember to feed them in the right amount. Pineapples are still acidic fruits that can cause infant stomach problems if fed too much.
Pineapple Puree Baby Food
Make sweet and smooth Pineapple Puree Baby Food from fresh fruits for your baby's health and mood!
Ingredients
1

cup

pineapple

(the riper, the sweeter)

1

cup

water

(for steaming the pineapple cubes)
Instructions
Prepare the pineapple.
Slice off the crown and the bottom of the pineapple.

Mount the fruit on a chopping board for a better grip.

Slice off the skin by running your knife down the peel.

Chop the pineapple into small pieces for quick steaming and easy blending.
Steam the pineapple.
Boil water in a pot and place the steaming basket inside.

Arrange the pineapple cubes in the basket and let them steam for 5 minutes.
Puree the pineapple.
Put the steamed pineapples in the blender or food processor with a bit of water and puree until smooth.

Pour the contents into the baby bowl and serve!
Video
Notes
Purchase ripe and fresh pineapples for a yummy puree.

Refrigerate or freeze the puree after two hours at room temperature.

You can puree this fruit with a food processor, masher, food mill, or fork.
Nutrition
Serving:
1
(of 4)
Calories:
63
kcal
Carbohydrates:
15
g
Protein:
0.4
g
Fat:
0.1
g
Saturated Fat:
0.01
g
Polyunsaturated Fat:
0.1
g
Monounsaturated Fat:
0.01
g
Sodium:
2
mg
Potassium:
153
mg
Fiber:
0.2
g
Sugar:
12
g
Vitamin A:
6
IU
Vitamin C:
12
mg
Calcium:
15
mg
Iron:
0.4
mg