Make your favorite pizza flavors possible with homemade Pizza Sauce!
There may be pizza sauces in the grocery, but nothing beats the rich and tasty goodness of making it at home. It is even made healthier because of the fresh ingredients you will use.
With this recipe, you will certainly bring a real Italian touch to your pizza. You might be surprised to know that making your own sauce at home is actually easier than it seems!
Pin this recipe on Pinterest to save for later
In this recipe, you will discover how to make a sauce that's bursting with flavor with the perfect consistency. No matter what toppings you choose, the Pizza Sauce recipe will make everything better!
How to Make Pizza Sauce
I've tried many pizza sauce recipes, but this is one of the easiest ways to do it. With tomatoes, onions, olive oil, and spices, you can get good-quality sauce at home!
Whip out your blender and your pan because you'll need them for this recipe.
Ingredients
These are my go-to ingredients for Pizza Sauce:
Tomatoes
There can be no pizza sauce without tomatoes. Their sweet and tangy flavors make them perfect for sauce recipes. Tomatoes also have a rich red color to make the dish appealing.
Moreover, tomatoes are juicy and pulpy, making them easy to blend and mash. Once seasoned and cooked, the tomatoes will have an even better flavor
Trust the excellent quality you can get from tomatoes because I also use them for Jollof Rice, Spaghetti, and Fried Eggs, and they gave me the best results!
Red onions
Why are red onions the best onions to use for pizza sauce? They have a spicy and mild flavor that will have an even richer taste when you cook the sauce.
Red onions can also add a fragrant aroma to the sauce to make the sauce more inviting. You can also use these onions for salads and sandwiches for a crisp and juicy quality.
Aside from adding it to the sauce, you can also use red onions for the toppings. I used it in the Chicken Pizza recipe, and it was absolutely delicious!
Seasoning
Whenever you make pizza sauce, don't forget to season it with herbs and spices. In this recipe, I suggest adding sea salt, smoked paprika, oregano, basil, sugar, and ground pepper.
These seasonings will surely take the level of the sauce to the next level!
Olive oil
Adding olive oil to the sauce will give it a fresh and fruity flavor. It even helps improve the consistency of the sauce without making it too thick or watery.
If you can use it for your pizza dough, then you can certainly use it for your sauce too.
Who knew that you had all the necessary ingredients in your pantry? Let's add some pizzazz to your Pizza Sauce!
Directions
These are the steps you need to do to make Pizza Sauce:
Rinse the tomatoes.
Slice the tomatoes and onions with a knife.
Use a blender to puree them until smooth.
Heat olive oil in a frying pan.
Sautee the garlic, red onion, and seasonings over medium heat.
Allow it to cook for a minute.
Then, pour in the tomato mixture and cook for five minutes.
Use a splash guard to cover the pan.
Add the fresh basil.
Cook for 20 minutes or until the sauce thickens.
Once cooked, let it cool and use or store it!
Taste the sauce and imagine tasting this delicious pizza sauce. Assemble the pizza with your preferred toppings, pop it in the oven, and have a true Italian experience!
Tips
Tomatoes
Buying tomatoes
The Daily Meal suggests buying tomatoes that feel slightly firm.
The color of the skin should be a shade of deep and bright red.
It should have an earthy and sweet fragrance near the steam.
Storing tomatoes
Keep the tomatoes in a lined container to last for a few days.
You can also store the tomatoes in the fridge for two weeks.
Tomatoes can also be frozen to last longer.
Once sliced, store them in a container in the fridge for up to two months.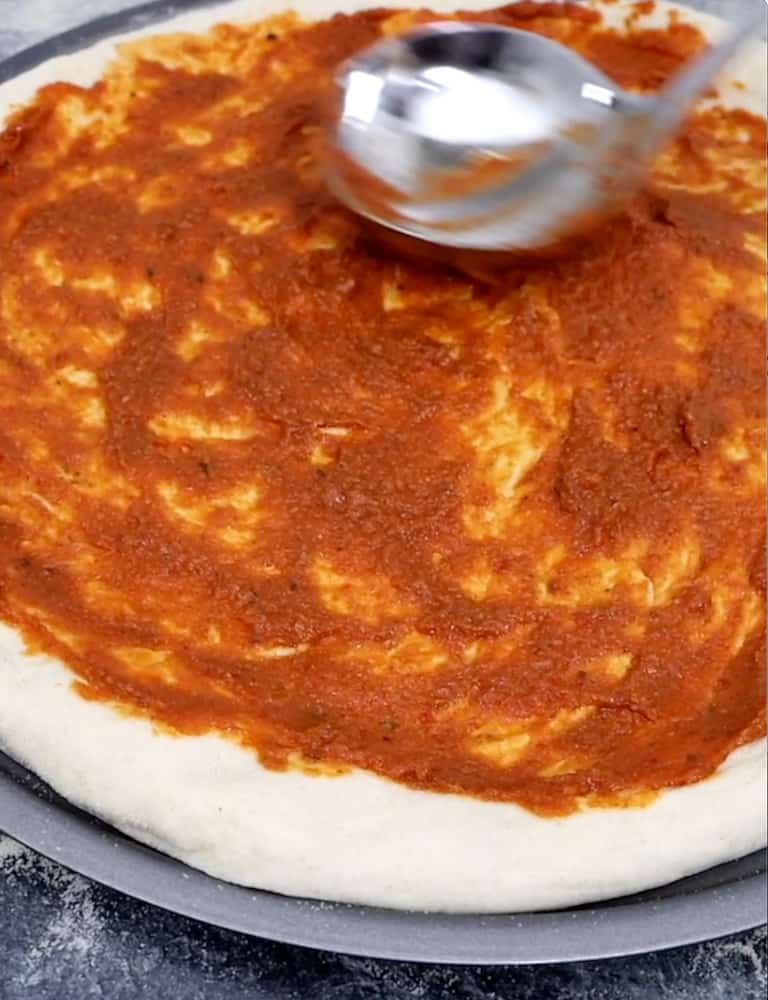 Pizza Sauce Variations
Don't be afraid to sprinkle some chili flakes on the pizza sauce when adding spice. It's part of the fun! You can even season it with Italian seasoning, garlic powder, onion powder, bay leaf, and more!
For cheesy goodness infused in the sauce, you can cook it with grated Parmesan for a creamier texture and tastier flavor. You can also make the sauce thicker by adding tomato paste.
No-Blender Pizza Sauce
Instead of using fresh tomatoes and blending, you can use tomato paste or tomato sauce and mix them together. Alternatively, cook the ingredients and puree them with a masher.
Recommended Tools
This post contains affiliate links, which means I earn commission income from qualifying purchases at no extra cost to you. Please read the full disclosure for more information.
Visit my shop for more products.
How to Use Pizza Sauce
Generously and evenly spread the pizza sauce on the Pizza Dough before putting in your preferred toppings. Then, put them in the oven to cook. Once done, it's ready to eat! It's easy to serve and use pizza sauce, so the secret lies in how you season and cook it.
Pizza sauce or No-Cook Pizza Sauce can serve as dips for finger food such as pizza rolls, calzone, and garlic bread. It can also be added to waffles, noodle bakes, sandwiches, patties, casseroles, eggs, pasta, and more!
It's ironic to think that pizza sauce isn't just for pizza, but it's one of its qualities that makes it versatile, cost-efficient, and useful.
I especially love this sauce for Pizza Margherita and Chicken Pizza!
What to use Pizza Sauce for
Storage Tips
At room temperature: Don't let the pizza sauce stay at room temperature for two hours.
Frequently Asked Questions
What is the best pizza sauce?
The best one I can suggest is this homemade pizza sauce. It's made with all-natural and fresh ingredients for a rich and authentic Italian sauce flavor.
What kind of sauce is used on pizza?
Tomato sauce is the most commonly used in pizza recipes. It has a gorgeous red color, sweet and tangy flavor, and an incredible aroma that goes with any pizza flavor.
What do you use for pizza base sauce?
The base for pizza sauce is tomatoes or tomato puree. It is responsible for the color and overall flavor of the condiment. The juicy quality of the tomatoes also makes a good layer of moisture in the dish.
Can you use ketchup for pizza sauce?
Yes, you can use ketchup instead. The flavor will vary, but ketchup is a good alternative to tomatoes or tomato sauce.
This post may contain general information and does not constitute professional medical advice. Always seek information or advice from a qualified medical professional. Please read the full disclaimer for details.
Pizza Sauce
This classic pizza sauce recipe never gets out of style because it's simply flavorful, appetizing, and palatable.
Ingredients
For the tomato sauce
5

vine tomatoes

(small-sized)

½

red onion

(small-sized)
For the pizza sauce
tomato sauce

2

tbsp

olive oil

2

garlic cloves

½

red onion

(small-sized)

1

tsp

pepper

(crushed)

½

tsp

sea salt

1

tsp

smoked paprika

1

tsp

oregano

1

tsp

sugar

1

tbsp

fresh basil

(finely chopped)
Instructions
Slice the tomatoes and onions with a knife.

Use a blender to puree them until smooth.

Heat olive oil in a frying pan.

Sautee the garlic, red onion, and seasonings over medium heat.

Allow it to cook for a minute.

Then, pour in the tomato mixture and cook for five minutes.

Use a splash guard to cover the pan.

Cook for 20 minutes or until the sauce thickens.

Once cooked, let it cool and use or store it!
Video
Notes
Use quality tomatoes for delicious, fresh, and nutritious pizza sauce.
Cook the sauce to enhance all of the flavors.
You can never go wrong by pairing it with Homemade Pizza Dough or a full-blown Homemade Pizza for all occasions!
If you want to make a smoother pizza sauce, let it cool and blend it into a smooth paste.
While tomatoes are not common allergens, there may still be reactions to a tomato-based pizza sauce. You can use alternative pizza sauces, including barbecue sauce, pesto, or Italian dressing.
Nutrition
Serving:
1
(of 3)
Calories:
148
kcal
Carbohydrates:
15
g
Protein:
3
g
Fat:
10
g
Saturated Fat:
1
g
Polyunsaturated Fat:
1
g
Monounsaturated Fat:
7
g
Sodium:
401
mg
Potassium:
582
mg
Fiber:
4
g
Sugar:
8
g
Vitamin A:
2087
IU
Vitamin C:
32
mg
Calcium:
49
mg
Iron:
1
mg