Pizza Sauce can make any pizza flavor phenomenally delicious! Every flavor, every ingredient, and every element of this sauce truly brings out the Italian vibe in it. It's rich, thick, and deeply flavorful; you just have to try it!
Make your pizza sauce with all-natural vegetables for that burst of flavor and nutrition!
How to Make Pizza Sauce
For the most unforgettable Italian experience, upgrade your condiment with this guide. Learn to make pizza sauce like a pro!
Ingredients
Tomatoes
They have a sweet and tangy flavor that makes them perfect for seasoning and cooking. Tomatoes are also classic ingredients for Italian cuisine.
I can attest to the versatile quality of tomatoes because I also use them for Jollof Rice, Spaghetti, and Fried Eggs!
Red onions
Red onions can be mildly spicy, giving the sauce a kick of flavor! They have been proven to improve bone health, digestion, and sore throat.
Seasoning
We will also use classic herbs and spices for the seasoning, such as sea salt, smoked paprika, oregano, fresh basil, and more. These are essential for enhancing the overall flavor of the sauce.
Olive oil
I recommend olive oil because even a small amount can result in a better sauce texture. It also gives the appropriate consistency for the sauce, not too watery and not too thick either.
Who knew that you had all the necessary ingredients in your pantry? Let's add some pizzazz to your Pizza Sauce!
Directions
Wash the tomatoes and slice them into chunks along with the red onion with a knife.
Use a blender to blend them until smooth.
Sautee the red onion in a pan over medium heat.
Season the onions with herbs and spices.
Allow it to cook for a minute.
Pour in the tomato mixture and cook for 5 minutes. Use a splash guard to cover the pan.
Add chopped fresh basil and cook for 20 minutes or until the sauce thickens.
After that four-step recipe, you can spread this delicious sauce on top of the pizza dough. Assemble the pizza with your preferred toppings, pop it in the oven, and have a true Italian experience!
Tips
How to Select the Best Tomatoes
Choose tomatoes that don't have blemishes or discoloration. The color of the skin should be a shade of deep and bright red.
Black spots can be indications of rotten areas of the tomato.
Furthermore, you can give the tomato must feel firm to the touch but not resistant to pressure.
Smell around the stem of the tomato, and it should have an earthy and sweet fragrance. The better it smells, the tastier it is.
As much as possible, refrain from buying packaged tomatoes because packaging can prevent you from inspecting the quality of the tomatoes.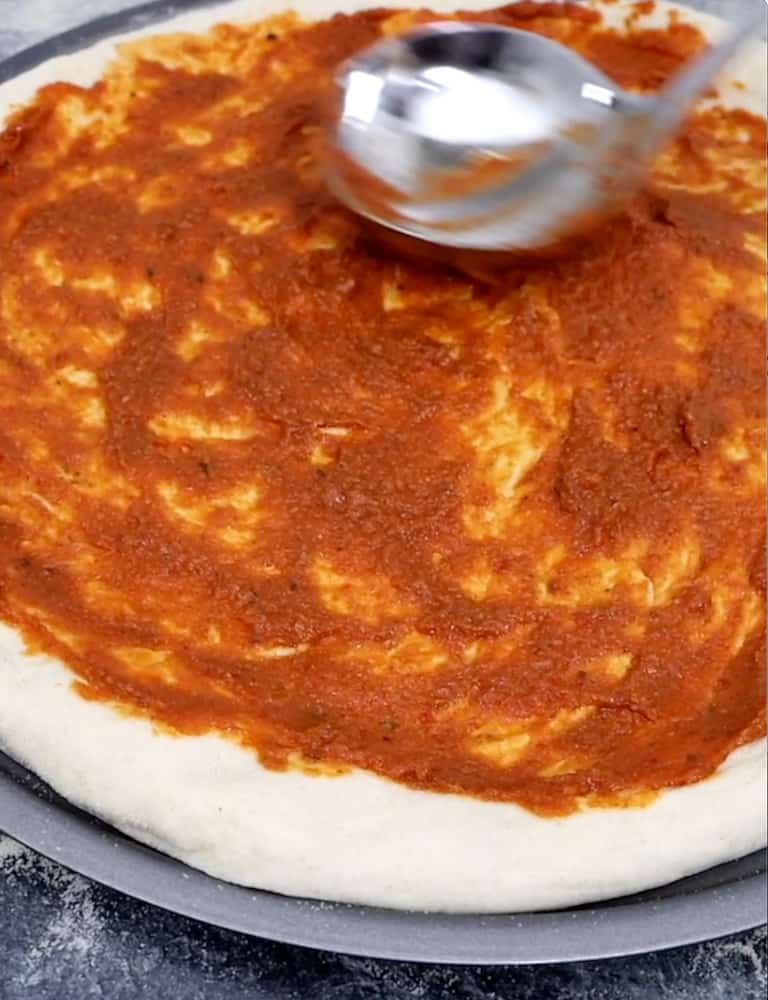 How to Store Tomatoes
Fresh Whole Tomatoes
Line a container with paper towels and lay the ripe tomatoes on the container, stem-side down. This method can make tomatoes last for a few days. Put the container in a cool area in your house.
You may also refrigerate the tomatoes to last up to 2 weeks. Alternatively, you can put them in a container in the fridge, which can last up to several months.
In fact, using well-preserved Frozen Tomatoes can be good practice for making sauce because when thawing, the tomatoes will become mushy, which works to your advantage!
Sliced Tomatoes
If you have prepared chopped tomatoes ahead of time, you can store this by lining a container with paper towels and arranging the tomatoes with the sliced portion facing the paper towels. Store it in the fridge for up to two days.
Sliced tomatoes can also be placed in an airtight container in the fridge for up to 2 months. However, note that stored sliced tomatoes can easily attract bacteria. Hence, preparing your ingredients on the day of making the pizza sauce is best.
Variations
Don't be afraid to sprinkle some chili flakes on the pizza sauce when adding spice. It's part of the fun! For cheesy goodness infused in the sauce, you can cook it with grated Parmesan for a creamier texture and tastier flavor.
Recommended Tools
This post contains affiliate links, which means I earn commission income from qualifying purchases at no extra cost to you. Please read the full disclosure for more information.
How to Use Pizza Sauce
Generously and evenly spread the pizza sauce on the Pizza Dough before putting in your preferred toppings. Then, put them in the oven to cook. Once done, it's ready to eat! It's easy to serve and use pizza sauce, so the secret lies in how you season and cook it.
Pizza sauce or No-Cook Pizza Sauce can serve as dips for finger food such as pizza rolls, calzone, and garlic bread. It can also be incorporated into waffles, noodle bakes, sandwiches, patties, casseroles, eggs, pasta, and more!
It's ironic to think that pizza sauce isn't just for pizza, but it's one of its qualities that makes it versatile, cost-efficient, and useful.
I especially love this sauce for Pizza Margherita and Chicken Pizza!
What to use Pizza Sauce for
Storage Tips
At room temperature: After letting the pizza sauce cool, don't leave it at room temperature for longer than 2 hours. This can expose the sauce to bacteria, especially if you use fresh tomatoes.
Frequently Asked Questions
Is pizza sauce just tomato sauce?
Pizza sauce is not the same as tomato sauce because it is seasoned with other ingredients and can also be cooked before use.
What is pizza sauce made of?
It is usually made of tomato sauce, herbs, and spices. Other flavoring agents may be used to enhance its flavor.
How will you reheat frozen pizza sauce?
If you opted to freeze your pizza sauce, you could thaw it by placing it in the fridge overnight. In the morning, place the container in a larger bowl with warm water for faster defrosting. You may also heat it in a saucepan or in the microwave.
This post may contain general information and does not constitute professional medical advice. Always seek information or advice from a qualified medical professional. Please read the full disclaimer for details.
Pizza Sauce
This classic pizza sauce recipe never gets out of style because it's simply flavorful, appetizing, and palatable.
Ingredients
For the tomato sauce
5

vine tomatoes

(small-sized)

½

red onion

(small-sized)
For the pizza sauce
tomato sauce

2

tbsp

olive oil

2

garlic cloves

½

red onion

(small-sized)

1

tsp

pepper

(crushed)

½

tsp

sea salt

1

tsp

smoked paprika

1

tsp

oregano

1

tsp

sugar

1

tbsp

fresh basil

(finely chopped)
Instructions
Blend sliced tomatoes and red onion.

After washing your onions, chop them into chunks along with the red onion. Blend them together to create a tangy and flavorful mixture that will be used as the base flavor of the sauce.

Saute the onion with herbs and spices.

Preheat olive oil in a pan over medium heat. Saute the remaining red onion along with the seasoning. Sauteing the herbs and spices can transform it into a balanced and tasteful flavor.

Allow it to cook for a minute.

Pour the tomato mixture into the pan.

Combine the sauteed herbs with the tomato mixture and cook this for 5 minutes. Use a splash guard to cover the pan.

Add chopped fresh basil and cook for 20 minutes.

Incorporating chopped fresh basil is an excellent way of adding aroma and a mild minty flavor to the sauce. Its flavor is not overpowering but it is enough to add character to the sauce.

Allow the sauce to cook for 20 minutes or until the sauce is thick. If you want to make a smoother pizza sauce, let it cool and blend it into a smooth paste.
Video
Notes
Use quality tomatoes for delicious, fresh, and nutritious pizza sauce.
Cook the sauce to enhance all of the flavors.
You can never go wrong by pairing it with Homemade Pizza Dough or a full-blown Homemade Pizza for all occasions!
If you want to make a smoother pizza sauce, let it cool and blend it into a smooth paste.
While tomatoes are not common allergens, there may still be reactions to a tomato-based pizza sauce. You can use alternative pizza sauces, including barbecue sauce, pesto, or Italian dressing.
Nutrition
Serving:
1
(of 3)
Calories:
148
kcal
Carbohydrates:
15
g
Protein:
3
g
Fat:
10
g
Saturated Fat:
1
g
Polyunsaturated Fat:
1
g
Monounsaturated Fat:
7
g
Sodium:
401
mg
Potassium:
582
mg
Fiber:
4
g
Sugar:
8
g
Vitamin A:
2087
IU
Vitamin C:
32
mg
Calcium:
49
mg
Iron:
1
mg