Have you tried to cook yam before?
Yams are starchy root vegetables that may remind you of sweet potatoes. They're also versatile ingredients that you can cook for better quality and flavor.
These are commonly imported from Africa and Asia because of how well they last in humid conditions. Yams also have a neutral and earthy flavor that you can improve with your chosen cooking method.
Pin this recipe on Pinterest to save for later
Now is the right time to cook yams!
In this blog, you'll learn the basics of preparing and cooking yam—including what to look for when buying, how to store yam and the most delicious ways to cook it. By the end of this blog, you'll have all the expertise you need to make yam a staple in your kitchen. So, if you're wondering how to take your cooking skills to the next level and make delicious yam dishes, this blog is for you.
How to Cook Yam
While raw yams are tough, cooking them can give them a soft and tender texture. There are different ways to cook yam; today, you will learn to cook yam perfectly!
Ingredients
Yam
What are yams best known for? They are dry and starchy root vegetables that thrive in tropical countries. Yams come in different varieties, such as Chinese yam, ube, and more!
Yams also have an earthy and neutral flavor which makes them perfect for serving with sweet and savory dishes. You can't eat them raw, so make sure to cook them however you like.
Check out these health benefits you can get from yams:
According to Healthline, yams have diosgenin that can help boost brain function.
Moreover, get regular blood sugar levels by adding these yams to your diet.
Since yams are starchy, they can improve digestion, metabolism, and gut health.
Strengthen your bones and joints by regularly eating yams.
Conserve Energy Future also suggests yams for your skin and hair.
Enjoy these life-changing benefits that yams can offer by cooking yams properly. For the best flavor and texture, you can fry, roast, and boil the yams.
Water
You need water to rinse out the excess starch from the yam slices. Furthermore, use water to boil and soften the yams and neutralize their flavor.
Salt
A little salt goes a long way, so season the water with salt to make the yams more flavorful. They prevent the yams from becoming bland after cooking. Don't forget to add it!
Learning how to cook yam with a three-ingredient recipe is surely the easiest guide for you. It's simple yet incredibly delicious, soft, and satisfying!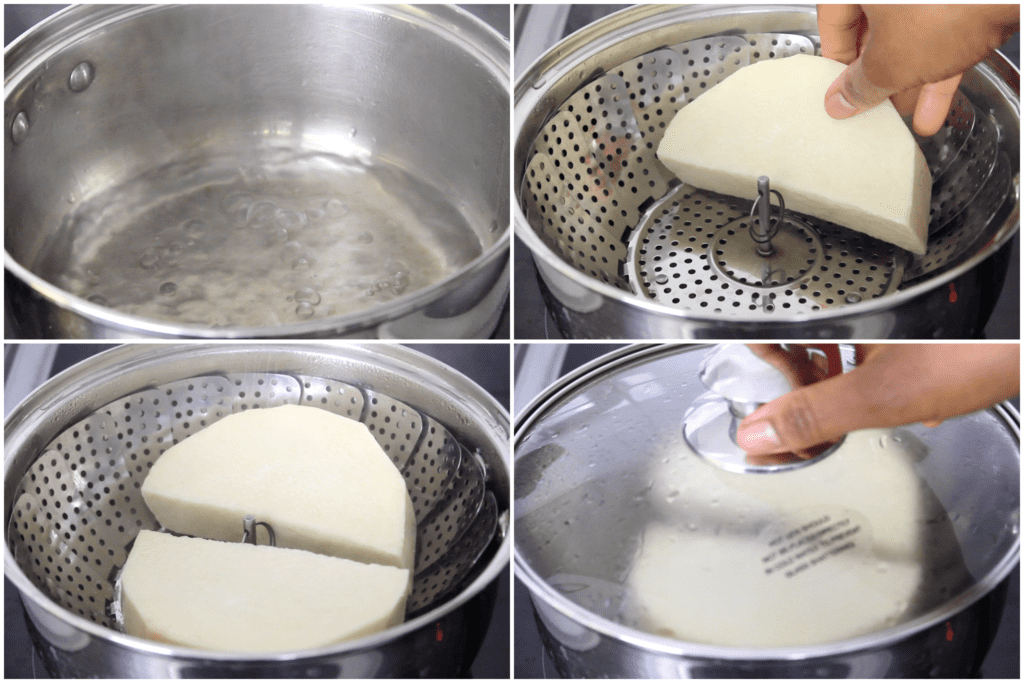 Directions
With these steps, you will learn how to cook yam in no time!
Slice the yam into circles using a knife.
Peel off the skin from each slice.
Place the peeled and sliced yams in a bowl of water.
Rinse off the starch from the yams and place them in a pot.
Put the pot over medium heat.
Then, add water and salt.
Cover and cook for 15 to 20 minutes.
Use a fork to check for doneness.
Once soft, remove it from heat and serve!
Don't you just love how tasty and soft these yams are? You will surely appreciate their quality with your favorite main dishes.
Tips
Buying yams
Medium suggests buying yams that feel firm to the touch.
Also, look for yams with little to no cracks.
Avoid ones that are too wrinkly and soft.
Storing yams
Yams can last up to three weeks at room temperature.
Put them in a well-ventilated area.
Once cooked, you can store them in the fridge or freezer.
An effective yam storage hack is all you need to make your yams last long!
Alternative Ways to Cook Yam
You can prepare the yams in different shapes and sizes to make them more fun for your guests and family. There are also alternative ways to cook yam.
Aside from boiling yams, you can also try Fried Yams for a different texture and flavor. Here are other ways to prepare yams:
Baked Yam
Preheat the oven to 200°C.
Peel and slice the yams.
Then, poke them with a fork to cook them inside.
Bake them for 40 minutes to an hour or until soft.
Fried Yam
Peel and cut the yam in any shape.
Rinse the yam in water
Season with sea salt
Heat oil over medium heat.
Deep-fry the yam pieces until fully cooked on the inside.
Microwaved Yam
Put the sliced yams in a microwave-safe dish.
Then, cover it with a lid or aluminum foil.
Cook each side for five minutes on high heat.
Recommended Tools
This post contains affiliate links, which means I earn commission income from qualifying purchases at no extra cost to you. Please read the full disclosure for more information.
Visit my shop for more products.
How to Serve Cooked Yam
This cooked yam recipe is a healthy recipe you can enjoy as a snack, appetizer, or side dish. They're family-friendly foods that can be paired with the best drinks and juices for a balanced flavor.
You can also be creative with serving it by cutting them into long strips for french fries-style yams! Serve these with sauces and dips that complement the natural taste of yams.
I also love to cook with eggs for a Yam and Egg Frittata, Fried Yam, Yam and Plantain Porridge, Stand Mixer Pounded Yam, and more! Here are some of the best dishes to serve with boiled yams:
Storage Tips
At room temperature: Don't keep boiled yams at room temperature longer than two hours.
Frequently Asked Questions
How long does it take to boil yam?
Yams can take up to twenty minutes to boil. It depends on the size and quantity of yams you want to cook. You can slice them into smaller pieces to boil more quickly.
Do you add salt when boiling yam?
Yes, you can add salt when boiling yams. It intensifies the flavor and improves the texture of the yams. You also need salt to neutralize the starchy quality of the yams.
How do you cut a yam for boiling?
It depends on your preference. I usually slice them into circles, but you can also chop them into strips, cubes, triangles, and more.
Can I boil yam with the skin?
According to The Donut Whole, you can boil and eat yams with the skin. In fact, the skin also has health benefits that you can gain. It can boost immunity, gut health, and digestion!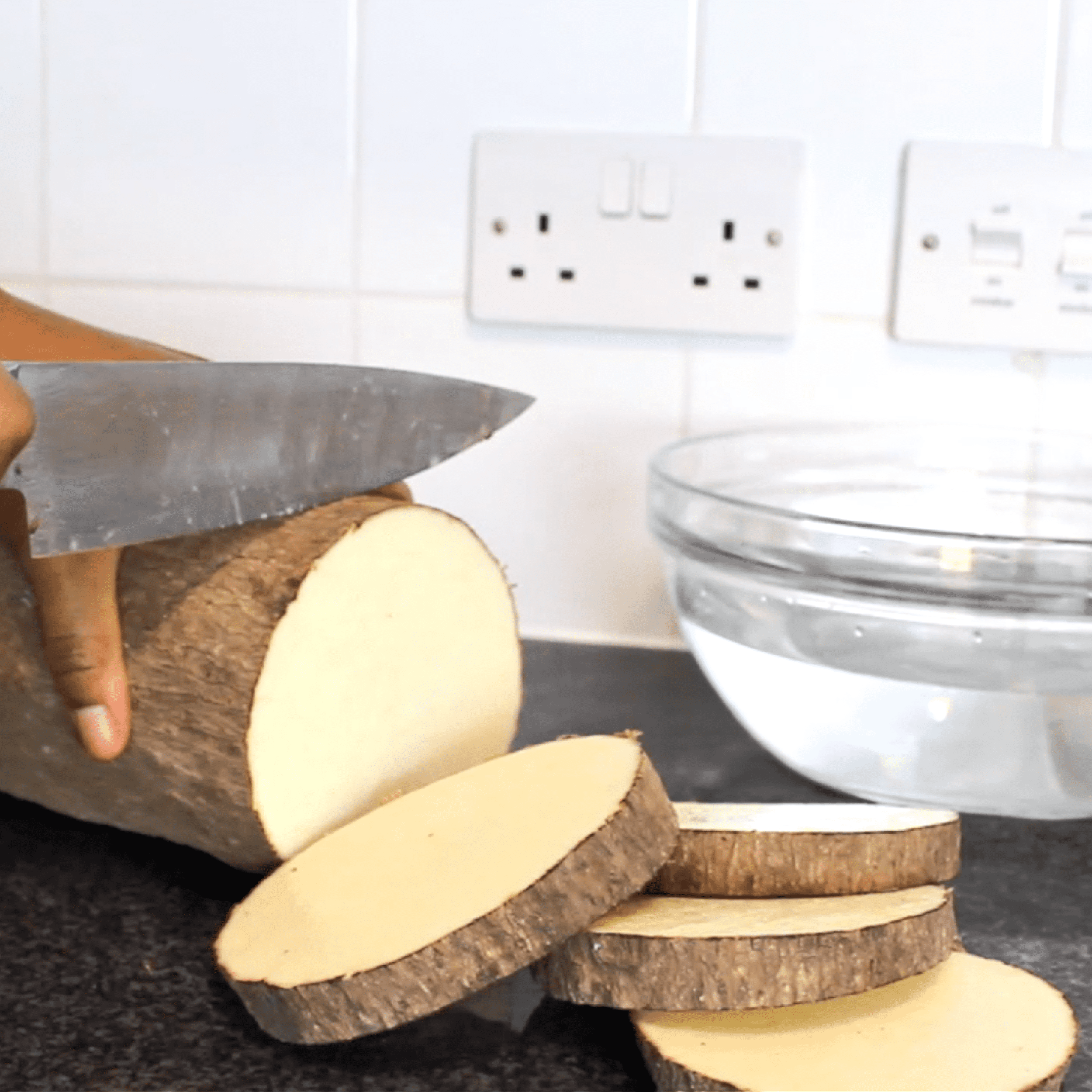 How to Cook Yam (VIDEO)
Cooking yams has never been this simple, quick, and delicious!
Ingredients
½

yam

(medium-sized)

1½

cup

water

1

tsp

sea salt
Instructions
Slice or cut the yam into circles using a knife.

Peel off the skin from each slice.

Place the peeled and sliced yams in a pot of water (or in a pot of boiling water with a steaming basket).

Rinse off the starch from the yams and place them in a pot.

Put the pot over medium heat.

Then, add water and salt.

Cover and cook for 15 to 20 minutes.

Use a fork to check for doneness.

Once soft, remove it from heat and serve!
Video
Notes
Buy fresh yams without cuts or soft spots.

Uncooked yams can be frozen to preserve them.

You can fry, microwave, or bake the yams.
Nutrition
Serving:
1
(of 4)
Calories:
62
kcal
Carbohydrates:
15
g
Protein:
1
g
Fat:
0.1
g
Saturated Fat:
0.02
g
Polyunsaturated Fat:
0.04
g
Monounsaturated Fat:
0.003
g
Sodium:
591
mg
Potassium:
429
mg
Fiber:
2
g
Sugar:
0.3
g
Vitamin A:
72
IU
Vitamin C:
9
mg
Calcium:
12
mg
Iron:
0.3
mg