Sweet Potato Puree is a must-try baby food recipe to ensure that your baby gets the best and safest food. Introduce your baby to vegetables as early as six months old to keep them healthy and strong!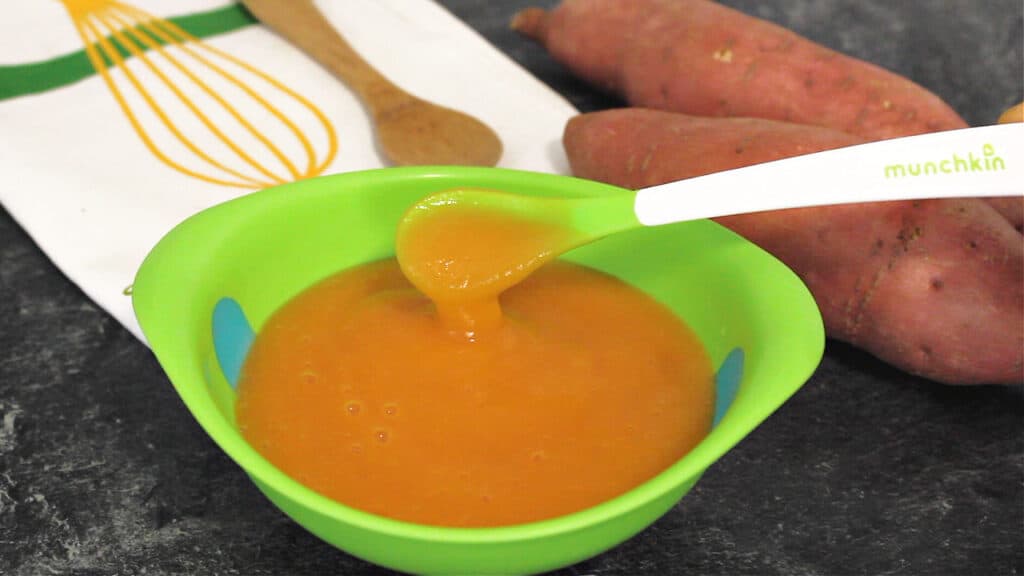 Baby-friendly, naturally sweet puree that is quick and easy to make, and your little one will love every spoonful.
How to Make Sweet Potato Puree
Every meal matters, especially for infants who are starting on purees. Let's make your baby's mealtime the best one yet!
Sweet Potatoes
Sweet potatoes are highly nutritious root vegetables that are packed with vitamins, minerals, and antioxidants to protect the baby from chronic diseases. Its fiber content also helps with improving gut health and digestion.
These are usually in season from October to March. Sweet potatoes usually have a mildly sweet and starchy flavor which will be very savory and enjoyable for babies to consume.
Directions
Run the potatoes under warm water to eliminate harmful chemicals affecting the baby's health.
Use a clean knife to slice them into halves of smaller pieces.
Arrange the sweet potatoes on a baking tray.
Bake them in a preheated oven set at 200°C for 30 minutes or until done.
There are two methods to puree; choose the one that applies to your baby.
This puree is a simple yet healthy recipe you can definitely prepare for your baby! In fact, this might be your baby's next favorite puree flavor!
Tips
How to Buy Sweet Potatoes
You will probably see two kinds of sweet potatoes in the supermarket: Jewel and Red Garnet.
Jewel potatoes have orange skin and flesh, while Red Garnet potatoes have red skin and orange flesh.
Jewel variants are the best for making puree because of their flavor and accessibility.
Select ones that are small or medium in size. It should be firm to the touch and smooth in texture.
How to Store Sweet Potatoes
You can simply store these at room temperature for up to a week. Place it in a cool and dark place to prolong its shelf life.
Moreover, sweet potatoes are not recommended for refrigeration because the cold temperature can cause the flesh to harden.
Variations
Sweet potatoes are vegan, gluten-free, and dairy-free!
To add more flavor, you can add other ingredients like almond milk, cinnamon, and maple syrup. These can also be paired with apples and carrots for a tastier flavor!
For other baby food puree variations, I highly recommend the following recipes:
Recommended Tools
This post contains affiliate links, which means I earn commission income from qualifying purchases at no extra cost to you. Please read the full disclosure for more information.
How to Serve Sweet Potato Puree
This puree is best served immediately. Make sure that it is warm before feeding it to your baby. Start with feeding 2 to 3 tablespoons; as the baby grows, you can increase the servings to 4 to 8.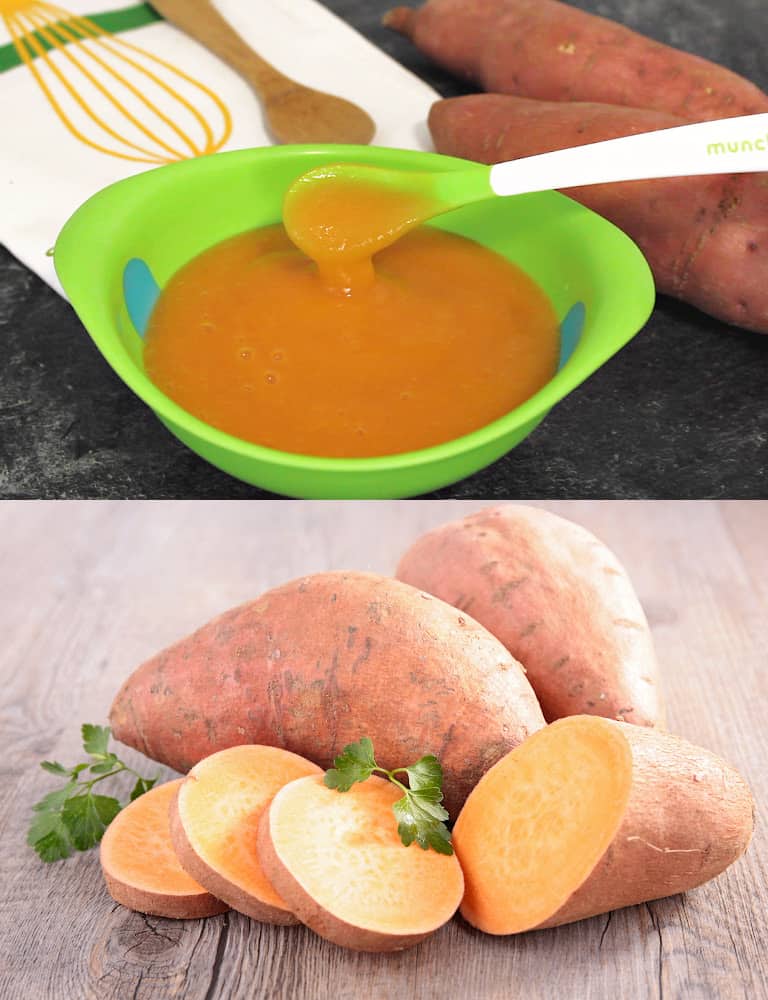 Storage Tips
At room temperature: Don't let the sweet potato puree sit at room temperature for longer than 2 hours. It is best consumed immediately.
Frequently Asked Questions
What is sweet potato puree made of?
Sweet potato puree is usually made of fresh sweet potato and water. You can substitute the water with breast or almond milk for additional flavor. Sweet potatoes can also be combined with other vegetables for better nutrition.
Is Sweet Potato Puree healthy?
Yes, this puree is definitely safe and healthy for your baby! It helps prevent constipation, boosts immunity, strengthens bones, and supplies energy. It is also sweet, which makes it fun for babies to eat.
In fact, these are one of the first-stage foods that you can introduce to your baby.
How do you make puree?
The puree is prepared using a blender or a food processor. It is best to steam, bake, or boil some fruits and vegetables like sweet potatoes first to soften them.
How can you soften the sweet potatoes without an oven?
As an alternative to baking potatoes, you can boil or steam them in water over medium-high heat. Whole potatoes will cook for up to 35 minutes, while sliced potatoes can take up to 25 minutes.
You can even pop them into a preheated air fryer to cook for up to 10 minutes or until golden brown. Sweet potatoes can also be steamed for 35 minutes or until soft.
Sweet Potato Puree
Introducing healthy fruits and vegetables as baby puree is an excellent way of teaching your baby to eat natural and nutritious food. Give this Sweet Potato Puree a try!
Ingredients
6

sweet potatoes

(medium-sized)

water

(for blending into puree)
Instructions
Rinse the sweet potatoes.

Run the potatoes over warm water to get rid of harmful chemicals that can affect the baby's health.

Cut the sweet potatoes into halves or slices.

Use a clean knife to slice the sweet potatoes into halves of smaller pieces. Slicing them in halves can make it easier for you to peel and mash them later on.

You can also skip this step and bake the whole sweet potatoes.

Bake the potatoes in a preheated oven for 30 minutes.

Arrange the sweet potatoes on a baking tray. Bake them in a preheated oven set at 200°C for 30 minutes or until done.

Make the puree.

There are two methods you can do and choose the one that applies to your baby.

For babies aged 10 months and older

Peel the baked sweet potatoes. Then, mash the soft ones with a fork or masher. It is best to mash them while they are still hot.

Ensure the mashed sweet potato is lukewarm before feeding it to the baby.

For babies aged 6 months old and older

Transfer them into a blender. Add lukewarm drinking water, depending on how you want the consistency to be. Blend until smooth.
Notes
If you don't have access to an oven, you can boil, steam, or air fry the sweet potatoes before mashing. Never let it sit at room temperature for longer than two hours to prevent contamination. Label your containers for safety purposes.
Nutrition
Serving:
1
(of 6)
Calories:
194
kcal
Carbohydrates:
45
g
Protein:
4
g
Fat:
1
g
Saturated Fat:
1
g
Polyunsaturated Fat:
1
g
Monounsaturated Fat:
1
g
Sodium:
124
mg
Potassium:
762
mg
Fiber:
7
g
Sugar:
9
g
Vitamin A:
32063
IU
Vitamin C:
5
mg
Calcium:
68
mg
Iron:
1
mg