Before enjoying your favorite broccoli recipes, you need to know how to wash it properly.
Once you know how to prepare this, you will see how vibrantly colorful they can be. They will also be safer to cook and eat.
Unlike other veggies, this vegetable is prepared differently. With this hack, you will make the broccoli look and feel extra fresh. You will certainly enjoy these in your healthy recipes.
Pin this recipe on Pinterest to save for later
Prepare your broccoli like a pro for your favorite vegetarian and vegan dishes. Now, you can bake, braise, roast, steam, or stir-fry it to perfection!
How to Wash Broccoli
Washing vegetables is one of the ways to protect and improve your health, so let me show you how you can wash broccoli like a pro!
Ingredient
Broccoli
Doesn't the broccoli remind you of tiny trees? It branches out into different buds of florets with a bright green color. This veggie has a sweet and mildly bitter flavor and crunchy texture.
Once cooked, you will love how rich the flavor will be. You can pair it with beef, chicken, fish, and turkey for an extra tasty and appetizing meal.
Why should you start eating broccoli?
According to Medical News Today, you can avoid and prevent different types of cancers with broccoli in your diet.
Eat more of this vegetable to take care of your heart and bones.
In fact, it is one of the top 20 foods for lowering blood pressure.
BBC Good Food also suggests having more broccoli for better immunity.
It is even rich in fiber to help with digestion, metabolism, and gut health.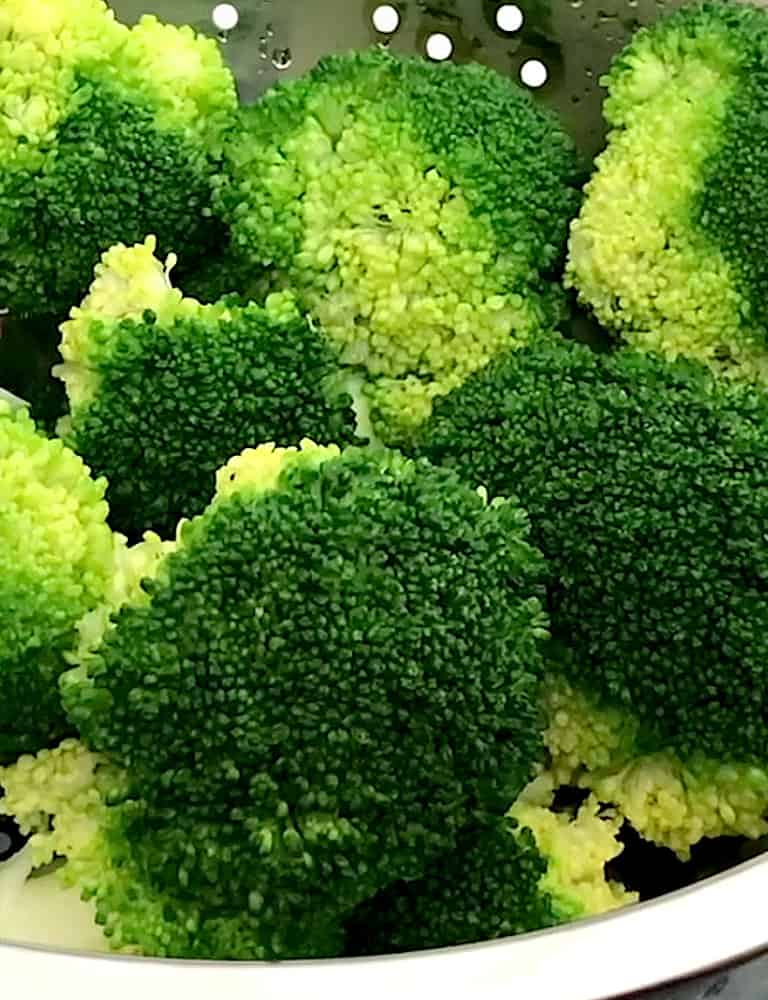 There are plenty of reasons to add broccoli to your diet. It's tasty, healthy, and versatile – perfect for your nutritious recipes. Can you share your favorite broccoli recipes?
Directions
Here's how easy it is to wash broccoli:
Boil water in a pot or electric kettle.
Pour the hot water into a bowl.
Dunk the broccoli into the hot water until the vibrant green color of the vegetables is restored.
Once done, you can use the broccoli for your meals.
You can never go wrong with washing it first. It will be easy to tell if it has been washed thoroughly because there will be an evident change in color from pale green to a bright green pigment.
Congratulations! You just learned how to wash broccoli like a professional chef!
Tips
Buying broccoli
Choose broccolis with tight heads and crisp green florets.
The stalk should also feel firm and smell fresh.
It is likely that it is no longer fresh if it has yellow florets and woody stems.
There may also be sliced frozen broccoli florets, but whole fresh ones are healthier when you personally wash and prepare them.
Recommended Tools
This post contains affiliate links, which means I earn commission income from qualifying purchases at no extra cost to you. Please read the full disclosure for more information.
Visit my shop for more products.
How to Use and Serve Broccoli
You will never run out of ideas on what to do with broccoli! It can be used in frying, baking, grilling, steaming, and roasting. It is also perfect for making soups, salads, stir-fries, couscous, smoothies, and more!
Chicken and Broccoli Stir Fry is one of my favorite ways of cooking broccoli. The flavor and color of this vegetable definitely pair well with the smoky chicken and colorful veggies.
You can also make the Easy Salad recipe with freshly washed broccoli for a pop of color and flavor. Eat With Drink With also suggests serving it with any of the following food:
Almonds
Herbs
Cream
Carrots
Mustard
Lemons
Cheese
Rice
Chicken
Eggs
Salmon
Turkey
Pasta
Storage Tips
At room temperature: Broccoli can be left at room temperature for up to 2 days only. Meanwhile, cooked ones should be used within 2 hours.
In case it has already been cooked, wrap them in cling film or aluminum foil to last up to 5 days.
Once cooked, transfer them into a container or freezer bag to last up to several months.
Frequently Asked Questions
What are the benefits of broccoli?
Broccoli is a healthy vegetable that contains nutrients like fiber, protein, iron folate, lutein, carotenoids, and vitamins to improve overall health. It's good for your heart, bones, eyes, muscles, and digestion.
Is broccoli the most healthy vegetable?
According to GoodRx Health, it is certainly one of the healthiest vegetables. It helps take care of your heart, bones, eyes, digestion, and overall health. In fact, eating more of this can help prevent different types of cancer.
Is broccoli high in protein?
Of course! The protein from broccoli makes it great for your bones, muscles, hormones, skin, and physical activity. You will also feel energized and active after enjoying more of this vegetable.
Is it good to eat broccoli every day?
Yes, it is! Eating broccoli regularly is good for your overall health. You will get a healthier heart, stronger bones, higher energy, better immunity, and clearer eyes.
Remember to complement it with other veggies, meat, and fruits for a balanced diet!
How to Wash Broccoli Properly (VIEDO)
Broccoli will not be truly healthy and safe to eat until you wash it properly. It's hydrophobic and highly water-repellant so here's a guide on how to wash the broccoli and how to do it like a professional chef!
Ingredients
1

large

broccoli

2

cup

water

(boiled)
Instructions
Boil water in a pot or electric kettle.

Pour the hot water into a bowl.

Dunk the broccoli into the hot water until the vibrant green color of the vegetables is restored.

Once done, you can use the broccoli for your meals.
Video
Notes
Choose broccoli with a tight head, green florets, firm stalk, and heavyweight.

Once it ripens, store it in the fridge or in the freezer.

Never eat or cook it unwashed!