Give your baby something to smile about with easy, healthy, and yummy Banana Oatmeal Baby Food!
Both bananas and oats have good flavor that can excite the baby's senses. They also have vitamins and minerals that are certainly helpful for the baby's growth and development.
Even at an early age, you should already get your baby into a healthy diet. Starting with bananas and oatmeal, you can already make a difference in your baby's life.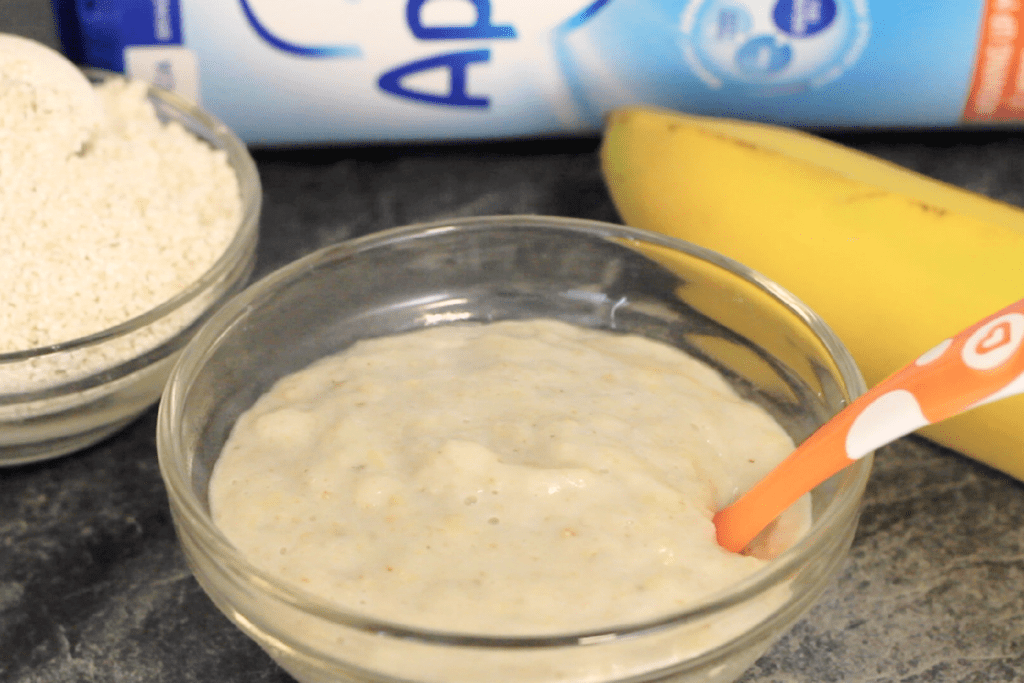 Pin this recipe on Pinterest to save for later
Just like other baby food recipes, you can expect that the Banana Oatmeal Baby Food to be a simple puree to make at home. Even if you're busy, you can prepare a sumptuous meal for your child!
Ingredients
Let's keep the Banana Oatmeal Baby Food organic, all-natural, and healthy.
Banana
When introducing fruits to your baby, you should definitely start with a banana.
Any baby would love to taste the sweet, milky, and creamy quality of the banana. Use ripe bananas so that they're already soft, making them easier to mash and puree even without a blender.
It's the perfect stage-one baby food because of how it tastes and feels. The banana also goes with so many fruits and veggies to give your baby something new to enjoy every day.
Once your baby is old enough, you can make other banana recipes like Banana Ice Cream, Strawberry Banana Popsicles, and Banana Bread to keep them hooked on these delicious fruits!
Oat powder
Make the oats safer for babies by using oat powder instead of whole oats. Oat flour is gluten-free, tasty, and easy to mix into other foods. If you have oats at home, then you can convert them into oat flour at home.
It's nutty and earthy flavor truly goes well with the mild sweet taste of the bananas. Mixing it into the baby food can also make the texture thicker and creamier that the baby will surely enjoy.
There are many baby food combinations you can do with oat powder. It goes with sweet fruits like bananas, mangoes, apples, papayas, carrots, and more. You might be surprised at how good it is for babies.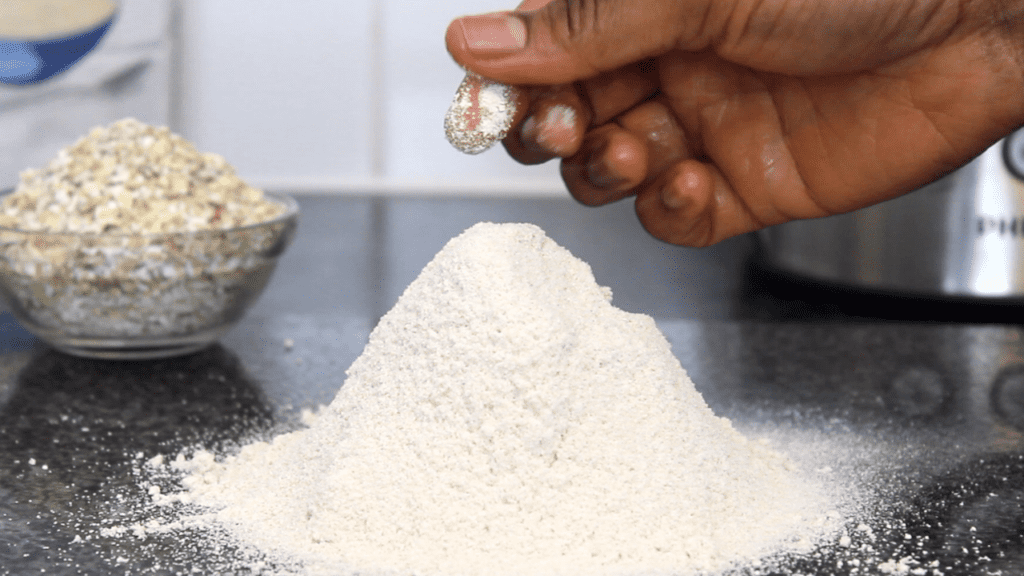 Can you believe that with oatmeal and bananas, you can prepare a fun and enjoyable meal for your baby? It will certainly be one of your baby's favorite puree recipes ever!
Directions
When making baby food, remember to wash your hands and clean your kitchen counter.
Boil the water in a pot over medium-low heat.
Peel the ripe banana and cut it into pieces with a knife.
Then, add the oat flour to the boiling water and stir with a wooden spatula.
Add the banana slices and mix everything.
Allow it to cook for three to five minutes.
Then, mash the puree with a masher.
Add milk if preferred.
Put the contents in a baby bowl and serve!
This baby food is so delicious that it can be appetizing, even for kids and adults. Share how your baby loved the first taste!
Tips
Buying bananas
When making baby food, use ripe bananas for the best flavor.
The Spruce Eats suggests buying bananas with full yellow colors.
They should feel plump but not too mushy.
Ensure that they are free from bruises and soft spots.
Storing bananas
For ripe bananas, store them in the fridge to slow down the keep them longer.
Meanwhile, for unripe bananas, allow them to ripen at room temperature for several days.
Oat flour without a blender
You can still make oat flour even without a blender. Use a mortar and pestle, a food processor, an immersion blender, or a grinder to turn it into flour. To achieve a finer texture, filter the contents with a sieve.
Banana Oatmeal Baby Food Variations
According to Healthy Little Foodies, adding herbs and spices to baby food is alright. There are lots of spices you can try that are safe for babies. For instance, you can go for milk, cinnamon, nutmeg, or a little bit of sugar.
You can also puree the bananas and oatmeal separately for the baby to try each flavor before the combination. Make the Banana Oatmeal Baby Food only when your baby is ready for stage-two baby foods.
Check out these fruits and veggies that go well with bananas:
Banana Carrot Baby Food
Papaya Banana Baby Food
Peanut Butter
Yogurt
Beans
Avocados
Meanwhile, oatmeal can taste so much better with these:
Apples
Pears
Apricots
Milk
Mangoes
Blueberries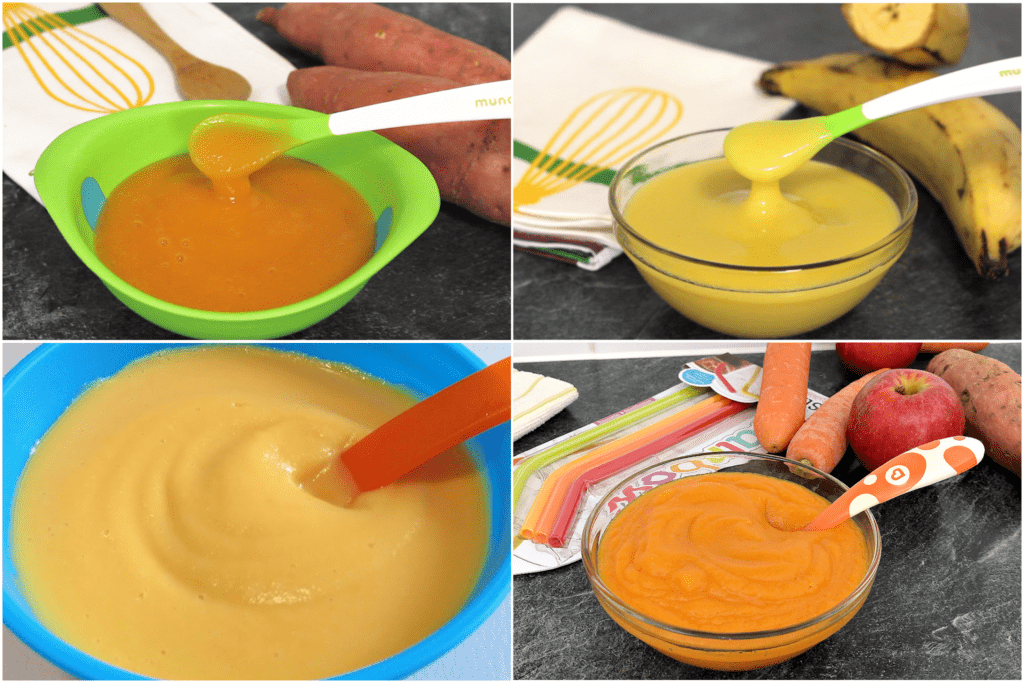 However you choose to make this Banana Oatmeal Baby Food, the important thing is to use healthy and baby-friendly ingredients!
Recommended Tools
This post contains affiliate links, which means I earn commission income from qualifying purchases at no extra cost to you. Please read the full disclosure for more information.
Visit my shop for more products.
How to Serve Banana Oatmeal Baby Food
Serve the Banana Oatmeal Baby Food when it's warm and freshly made. Taste it first to check if the flavor is just right for the baby. Remember that this stage-two baby food is suggested for babies aged six months and above.
Your baby will surely enjoy this in the morning or afternoon for a burst of energy for the day. It might even remind the baby of a milky flavor to enjoy until the last spoonful!
Storage Tips
At room temperature: Feed this to your baby within two hours.
Frequently Asked Questions
Is it OK to eat banana with oatmeal?
Of course! Both bananas and oatmeal pair well with lots of fruits and vegetables. The sweet and creamy flavor of bananas surely go great with the earthy and nutty taste of the oat meal.
Just use a ripe banana and oat powder to make the dish suitable for the baby.
Can you mix oatmeal with baby food?
Yes, you can. In fact, oatmeal can already be a baby food on its own. Just add some water and cook it until the texture is safe for the baby. I suggest pairing it with sweet fruits like bananas, mangoes, and apples.
What can I mix baby oatmeal with?
Baby oatmeal will taste incredible with bananas, mangoes, pears, sweet potatoes, peanut butter, avocados, peaches, and more! I also suggest mixing it with milk to make it tastier for the baby.
What kind of oatmeal can babies eat?
You can use instant oats but be sure to check the label and contents. For babies, I suggest using oat powder to make the texture easier to eat and digest for the baby. Just make oat powder at home with rolled oats.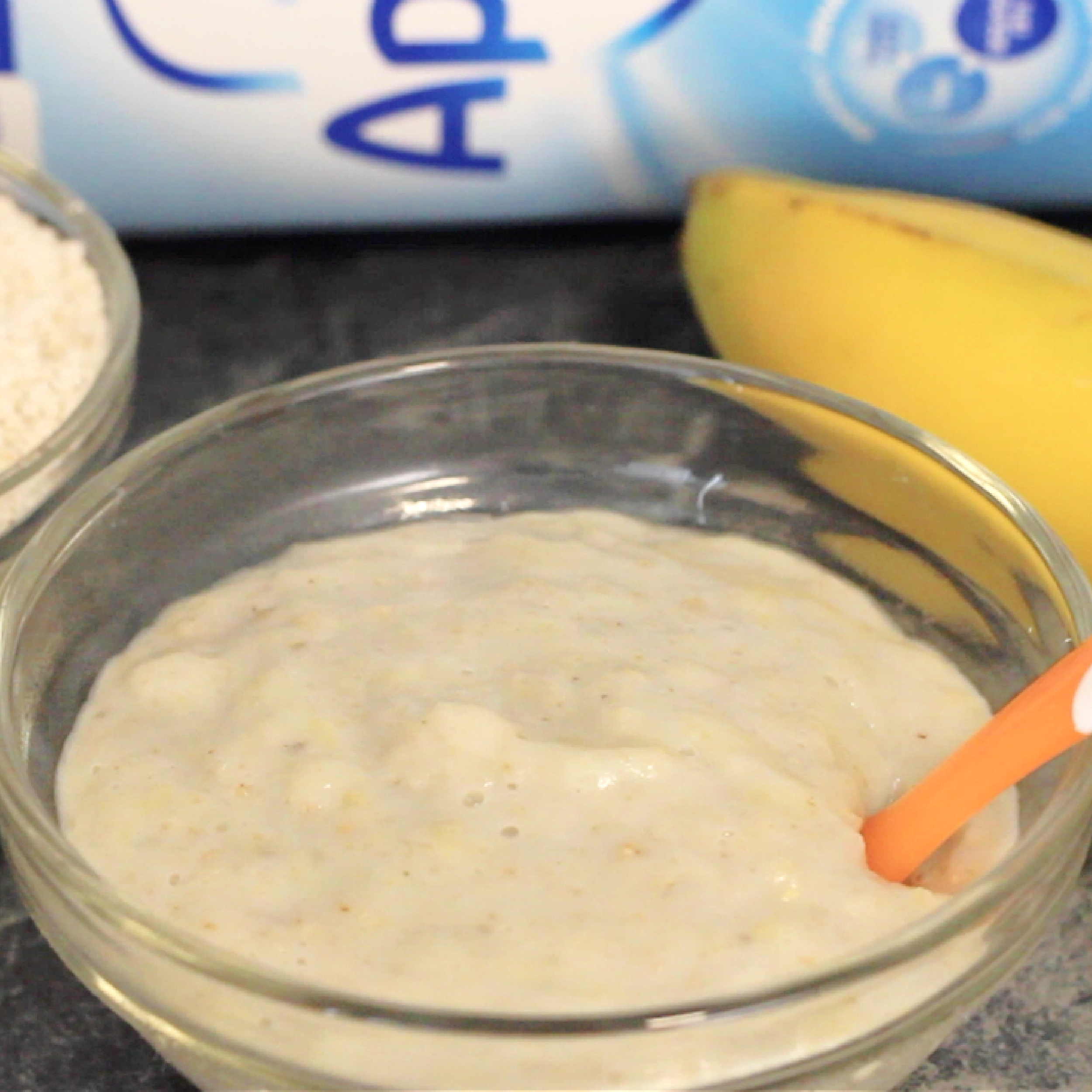 Banana Oatmeal Baby Food (VIDEO)
Get your baby excited with this irresistibly delicious Banana Oatmeal Baby Food!
Instructions
Boil the water.

Pour the water into a pot and let it boil over medium-low heat.

Prepare the banana.

Peel the ripe banana and cut it in half. Slice one half into thin pieces.

Make the puree.

Add the oat flour to the boiling water. The more oat flour you use, the thicker it will be. Incorporate the banana slices and mix everything. Allow it to cook for 3 to 5 minutes.

Mash the puree with a masher. Alternatively, let it cool and blend until you achieve a smooth consistency. You can also add formula or breast milk to make it creamier.
Video
Notes
Use ripe bananas for sweetness or plantains as alternatives.

You can make the oatmeal and banana puree separately to introduce them to your baby.

Use baby-friendly seasoning to prevent adverse effects on the child's health.

The more oat flour you use, the thicker it will be.
Blend the baby food for a smooth consistency.
Nutrition
Serving:
1
(of 3)
Calories:
38
kcal
Carbohydrates:
8
g
Protein:
1
g
Fat:
1
g
Saturated Fat:
0.1
g
Polyunsaturated Fat:
0.2
g
Monounsaturated Fat:
0.1
g
Sodium:
3
mg
Potassium:
89
mg
Fiber:
1
g
Sugar:
2
g
Vitamin A:
13
IU
Vitamin C:
2
mg
Calcium:
5
mg
Iron:
0.3
mg