Keeping your pots spick and span is essential for prolonging their durability. This hack will help you with braising, stewing, poaching, steaming, and stovetop cooking for the best meals ever!
Pin this recipe on Pinterest to save for later
This tip is perfect for maintaining your equipment's and kitchen's pristine condition!
How to Clean the Bottom of a Pot
Get spotless pots with the best cleaning tip ever! Clean ones may even motivate you to cook more!
Causes of Dirty Pot Bottoms
One of the common causes of this problem is burning a dish in a pot.
You might also smell an unpleasant odor from the burning food.
Moreover, this can be caused by high heat when cooking.
Pot bottoms become more prone to blackening if the food has become dehydrated.
It can also be due to the material of the pots.
Stainless steel ones are likely to have black residue, requiring regular maintenance.
This issue can sometimes be caused by submerging a hot pot in cold water.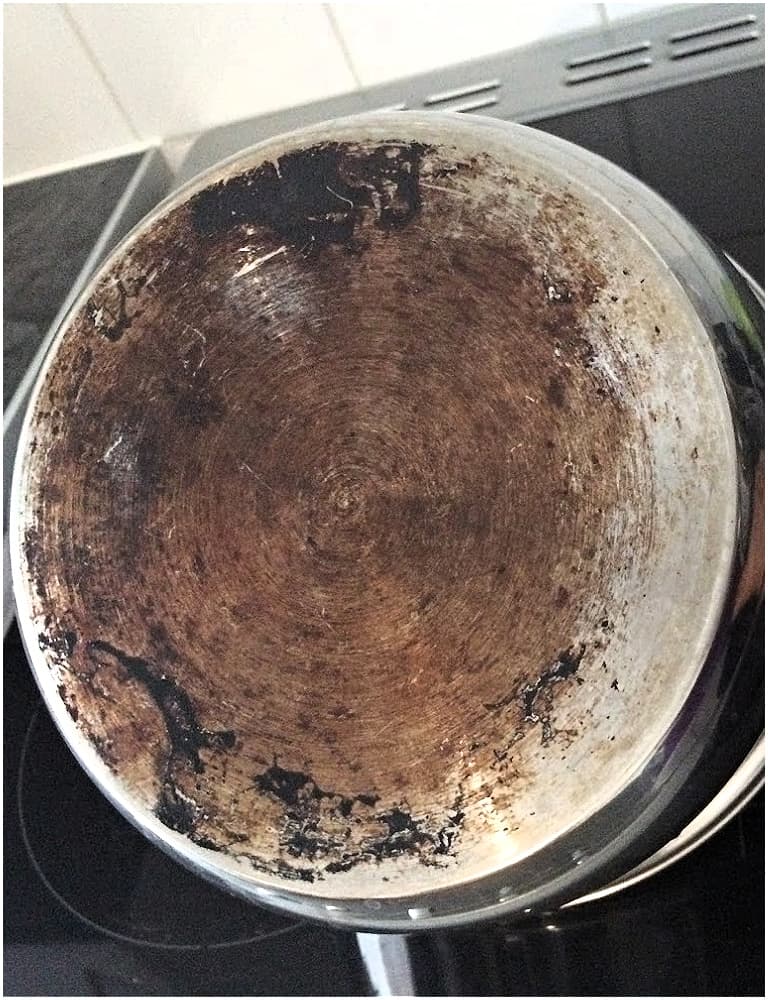 What You Need to Clean a pot
Vinegar
Vinegar is a powerful and versatile cleaning agent known for cleaning with precision. It's potent at breaking down dirt, grime, and grease because of its 5 percent acidity.
Baking soda/bicarbonate of soda
Bicarbonate of soda is a natural cleaning agent – an all-purpose scrubber able to deodorize effectively whilst cleaning.
Stainless steel scourer
A scourer is made of minced ore. A powerful stainless steel metal suitable for cleaning burnt food and grease easily with little or no effort.
Directions
You might be surprised at how easy this process will be.
Place the pot on the sink with the bottom part facing up.
Sprinkle baking soda or bicarbonate of soda, and pour ample vinegar.
Scrub it with the stainless steel scourer.
Continue scrubbing until all of the residues are cleared.
Rinse it and let it dry!
And just like that, your pots are spick and span! Doing this hack ensures food safety and a satisfying cleaning method, right?
Alternative Ways to Clean the Bottom of a Pot
Instead of using the materials mentioned above, you can also use a cream degreaser or dishwashing soap to clean it.
Make a paste from baking soda and water to use as a scrub for the pot.
Cast iron pots require different cleaning solutions, such as salt and oil.
Meanwhile, do not use bleach or ammonia for aluminum ones, as it can cause discoloration and signs of scratches.
In fact, The Pan Handler also recommends using ketchup, cream of tartar, or even coca-cola!
How to Prevent a Dirty Pot Bottom
The first step is to keep your stovetop area organized and clean.
Ensure that the stove does not have bits of food that can stick to the pot. It is also suggested to grease it before cooking.
After cooking, allow the food to cool and transfer it into a bowl or container. Then, clean the pot immediately.
Some food can be hard to remove when they harden. However, don't put it directly in the water while it is still hot to prevent warping.
Furthermore, dry it with a towel or cloth to eliminate signs of residual stains.
Make sure to place the pots in a clean and dry area and keep them away from places where they can be exposed to food and grease.
Frequently Asked Questions
What should you do if you burnt the bottom of a pot?
Baking soda always works like a charm as a cleaning substance. You can combine it with vinegar and boil them together. Occasional stirring may be required, but the scorched parts will be easier to remove as the mixture boils.
How do you clean the bottom of a burnt stainless steel pot?
You can try using a grill cleaner, baking soda and bleach, and a stain remover for this material. Scrub the bottom with a scouring pad to thoroughly clean.
Pot Bottom Cleaning Tip
Cooking is not all about ingredient, its also about pots. So take care of your pots to cook more!
Ingredients
1

tbsp

baking soda

(or bicarbonate of soda)

2

tbsp

vinegar

1

stainless steel scourer
Instructions
Place the pot on the sink with the bottom part facing up.

Sprinkle baking soda or bicarbonate of soda, and pour an ample amount of vinegar.

Scrub it with the stainless steel scourer.
Video
Notes
Aside from baking soda and vinegar, you can also use baking soda and water to clean the bottom of the pot.

Materials may vary depending on the material of your pots.