Review this Ninja Foodi Max Multi-Cooker for an excellent option for your kitchen needs! Now, food is easier, quicker, and more convenient to cook with appliances like this!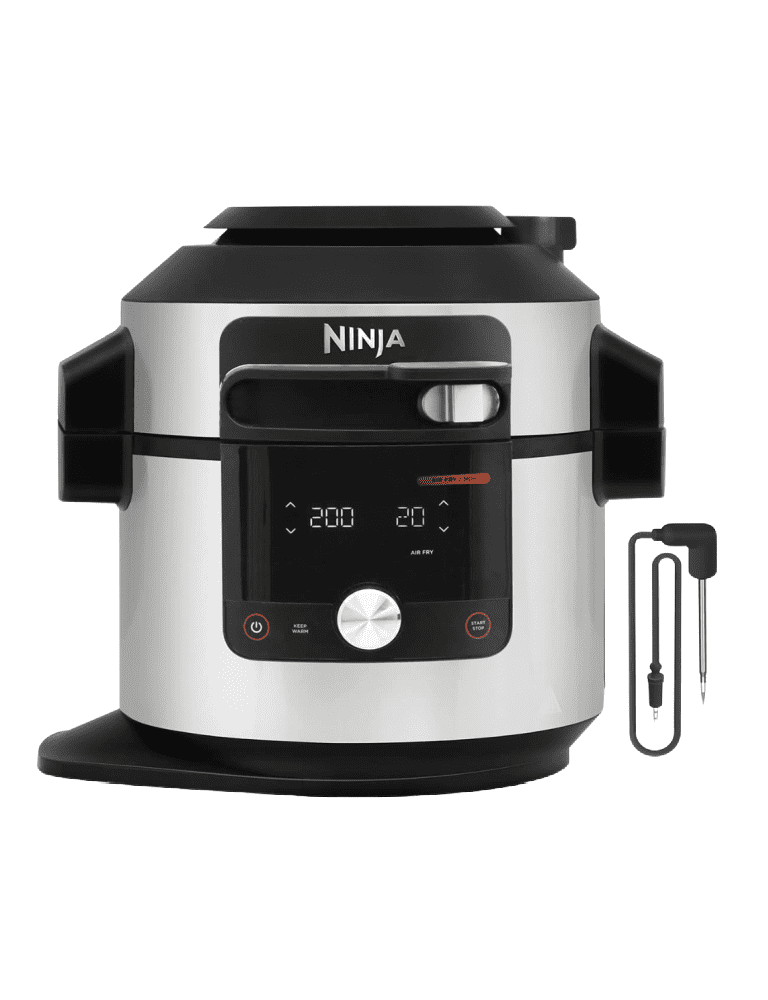 Ninja Foodi Max Multi-Cooker Specifications
This state-of-the-art multi-cooker has 15 astounding functions that will motivate you to cook more! Its smart features will surely escalate the quality, texture, flavor, and aroma of any dish you plan to prepare.
Regarding capacity, this model can cook up to 7.5 liters and up to 6 portions of food. After a review, you'd be delighted to know that the Ninja Foodi Max Multi-Cooker has 3 modes and 11-15 powerful functions.
Additionally, you can use it to air fry, grill, bake, slow cook, steam, saute, and more! Moreover, you may switch between the modes depending on your recipe's directions by using the SmartLid Slider.
For example, the combi-steam mode can be utilized to cook juicy and tender dishes such as Roasted Chicken. Of course, this multi-cooker can steam and roast the chicken to make it crispy on the outside and moist on the inside.
If you love meat, then this multi-cooker's pressure cooker mode might be your favorite feature. Equally important, this has an auto-steam release function to ensure that the dish is extra tender and thoroughly cooked inside and out.
In your review, you might also realize how convenient it is to have the Smart Cook System, which allows you to check the temperature of the food as it cooks. This multi-cooker is also super easy to clean when you think it can't get any better.
Indeed, its non-stick ceramic material can withstand high temperatures for long period to prevent burning.
Trust me, this is the ultimate game-changer for your kitchen. Surely, it can save you space, time, money, and even effort! In brief, with its multiple features, the possibilities are endless!
Multi-Cooker vs. Slow Cooker Review
While both the multi-cooker and slow cooker are nifty kitchen appliances, they still have their differences, pros, and cons.
If you've been contemplating which one to buy, then this guide might be helpful for you.
Generally, the slow cooker traps the moisture inside for hours on end at a low temperature. It is especially useful for meat, pot roasts, soups, pasta, casseroles, etc. Also, the temperature inside is automatically regulated!
Meanwhile, the multi-cooker can function in various ways. In fact, it can be used for slow cooking, pressure cooking, air frying, roasting, baking, etc. To further compare these two, refer to the table below.
Pros and Cons
Pros
| | |
| --- | --- |
| Multi-Cooker | Slow Cooker |
| Keeps the food warm | Keeps the food warm |
| Easy to clean | Easy to clean |
| Versatile | Requires less monitoring |
| Can cook up to two dishes at a time | Automatically controlled temperature |
| Fast pressure cooking | One-step preparation |
Cons
| | |
| --- | --- |
| Multi-Cooker | Slow Cooker |
| Requires practice in using functions | Fewer functions |
| Non-transparent lid | Takes hours to cook |
| No heating element around the pot | Condensation |
| Expensive | Not suitable for every dish |
| Requires monitoring | It leaves little room for error |
| Needs planning | Needs planning |
Nevertheless, these are unique in their purposes. Finally, whichever you prefer relies on the kinds of meals you cook, the times you allot for cooking, the space in your kitchen, and your budget.
Wattage: 1760 watts
Star rating: 5/5
Reviews
There have been various reviews and impressions about the Ninja Foodi Max Multi-Cooker so take a look at some of them.
Many buyers have attested that this multi-cooker has numerous options and combinations when preparing food. However, some of them also recommend improving it by including a built-in thermometer probe that will automatically stop cooking when the ingredients reach a set temperature.
This appliance also has a sleek, premium design and quality that fits perfectly well on the countertop. Some customers found it heavy and bulky. Hence, it is best to place it in an accessible area.
Furthermore, using it requires practice, especially when using a combination of functions. Indeed, studying the manual and watching tutorial videos on how to use it properly is highly recommended.
Customers have also found the buttons useful for checking the temperature, time, and cooking settings. Therefore, the Ninja Foodi MAX 15-in-1 SmartLid Multi-Cooker is definitely a must-have in every home.
In a review by Good Housekeeping, this air fryer was one of the top-performing models in the air fryer test! Most of the respondents loved how easy it was to manipulate and use.
Frequently Asked Questions
What is the difference between Ninja Foodi and Ninja Foodi Max?
Ninja Foodi Max has a larger capacity of 6 liters than the Ninja Foodi with 7.5 liters. The former can serve up to six people, while the latter is suitable for cooking for four people.
Is the cooking pot non-stick?
Yes, it is! The material is aluminum with a non-stick ceramic finish, making it easier to clean.
Is it worth it?
Of course! This 15-in-1 Ninja Foodi Max Multi-Cooker might be the best purchase if you want to upgrade something in your kitchen. It serves multiple purposes for almost any type of dish you can imagine.