Egusi Seeds or Melon Seeds are best known for their use in delicious African recipes. These are extracted from Egusi gourd that is specially grown for the seeds. Moreover, egusi are usually grounded or blended to be easily added to recipes.
Pin this recipe on Pinterest to save for later
These are the secrets to luscious and heavenly Nigeria, and Ghana recipes, so check out how you can prepare them at home!
How to Blend Egusi Seeds
If you can't find blended melon seeds at your local grocery store, then let's do it at home together. Homemade is best!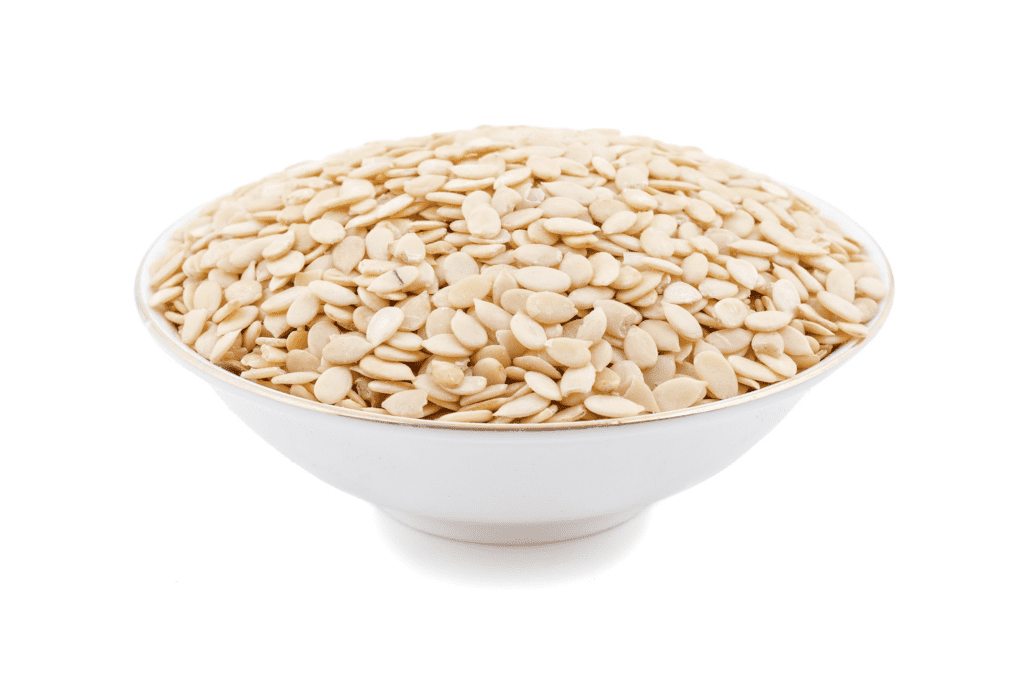 Health Benefits of Egusi Seeds
Good for your heart
Add melon seeds to your diet to protect your heart from problems. The nutrients from these seeds can help this organ function at an optimum level. It allows you to have better blood circulation and overall health.
Nourishes your hair
One of the ways to take care of your hair without chemicals is to use these seeds for meals. They can help with hair growth for thick and healthy hair!
Helps strengthen your bones
Enjoy quality workout sessions by strengthening your bones with melon seeds. These can build and relax muscles to help you achieve your fitness goals. It also gives your body better mobility for day-to-day life.
Get glowing skin
Feel more confident in your skin by using these seeds! With their vitamins, you can appreciate a gorgeous glow that only comes with natural melon seeds.
Vegan and vegetarian
You can add these egusi seeds to your meals if you're on a vegan, vegetarian, or gluten-free diet. In fact, I suggest them for dishes and drinks to help you maintain your preferred diet. You can also use them as substitutes for meat and chicken!
Immunity boosters
Protect yourself from health problems by boosting your immunity with egusi seeds. Say goodbye to colds and flu because these seeds are lifesavers! Always be in your best health condition by relishing these melon seeds.
Ingredient
Egusi seeds
I love using these melon seeds as thickeners and seasonings for soups and stews. You can soak, boil, or ferment them to release an incredible aroma and taste. When raw, they are small, oval-sized, white seeds that resemble pumpkin seeds.
Melon seeds are great for keeping your skin healthy. They are also rich in protein for a balanced diet. It also helps fight against heart problems and malnutrition. Healthful Wonders suggests these seeds for pregnant women to nourish their babies.
If you haven't tried melon or egusi seeds before, then this is the perfect opportunity to incorporate them into your dishes and drinks!
Directions
Put the egusi seeds in a blender and blend until powdered.
Transfer contents into an airtight container to store!
To achieve a blended quality, you can also use a food processor or mortar and pestle.
It doesn't get easier than this! You get high-quality, organic, and nutritious egusi seeds perfect for your favorite recipes in just minutes.
Tips
Buying melon seeds
Melon seeds are readily available in grocery stores. Sometimes, they also come in the grounded version, so you don't have to blend them. Ensure that the container has no holes or openings to prevent contamination.
Extracting melon seeds
If you have melons at home, then now is a perfect time not to let the seeds go to waste. Wait until the melons are fully ripe, and slice the melon in half. Then, scrape off the seeds with a spoon. Wash and dry the seeds before blending to prepare the powder.
Egusi Seeds Variations
Aside from blending the melon seeds, you can roast them in the oven or pan to make a simple snack. Instead of melons, you can also use seeds from squash or gourds. It can also be combined with other spices and seasonings for savory dishes.
Recommended Tools
Blender: Blend the melon seeds using this machine.
Container: Put the blended lemon seeds in a clean container.
This post contains affiliate links, which means I earn commission income from qualifying purchases at no extra cost to you. Please read the full disclosure for more information.
Visit my shop for more products.
How to Use Blended Melon Seeds
Blended fresh egusi seeds are best used for African dishes such as Egusi Soup and Ewedu Soup. They also make effective thickeners for soups, drinks, and food for a creamy consistency.
Incorporate roasted or toasted melon seeds into smoothies or juices for enriched flavor. Use it in good amounts to help you achieve the best-tasting recipes!
Did you know that whole melon seeds can also make great snacks? Just toast them in a frying pan for several minutes or until slightly brown, puffy and crunchy.
Storage Tips
Frequently Asked Questions
What is the English name of egusi seeds?
Egusi seeds are known as melon seeds in English. There are also egusi variants from white melon to substitute these ones for recipes.
Are egusi the same as pumpkin seeds?
No, they are not the same. However, pumpkin seeds are used as alternatives for these seeds. In fact, you can use a combination of these two!
What do egusi seeds taste like?
In contrast to the bitter egusi gourd, the seeds are actually nutty and rich in flavor. They can add a savory and pleasant taste to recipes.
Can you blend the egusi seeds with the skin?
No, the skin of the seeds must be removed to prevent affecting the taste of the condiment. It also gives the recipe properly-colored powder.
Should you dry the egusi seeds before blending?
Yes, it is recommended to dry the seeds first for a day or two to remove any moisture.
Is egusi the same as melon seeds?
Egusi and melon seeds are the same.
How to Blend Egusi Seeds
Cook extraordinary recipes with these rich and nutritious blended melon seeds!
Instructions
Add the egusi seeds in a blender and blend until powdered.

Transfer contents into an airtight container to store!
Video
Notes
Combine the melon seeds with other spices to improve the quality of the egusi.

Use it as a thickener or a flavoring agent for dishes and drinks.

If you don't have a blender, make it with a food processor or mortar and pestle instead.
Nutrition
Serving:
1
cup
Calories:
61
kcal
Carbohydrates:
15
g
Protein:
1
g
Fat:
0.2
g
Saturated Fat:
0.1
g
Polyunsaturated Fat:
0.1
g
Monounsaturated Fat:
0.01
g
Sodium:
31
mg
Potassium:
388
mg
Fiber:
1
g
Sugar:
14
g
Vitamin A:
85
IU
Vitamin C:
31
mg
Calcium:
10
mg
Iron:
0.3
mg