Breakfast is the most important meal of the day but the problem is, there are busy days when you just can't cook a meal. Well, I have this quick and easy smoothie for you. It's this Oats Breakfast Smoothie in 5 minutes!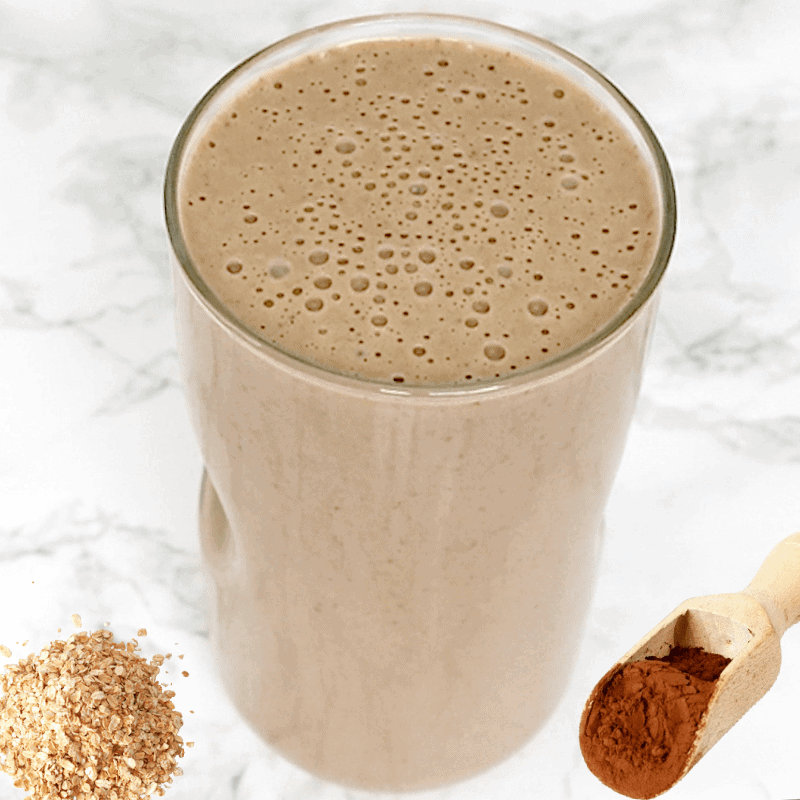 Pin this recipe on Pinterest to save for later
This post shows you how to make a healthy breakfast smoothie. Similarly, you can call it a high-protein oat breakfast smoothie.
You'll learn what it is, why it's good for your overall health, how to make this type of oats recipe and how often you should drink it.
This is one of the recipes you'll need to improve your well-being and maintain a healthy weight dramatically.
How to Make Oats Breakfast Smoothie
Filling and natural energy-releasing smoothie. A healthy recipe for drinks and juices is all you need for a productive day!
Ingredients
Oats
Oats are edible grains that are commonly used in breakfast meal recipes. These have also been proven to benefit heart health, diabetes, and digestion.
If you love oats or need them for your diet, I recommend using them for other recipes, such as Overnight Oats and Granola!
When eaten on their own, oats may taste bland and sometimes bitter. But the secret to delicious oats is incorporating them with flavorful ingredients such as dairy and fruits.
This recipe will transform the oats into a creamy and chocolatey smoothie that is absolutely nutritious and satisfying!
Nuts
The recipe uses almonds and cashews as nut ingredients because, aside from their health benefits, they can also enhance the smoothie's flavor.
Nuts can also make you feel full for a longer period. Moreover, there have been claims that nuts can contribute to long-term weight loss and lower the risk of obesity.
Banana
The ripe banana provides a sweet and fruity flavor to the smoothie. Likewise, Bananas are fruits commonly used for weight loss, digestion, heart health, immunity, and strength.
Cook Banana Bread for the perfect combination with your Oats Breakfast Smoothie!
Chocolate powder
Another special ingredient we will be using is chocolate powder! It contains cocoa powder and cocoa butter which are components responsible for the flavor and rich texture.
Don't you just love chocolate dishes such as Chocolate Cake or classic Dark Chocolate?
Filtered water
Lastly, you will need filtered water to combine all of the ingredients. Filtered water tastes better, removes bacteria and other impurities, and provides vitamins and minerals like potassium and magnesium.
With these natural, tasty, and nutritious ingredients, you can never go wrong with this Oats Breakfast Smoothie Recipe!
Directions
Peel the banana, and chop it into two or more pieces with a knife.
Put the oats, almonds, cashew nuts, chocolate powder, ripe banana, and filtered water in the blender and blend until you achieve your preferred smoothie consistency.
Transfer the contents into a glass and drink up!
After this 2-step process, you will notice that you have created a creamy, chocolatey, smooth, and absolutely delectable smoothie that is perfect for a healthy breakfast!
Tips
Best Oats for Smoothies
The quality of the oats you use can affect the texture and taste of your smoothie.
It's best to use whole rolled oats because they can make you feel full for longer.
It also makes the smoothie thicker and more nourishing.
At times, they can also enhance the nutty flavor of the smoothie.
Storing Oats
For storage materials, you can use airtight containers, freezer bags, resealable bags, or glass jars.
If you plan on storing oats at room temperature, place the container in a dry yet well-ventilated area, which can last up to 24 months!
Refrigeration is also an appropriate option to prevent moisture and pest infestation. Place it in a dark and dry area of your fridge to last up to 2 years and more.
For freezing, put the oats in freezer bags to extend shelf life to up to 3 years.
Buying Cashew Nuts
In purchasing cashew nuts, go for ones that are brown in color compared to those which have bright colors because bright-colored cashew nuts may have been soaked in chemicals to improve their appearance.
Don't purchase cashew nuts with dark spots because this may be indicative of poor quality and preparation.
The cashew nuts should also be easy to peel and crunchy when eaten.
If you purchased packaged cashew nuts, check the expiration date before using them.
Storing Cashew Nuts
Simply put the cashew nuts in an airtight container and keep them in the fridge to last up to 6 months.
You can also freeze cashew nuts to last up to one year.
Cashew nuts are not recommended to be stored at room temperature because they may leave the nuts vulnerable to contamination or rotting.
Buying Almonds
There are plenty of almond varieties you can purchase from the grocery stores. There are raw, roasted, and even blanched almonds.
For oatmeal smoothies, opt for roasted almonds. Roasted almonds will still have their skins but this can add more flavor and texture to the smoothie.
How to Store Almonds
If you purchased sealed roasted almonds, store them in a dark and cool place in your house and this can last you up to one year.
You can also refrigerate or freeze it after putting it in an airtight container or resealable bag.
Use opened almonds within three months only.
Ensure that the containers are airtight to prevent insects and pests from pervading the almonds.
Almonds can also be affected by food odors in your fridge so keep the container's lid closed at all times.
Oats Breakfast Smoothie Without a Blender
For the oats, cashew nuts, and almonds, you can manually pound them with a mortar and pestle, a knife, a food processor, grinder, or miller.
You can simply mash the ripe banana with a fork or potato masher. Then, combine them together with the filtered water and chocolate powder for a blender-free smoothie!
Variations
For people on a vegan diet, this Oats Breakfast Smoothie Recipe is perfect because it contains oats and nuts which are important vegan diet foods. If chocolate powder is not preferred, you can also use maple syrup, almond milk, or even peanut butter for a smooth and delicious smoothie.
Make it gluten-free
On the other hand, for a gluten-free diet, you can substitute cocoa powder with chocolate powder for a creamy and chocolatey flavor. Oats, bananas, almonds, and cashew nuts are gluten-free ingredients.
Make it nut-free
Meanwhile, for people with nut allergies, you can replace cashew nuts and almonds with chia seeds, sunflower seeds, or cinnamon.
Make it baby-friendly
For baby-friendly oats smoothies, you can blend oats with honey, fruits, vanilla, and breast milk for a meal packed with nutrients for brain development, energy, and overall health.
Recommended Tools
Blender: Use the blender or a food processor to combine the ingredients and transform the consistency into a smoothie texture.
Knife: Chop the banana with a knife for easier blending.
This post contains affiliate links, which means I earn commission income from qualifying purchases at no extra cost to you. Please read the full disclosure for more information.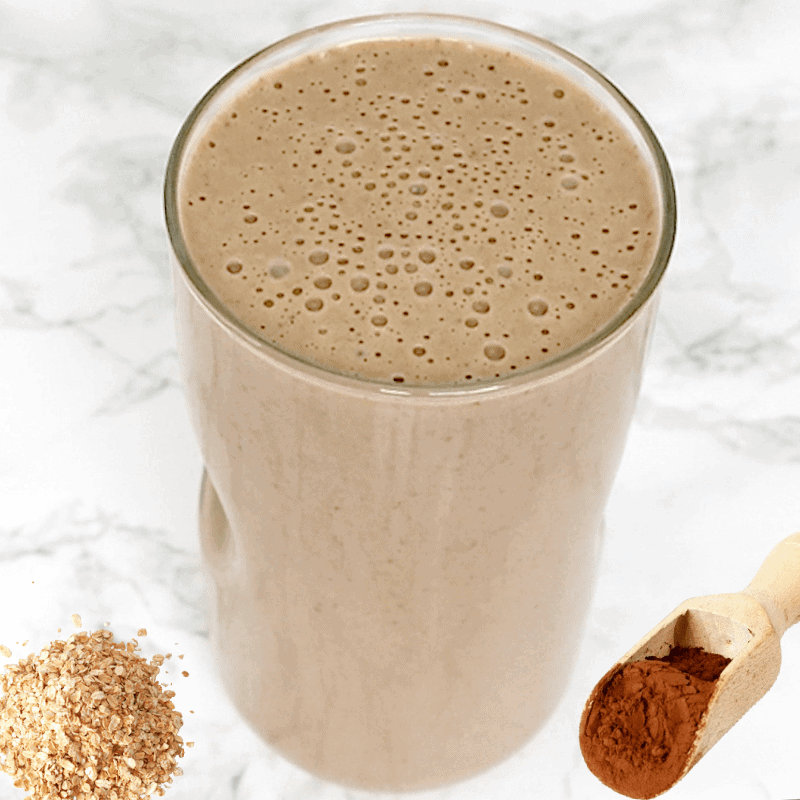 How to Serve
You can simply serve this Oats Breakfast Smoothie in a glass during a busy morning. It can also be served with chia seeds, flax seeds, or sunflower seeds on top for added nutritional value.
It can also be poured into a bowl where you can add dried or fresh fruits for variety and flavor. You can top it off with yogurt, granola, or fresh fruits for a more colorful and appetizing appearance.
For dish pairings, the following recipes will make excellent options:
Storage Tips
At room temperature: Smoothie shouldn't be left at room temperature for more than two hours. It's best consumed fresh, within an hour.
Frequently Asked Questions
Can the Oats Breakfast Smoothie help me lose weight?
Yes, it can definitely help with weight loss! Some of the ingredients, particularly oats, cashew nuts, and almonds, are rich in fiber which can make you feel full for a longer period of time.
Chocolate powder and banana can also provide sweetness to curb your craving for sweet desserts and treats.
Can I put raw oats in a smoothie?
Raw oats can definitely be added to smoothies to add a nutty and rich flavor and texture. It'll also soften once incorporated into the drink.
Can I eat oatmeal and a smoothie for breakfast?
Of course you can eat oatmeal and smoothie for breakfast. This combination can pack your body with energy and immunity for a productive day!
Oats Breakfast Smoothie
Can you really make a full, healthy, and delicious smoothie in just five minutes? Yes, you can! It's perfect to kickstart your day with productivity and a nutritious drink!
Ingredients
½

cup

oats

(65g)

35

g

cashew nuts

35

g

almonds

4

tsp

chocolate powder

(10g)

1

ripe banana

(40g)

2

cups

water

500ml (filtered)
Instructions
Prepare your ingredients

In preparing the ingredients, note that you don't need to wash the oats because these will be soaked in filtered water during the process. However, I recommend washing the almonds and cashew nuts to remove pesticide residues.

Peel the banana and you can chop it into two or more pieces. If you don't have a water filter, the easiest alternative is to boil the water for 3 minutes and allow it to cool for a few minutes.

Blend all of the ingredients together

Put the oats, almonds, cashew nuts, chocolate powder, ripe banana, and filtered water in the blender and blend until you achieve your preferred smoothie consistency.
Video
Notes
Put the oats, almonds, cashew nuts, chocolate powder, ripe banana, and filtered water in the blender and blend until you achieve your preferred smoothie consistency.

I recommend washing the almonds and cashew nuts if they aren't organic to remove pesticide residue.
If you don't have a water filter, the easiest alternative is to boil the water for 3 minutes and allow it to cool for a few minutes.
The consistency of the smoothie can also depend on the ingredients you use. In this case, the oats, as well as the ripe banana, can help bring a rich and thick consistency to the smoothie.
You can also reduce the amount of water to make it thicker.
Alternatively, you may incorporate protein powder dissolved in water for a richer smoothie.
Ice can also help with consistency and it can make the smoothie more refreshing.
The water can also be substituted with fresh milk or almond milk for a creamy texture
Nutrition
Serving:
1
(of 3)
Calories:
256
kcal
Carbohydrates:
31
g
Protein:
7
g
Fat:
13
g
Saturated Fat:
2
g
Polyunsaturated Fat:
3
g
Monounsaturated Fat:
7
g
Trans Fat:
0.03
g
Sodium:
90
mg
Potassium:
352
mg
Fiber:
5
g
Sugar:
12
g
Vitamin A:
26
IU
Vitamin C:
3
mg
Calcium:
59
mg
Iron:
2
mg